Legal Wisconsin Poker Sites / Gambling Laws
Home » US Poker Laws » State Laws » Wisconsin Poker Laws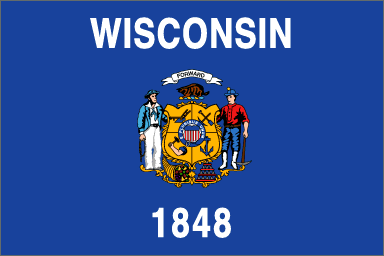 Wisconsin Quick Links
Find out if online poker is legal in Wisconsin / WI
America's Dairyland is known for cheese – and those hilarious yet iconic cheeseheads, if we're being honest – but there's more to Wisconsin than football and silly outfits. The state is a haven for wildlife enthusiasts and its network of 15,000 lakes makes for some mighty fine fishing, but there are also opportunities here for gambling enthusiasts, believe it or not.
Tribal gaming has a solid home in Badger country and you can place race bets, too – you just have to find somewhere to do it. For more info on Wisconsin's gambling laws, legislative history, charitable gaming restrictions and where you can play a fun-filled game of Texas Hold 'Em, read on!
Wisconsin Gambling Laws
Wisconsin state law includes the following legal definitions1:
Bet
Gambling
Commercial Gambling
"Bet." A bet is a bargain in which the parties agree that, dependent upon chance even though accompanied by some skill, one stands to win or lose something of value specified in the agreement."
"Gambling. Whoever does any of the following is guilty of a Class B misdemeanor:
(1) Makes a bet; or
(2) Enters or remains in a gambling place with intent to make a bet, to participate in a lottery, or to play a gambling machine; or
(3) Conducts a lottery, or with intent to conduct a lottery, possesses facilities to do so."
"Commercial gambling. (1m) Whoever intentionally does any of the following is engaged in commercial gambling and, except as provided in sub. (2m), is guilty of a Class I felony:
(a) Participates in the earnings of or for gain operates or permits the operation of a gambling place; or
(b) For gain, receives, records or forwards a bet or offer to bet or, with intent to receive, record or forward a bet or offer to bet, possesses facilities to do so; or
(c) For gain, becomes a custodian of anything of value bet or offered to be bet; or
(d) Conducts a lottery where both the consideration and the prize are money, or with intent to conduct such a lottery, possesses facilities to do so; or
(e) Sets up for use for the purpose of gambling or collects the proceeds of any gambling machine; or
(f) For gain, maintains in this state any record, paraphernalia, tickets, certificates, bills, slip, token, paper, writing or other device used, or to be used, or adapted, devised or designed for use in gambling; or
(g) For gain, uses a wire communication facility for the transmission or receipt of information assisting in the placing of a bet or offer to bet on any sporting event or contest, or for the transmission of a wire communication which entitles the recipient to receive money or credit as a result of a bet or offer to bet."
Are There Any Casinos in Wisconsin?
Those two statutes form the foundation of Wisconsin's largely negative stance on gambling. Casinos are illegal unless they're situated on tribal land and run by the tribes themselves. This exception is based on the Federal Indian Gaming Regulatory Act which passed in 1988. There are currently a number of tribal casinos in operation in Wisconsin offering class 3 casino games – basically everything you'd want from a casino including slot machines, video poker, and all kinds of table games. The legal age for playing in these casinos depends on liquor service; casinos that don't serve liquor can welcome players 18 years of age and older while those that do serve liquor must restrict admittance to players who are least 21.
Is Sports Betting Permitted in WI?
Sports betting takes a funny turn here in Wisconsin. Pari-mutuel betting has been legal for more than half a century, making it perfectly okay for bettors to wager on the outcome of horse or dog races as long as those bets are placed at the race track. The problem is that there are no race tracks currently in operation anywhere in the state. Recently, there has been some lobbying by local tribes to turn the vacant tracks into casinos but so far those attempts have failed.
Wisconsin has a state lottery and it's also a member of the Multi-State Lottery Association (MUSL)2. In house games, which help fund property tax relief for Wisconsin residents (to the tune of more than $3 billion to date), in include Pick 3, Pick 4, Badger 5, SuperCash!, and Wisconsin's Megabucks. MUSL games include Mega Millions and Powerball. Players must be at least 18 years of age to buy a lottery ticket.
Other Forms of Legal Gambling in Wisconsin
Charitable gaming in Wisconsin is limited to bingo games, raffles, and the interestingly named "duck race raffles" (a raffle in which participants buy the rights to numbered rubber ducks that then race). So-called "casino nights" are not allowed. These games must be run as part of a nonprofit organization's fundraising efforts and all games require permits issued by the Division of Gaming's Office of Charitable Gaming as well as a seller's permit the organization must get from the Wisconsin Department of Revenue. As of this writing, license fees are $10 per bingo game on top of an annual $5 fee. The state also taxes charitable games at a rate of 1% of the first $30,000 of gross annual bingo receipts and 2% of receipts exceeding $30,000.
Social gambling is not technically allowed but law enforcement tends to turn a blind eye if the games are run purely for non-commercial reasons. Those looking to play under the radar know that it's best if participants are acquainted socially prior to the game and the host must not rake or in any other way make a profit (other than by playing and winning fair and square). Running a commercial gambling enterprise out of one's home or business is illegal and the offender risks misdemeanor charges and a stiff fine.
What Are Wisconsin's Online Poker Laws?
There are no laws in Wisconsin that specifically ban online poker or any other kind of internet gambling but those games are assumed to be illegal under existing gambling laws. Whether there are or not is open to judicial interpretation but there doesn't appear to be much zeal on the part of prosecutors to hunt down and charge casual players.
Many residents head online to offshore gambling sites and play without hesitation and those sites are more than happy to help Wisconsinites open an account. If you have any concerns, we recommend you contact a local attorney who specializes in gambling law so you can get some up-to-date advice that may help you play your poker in peace.
Is it Legal to Play Poker in Wisconsin?
You can legally play poker in Wisconsin at the state's tribal casinos. Many of the casinos have live table play and some have dedicated poker rooms that host periodic poker tournaments. You can also host poker games in your home but that's at your own risk – officials tend to ignore casual private games but they are technically against the law.
Will Wisconsin Regulate Online Poker?
The fact that Wisconsin still hasn't legalized commercial casinos is a major stumbling block in the road towards regulating online poker in the state3. It's almost inevitable that commercial casinos would come before online sites and repeated attempts to approve brick-and-mortar casinos has been met with serious resistance. Those in charge seem happy to let the tribes handle the majority of the state's gambling and those tribes would have concerns about a new online gambling program unless they had a stake in the profits.
One solution would be to link the online casinos with existing tribal operations, perhaps allowing the tribes to offer online poker as an extension of brick-and-mortar play. Casinos in Nevada have already tried out this approach and it appears to be working. Some tribes are already on board with that idea. In 2013, the Lac du Flambeau Band of Lake Superior Chippewa Indians joined up with the Tribal Internet Gaming Alliance to launch their own fun-play iGaming site. More than 2,000 players signed up the first month. Though cash play wasn't allowed, the popularity indicates that there is interest in online gambling in Wisconsin and real evolution is possible.
It's likely that progress in Wisconsin will only come on the back of ongoing change in other U.S. states – if online poker is legalized and begins to thrive around the country Wisconsin may well decide to try it out as well.
History of Gambling in Wisconsin
The push and pull of gambling law in Wisconsin dates all the way back to the institution of the state constitution in 1848 which banned lotteries in all forms. A mere decade later, lawmakers followed up with a new rule that made it impossible for the "house" (in whatever form that may take) to collect gambling debts owed by those who made losing wagers. By the 1900s, betting of any kind was outlawed.
Charitable gambling was first legalized in 1950. Games were limited to bingo, traditional raffles, and duck raffles.
In 1987, Wisconsin legalized pari-mutuel betting. It's still legal to place pari-mutuel bets at a race track but there are no longer and race tracks operating in the state.
The Wisconsin Lottery launched in 1988. Play was redefined in 1992 when the state banned Video Lottery Terminals and limited legal lottery games to scratch-off tickets, draw games, and pull-tabs.
Following the passage of the Federal Indian Gaming Regulatory Act in 1988, Wisconsin began negotiating gambling compacts with some of the state's federally recognized tribes. The first of those compacts was signed in 1992 and there are now 11 tribes in total who have the legal right to operate casinos.
In 2009, Wisconsin's last race track, Dairyland Greyhound Park4, closed its doors for good as a result of flagging public interest.
Citations - Footnotes