Legal Vermont Online Poker & Poker Laws
Home » US Poker Laws » State Laws » Vermont Poker Laws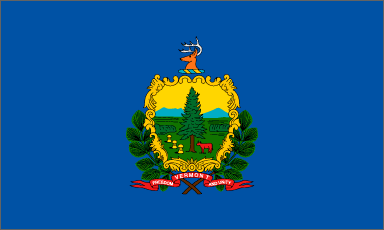 Relevant State Code: 13§2132 et seq.; 31§601 et seq
Vermont's approach to gambling falls somewhere in the middle of the spectrum of US states.  While fairly strict in some senses, anti-gambling law in Vermont is quite limited in others.  The state does not offer a formal definition of gambling; instead, gambling is defined indirectly via the charge of Winning or losing by gambling:  
Chapter 51, Section 2141
A person who wins or loses money or other valuable thing by play or hazard at any game, or by betting on such play or hazard, or sharing in a stake wagered by others on such play or hazard, shall be fined not more than $200.00 nor less than $10.00.
Via substitution, we can conclude that gambling is "play or hazard at any game."  The charge of Setting up, promoting or aiding (Section 2101) suggests that gambling is also defined as a lottery, a raffle or a game of chance played "for money or property." 
Players face comparatively little risk in Vermont; in addition to the charge of Winning or losing by gambling, there's also a charge for gambling at "a gaming house" that carries a maximum fine of $200 and a potential sentence of up to 60 days.  Operators (and those who profit from illegal gambling activities) face more serious charges than players, but still have lower-than-average criminal exposure under Vermont law. 
Vermont reported zero criminal charges related to gambling in 2009 and 2010.
Legal Types of Gambling in Vermont
Vermont oversees a state lottery.  The state used to host horse and dog racing, but no longer offers either.  There are no commercial or tribal casinos in Vermont.
Social gambling is a slightly more complicated issue.  One of the two primary charges for players requires that the gambling take place in a "gambling house," which would seem to exclude players in a private residence from the charge.  However, players would still seem to be subject to the separate charge of Winning or losing by gambling, and whoever organizes the game could theoretically be subject to additional charges.
As for charitable gambling, Vermont allows qualified organizations to host a limited number of events per year.  Such events can include bingo, raffles and card games like poker.  For more complete information, refer to this FAQ on charitable gambling provided by office of the Vermont Attorney General.
Playing Real Money Poker In Vermont
Since Vermont law focuses on the act of betting itself and not the game being bet on, poker is likely a prohibited form of gambling under state law.  Since there are no casinos in Vermont, that option is off the menu for poker players.
Home poker games would appear to be technically illegal for both players and the host.  Prosecution of such games seems exceedingly unlikely, but that doesn't change the applicability of the law to such activity.
Players can legally take place in legitimate charitable poker games hosted by qualifying organizations.
As for online poker players, the situation should be a familiar one by now: While technically illegal, playing online poker appears to be nowhere near the radar of law enforcement in Vermont.  In the unlikely event a player is pursued, the relevant penalty appears to top out at a $200 fine.
Vermont Law Covering Legal Online Poker and Casinos
Vermont gambling law addresses the Internet, but only in the context of excluding ISPs from criminal liability for indirectly violating state law prohibiting the sale or promotion of unregulated lottery tickets.  No other aspect of Vermont law appears to address online gambling (directly or indirectly).
Vermont Gambling Laws: Fun Facts
You can attempt to recover gambling losses via civil action in Vermont as long as you initiate the action within one month of the loss (Section 3981).
A literal reading of Vermont law would suggest that a player who wins or loses at gambling has broken the law, but a player who breaks even is on safe ground.
Online Gambling in Vermont: Recent Headlines
In March of 2012, Vermont passed a law (somewhat humorously short-titled as the "Big Bill") requiring the state lottery commission to research the issue of online lottery sales and report their findings by January of 2013.
Probability of Legal Online Poker in Vermont
Much will depend on the tone and content of the report the lottery commission delivers in January 2013.  A favorable report could set the stage for regulation of a variety of online gambling activity, including legal online poker sites, while a negative report could stall regulation indefinitely.
Assuming the report is favorable, Vermont would still face a few substantial obstacles before residents would be able to play regulated poker online.  The state would definitely need partners to operate a viable online poker site, and current state law would require several significant revisions to accommodate any sort of online gambling.
While the impending report from the lottery commission provides some proof of legislative momentum with regards to online gambling regulation, it is a largely isolated event.   All in all, Vermont seems to enjoy an average (perhaps a slightly better than average) chance of seeing regulated online poker among US states.