Legal District of Columbia Online Poker / Gambling Laws
Home » US Poker Laws » State Laws » District of Columbia Poker Laws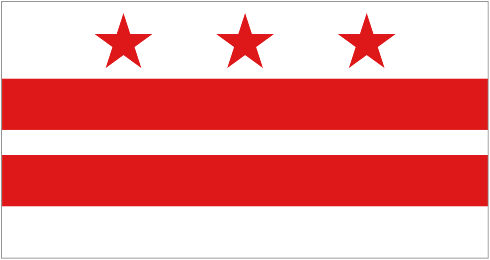 Relevant State Code: 945.01 et seq.; 562.001 et seq.
Seat of the nation's government, the District of Columbia takes a limited approach to unregulated gambling.  District of Columbia law does not provide a direct definition of gambling; instead, the definition can be inferred via the charge of Gaming; setting up gaming table; inducing play:
Section 22-1704 
Whoever shall in the District set up or keep any gaming table, or any house, vessel, or place, on land or water, for the purpose of gaming, or gambling device commonly called A B C, faro bank, E O, roulette, equality, keno, thimbles, or little joker, or any kind of gaming table or gambling device adapted, devised, and designed for the purpose of playing any game of chance for money or property
The emphasis added to the above definition highlights what we can consider to be the District's working definition of gambling: Risking money or property on a game of chance.  "Game of chance" does not receive a formal definition in District code, so there's some ambiguity as to what this particular charge (and any subsequent charge that relies on the definition) actually covers.  Separate aspects of District gambling law specifically prohibit sports betting and running lotteries.
What about penalties for violations of District of Columbia gambling laws? Players seem to have no criminal liability whatsoever, unless they're betting on sports or purchasing illegal lottery tickets.  Operators can face a handful of charges under District law, including violations for setting up and hosting gambling devices.  While substantial in an absolute sense, the penalties associated with illegal gambling in D.C. are generally less severe than penalties in the typical US state.
Statistics provided by the District of Columbia reveal a total of 15 arrests in 2011 for gambling-related charges (compared to 5 in 2010). 
What are the Regulated Gambling Options in the District of Columbia?
It's a pretty short list.  There are no commercial or tribal casinos in D.C., nor any pari-mutuel options - justalottery. 
Social gambling in the District of Columbia is a somewhat complex topic.  Since there are no penalties for mere players, social games of poker would seem to be legal - except that someone still has to set up the game and provide the equipment, which would seem to be a violation of Section 22-1704.
Charitable gambling is permitted in various formats in the District of Columbia.  Qualifying organizations can conduct games of bingo, raffles and "Monte Carlo" nights.  Charitable gambling is overseen by the DC Lottery and Charitable Games Control Board; visit their site for the complete rules and regulations pertaining to charitable gambling in the District.
Playing Poker For Real Money Legally In District of Columbia
There are no licensed casinos or card rooms in the District of Columbia. 
As indicated in the preceding section, social games of poker appear to exist in a legal limbo in the District of Columbia - legal to play, but not legal to operate.  The risk associated with participating in such a game seems nil, but private games at higher stakes may attract attention and result in criminal exposure for the organizer.
Charitable organizations can offer some forms of Texas Holdem tournaments if they have the appropriate license from the DC Lottery and Charitable Games Board.
As for online poker, it's difficult to find a violation in D.C. law that makes playing poker for real money online a chargeable offense. 
Legal Online Poker / Gambling Sites in District of Columbia
District of Columbia law does not explicitly criminalize any aspect of online gambling including online poker.  Furthermore, most of the charges related to operating an illegal gambling business appear to require the business to be physically present (and the gambling to clearly take place) in the District.
There are no doubt readings of District law that could identify violations relevant to online gambling activity, but on its face the law does not appear to apply to Internet-based gambling.
District of Columbia Gambling Laws: Fun Facts
If you lose more than $25 in one session of illegal gambling, you can sue to recover the loss and your costs (Section 16-1702).
It's illegal to "deal, play or practice" three-card monte in the District of Columbia (Section 22-1706).
Recent Online Gambling Headlines from District of Columbia
D.C. embarked on a much-discussed attempt to regulate online gambling in 2010, only to see that attempt collapse amid no small amount of controversy in February of 2012.
Online Poker Regulation: Likely in the District of Columbia?
Given the controversy associated with the District's last attempt to regulate online gambling, you can be sure that any future attempts will face substantial scrutiny before becoming law.
Will that scrutiny be enough to beat back advocates of online gambling regulation in D.C. government?  That's a tougher question to answer.  In need of funds to close budget holes and with clear support - at least from some corners - for regulating some form of online gambling, the District of Columbia would appear to have a slightly better-than-average chance than the average state in the US of bringing regulated online poker to reality in the near-term.