Legal North Dakota Online Gambling & Poker Laws
Home » US Poker Laws » State Laws » North Dakota Poker Laws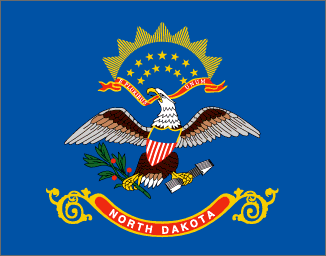 12.1-28-01 et seq.; 53.06.1-01 et seq.
North Dakota law regarding gambling is short and sweet - well, short at least.  The state takes a surprisingly tough stance on unregulated gambling that starts with a very broad definition of what it means to gamble:
Section 12.1-28-01
"Gambling" means risking any money, credit, deposit, or other thing of value for gain, contingent, wholly or partially, upon lot, chance, the operation of gambling apparatus, or the happening or outcome of an event, including an election or sporting event, over which the person taking the risk has no control.
Given this definition, it seems as if the presence of any chance ("wholly or partially") in an activity is sufficient to render that activity as gambling under North Dakota law (when wagering is involved).  
North Dakota draws a line between players and operators when it comes to penalties for illegal gambling.  Players are looking at either an infraction or a Class A misdemeanor (click here for a breakdown of North Dakota charges and penalties) depending basically on the stakes they gamble for (more on that in the Permitted Forms of Gambling section below). 
A person who "engages or participates in the business of gambling" is looking at a Class C felony.  Here's what qualifies for that charge:
Section 12.1-28-01 (3)
Without limitation, a person is deemed to be engaged in the business of gambling if that person:
a. Conducts a wagering pool or lottery;
b. Receives wagers for or on behalf of another person;
c. Alone or with others, owns, controls, manages, or finances a gambling business;
d. Knowingly leases or otherwise permits a place to be regularly used to carry on a
gambling business or maintain a gambling house;
e. Maintains  for  use  on  any  place  or  premises  occupied  by  that  person  a
coin-operated gaming device; or
f. Is a public servant who shares in the proceeds of a gambling business whether
by way of a bribe or otherwise.
North Dakota reported zero gambling - related arrests in 2011.  One could reasonably conclude from this statistic that either no unregulated gambling is happening in North Dakota or that pursuit of those involved in such activity is not a priority for law enforcement North Dakota. 
Legal Forms of Gambling in North Dakota
North Dakota runs a lottery, pari-mutuel wagering (including online betting) on horse racing and has tribal gambling options.
Social gambling is allowed, but only for very low stakes.  The parameters of those stakes are outlined by the first gambling-related charge in North Dakota law:
12.1-28-02(1)
It is an infraction to engage in gambling on private premises where the total amount
wagered by an individual player exceeds twenty-five dollars per individual hand, game,
or event.
The law does not require a social relationship between participants, only that the stakes not exceed the limits described above.
Charitable gambling falls under the purview of the Gaming Division of the North Dakota Attorney General.  Permissible forms include bingo, raffles, and "pull tabs, punchboards, twenty-one, paddlewheels, poker, and sports pools."  The state recently ushered in new rules governing charitable gambling.
Playing Poker for Real Money Legally in North Dakota
At a regulated tribal casino such as Sky Dancer, real money poker is available and legal to play.   
Things get trickier in a home poker game.  As detailed above, the state isn't concerned about rake so much as stakes.  It seems that games that adhere to the stake limits cannot run afoul of state law; how officials would ever go about proving that higher stakes were involved in such a game is another question altogether.
Charitable poker games run in accordance with state regulations are legal options for poker players.
Are Online Casinos and Poker Rooms Legal in North Dakota?
Clear and to the point as it may be, North Dakota law fails to tackle the issue of online gambling anywhere in the relevant criminal code.
As readers well know, that absence is not the equivalent of a legal green light with regards to online gambling; it only means that the questions of what parts of North Dakota law would apply to online gambling and exactly how they would be applied remain unanswered.
North Dakota Gambling Laws: Fun Facts
Players under 21 (but over 18) can participate in charitable bingo in North Dakota.  Players under 18 can apparently participate in charity bingo if accompanied by an adult (Section 53-06.1-03(d)). 
North Dakota law is one of the few that contains an express exemption for use of otherwise illegal gambling devices by "any institution under the control of the state board of higher education which awards degrees of bachelor's or higher" for research purposes (Section 12.1-28-01(1)(c)).
North Dakota: Online Gambling News & Developments
North Dakota actually made a short-lived and ultimately failed attempt to regulate online poker in 2005. 
The man behind that push - Rep . Jim Kasper , R - Fargo - was asked in January 2012 (following the DOJ's Wire Act reversal) whether he had any plans to revive online poker regulation.  In response, Kasper told the AP that "I am not talking about promoting (Internet poker), and I have not made any decision to do anything at all," [...] "Whether I do anything or not in the next session, I have no idea."
What are the Chances That North Dakota Regulates Online Poker?
While Kasper's above quote doesn't sound like the words of a staunch advocate for online poker, it also doesn't sound like a person who has ruled out the idea entirely.  What it does sound exactly like is the words of someone who is unlikely to do much of anything until after elections pass in the fall 2012 (Kasper is up for re-election).
North Dakota almost certainly falls into a class of states that will come along with online poker regulation once a few other states have proven the activity to be both technically and economically viable.  The chances of North Dakota acting as an early adopter seem categorically remote.