Nebraska Online Poker/ Gambling Laws
Home » US Poker Laws » State Laws » Nebrasks Poker Laws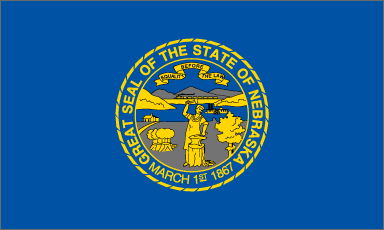 Relevant state code: 28-1101 et seq.; 9-201 et seq.; 2-1201 et seq.
The state constitution of Nebraska once forbid all forms of gambling.  In modern times, Nebraska has loosened the laws a bit to allow some regulated gambling, but illegal gambling is still dealt with in a fairly strict fashion.  According to the very broad definition provided in Nebraska law, a person engages in gambling if:
Section 28-1101(4)
he or she bets something of value upon the outcome of a future event, which outcome is determined by an element of chance, or upon the outcome of a game, contest, or election, or conducts or participates in any bingo, lottery by the sale of pickle cards, lottery, raffle, gift enterprise, or other scheme
The use of "an element of chance" in the definition suggests that an event containing any chance - regardless of how significant the element of chance is to the outcome of the game - cannot be wagered on legally in Nebraska (assuming the state does not regulate said event)..
On to penalties.  Nebraska makes a distinction between those who just participate in an illegal gambling game and those who advance or profit from the operation of the game.  While the law is worded vaguely, a common-sense reading suggests that players face one of two misdemeanor charges (promoting gambling in the third degree or promoting gambling in the second degree) depending on whether their bets exceed $300 in a single day.  Operators can face those charges and more - repeated offenses result in potential felony charges.  Nebraska law also makes it a felony to attempt to collect gambling-related debts if the collector "employs any force or intimidation or threatens force or intimidation."  
While the laws of Nebraska certainly have teeth, enforcement of unregulated gambling in Nebraska is a low-volume pursuit.  The state reported only 2 gambling-related arrests in 2010 (down from 13 in 2009). 
What Gambling is Legal in Nebraska?
Pari-mutuel wagering on state-run horse racing is permitted in Nebraska.  The state offers a lottery.  Tribal casinos in Nebraska offer bingo and a variety of gaming machines.
Nebraska law does not appear to contain any exemption for social gambling.  Given that the charge of promoting gambling in the third degree covers betting "less than three hundred dollars in any one day," it would appear that gambling for any stakes in an unregulated context is illegal in Nebraska.
Charitable gambling in Nebraska is overseen by the Nebraska Department of Revenue.  Bingo, keno and raffles are allowed; casino nights are not permitted.
Is Playing Poker For Money Legal in Nebraska?
Playing poker for real money does not appear to be legal in any context in Nebraska.  While the state does not specifically mention poker as a prohibited game, almost any form of poker would easily be included under the scope of Nebraska's "any chance" definition of gambling.  Tribal casinos in Nebraska do not appear to offer poker.
The Nebraska Liquor Commission asserts that Texas Holdem tournaments that require an entry fee are not legal under state law. 
Charity gambling laws make no room for poker, and Nebraska does not have a social gambling exception that would permit home games.
Are Online Poker Sites Legal in Nebraska? What About Online Casinos?
While Nebraska law does not specifically address the act of gambling over the Internet, one aspect of the law could easily be applied to Internet gambling:
Section 29-1110
It shall be no defense to a prosecution under any provision of this article relating to gambling that the gambling is conducted outside this state and is not in violation of the laws of the jurisdiction in which it is conducted.
Furthermore, Nebraska's blanket prohibition on wagering would seem to prohibit any online gambling on the player side of the equation.  Of course, with only a handful of arrests for gambling of any sort in the last few years, it seems reasonable to conclude that Nebraska has not made targeting individual online poker players or gamblers a priority.
Nebraska Gambling Laws: Fun Facts
The Nebraska Supreme Court ruled that credits which allow a game to be played again - even if the credits cannot be redeemed for anything else of value - are "something of value."  That means Facebook casinos that accept real money but pay out only in credits for more play are probably illegal in Nebraska.
Online Gambling Developments in Nebraska
There have been no recent developments in or any news of note regarding online gambling regulation from the state of Nebraska.
Will Nebraska Regulate Online Poker?
Probably not.  The state would have to amend their constitution to allow a new form of gambling, and would likely see stiff opposition from tribal gaming interests.  There have been no attempts to broach the issue in the legislature (that we could locate) and the state seems to have basically zero appetite for expanding gambling in the status quo.
All of those factors, especially when taken in tandem with Nebraska's low population and social conservatism, make the state an extremely unlikely candidate to regulate online poker.