Legal North Carolina Online Gambling & Poker Laws
Home » US Poker Laws » State Laws » North Carolina Poker Laws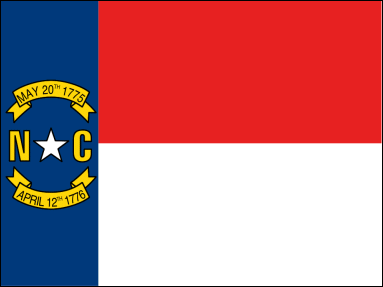 Relevant state code: 14-289, et seq.
North Carolina allows only limited regulated gambling and takes a fairly strict approach to all other forms of gambling.  What constitutes illegal gambling in the state is defined via the charge of gambling found in North Carolina law:
Section 14-292
Except as provided in Chapter 18C of the General Statutes or in Part 2 of this Article, any person or organization that operates any game of chance or any person who plays at or bets on any game of chance at which any money, property or other thing of value is bet, whether the same be in stake or not, shall be guilty of a Class 2 misdemeanor.
The issue of what exactly qualifies as a "game of chance" is left up to debate, as no definition is provided in the code.  Case law in North Carolina has concluded that poker is a game of chance per state law.     
Penalties for players appear to be limited to class 2 misdemeanors, which do not carry jail time unless the convicted party has five or more prior convictions.  Maximum jail time is 60 days.  Operators face relatively weak penalties (only relative to penalties of other states, not in an absolute sense) that are primarily class 2 misdemeanors. 
North Carolina reported 104 gambling - related arrests in 2010, with 50 of those arrests stemming from bookmaking charges.  High stakes poker games are certainly on the radar of at least some law enforcement agencies in the state.
What Forms of Gambling Does North Carolina Permit?
North Carolina operates a state lottery.  The state recently reached an agreement with tribal gambling interests to expand the types of games that could be offered at tribal casinos. 
There is no exception for social gambling under North Carolina law.

Bingos and raffles are allowed when conducted by qualifying charitable organizations.  Such gambling is overseen by the North Carolina Department of Public Safety.
Can I Play Poker for Real Money Legally in North Carolina?
In a licensed tribal casino, the answer is yes. 
As for home games, the answer would appear to be no.  There is no exception for any sort of social gambling in North Carolina that we could discern, and given the position of case law regarding poker as a game of chance, any unregulated play for real money would seem to be technically illegal.
What about charitable poker games in North Carolina? The state's laws on charitable poker are apparently quite a source of confusion even for state officials.
Are Online Casinos and Poker Sites Legal in North Carolina?
No aspect of North Carolina law appears to tackle the issue of online poker head-on.   We could not locate any opinions of the North Carolina AG regarding online poker or gambling.   
As wagering on any game of chance is illegal under North Carolina law if not specifically permitted, those gambling online could technically be risking a charge.  However, our research did not uncover any instances of individuals or companies charged with online gambling violations.
North Carolina Gambling Laws: Fun Facts
North Carolina was a latecomer to the lottery game, notching their first ticket sale in March of 2006.
The first regulated type of gambling in North Carolina was approved in 1983, when "beach bingo" was made legal in the state.
North Carolina: Online Gambling News & Developments
The state has been involved in an ongoing battle with operators of "sweepstakes" cafes that may result in regulation of the industry.
Otherwise, there hasn't been much talk in the state with regards to the issue of online gambling (or online poker) regulation.
What are the Chances That North Carolina Regulates Online Poker?
Relatively slim.  There hasn't been any serious talk of a bill to regulate online poker in North Carolina in recent years.  While recent gambling expansion was successful, that success was the result of years of negotiation and is unlikely to be a template for online gambling regulation.
It's possible that online poker could come in via the backdoor of legislation that explicitly legalizes sweepstakes cafes, as they involve much of the same technology, legal issues and language that would need to be covered by any bill to regulate online poker.  In that scenario, North Carolina might come along as part of a larger state-based wave if operators concluded the law provided an opening for online poker.  Aside from that somewhat remote possibility, North Carolina appears to have a worse than average chance of passing any sort of online poker regulation in the near term.