Legal West Virginia Gambling Laws
Home » US Poker Laws » State Laws » Wisconsin Poker Laws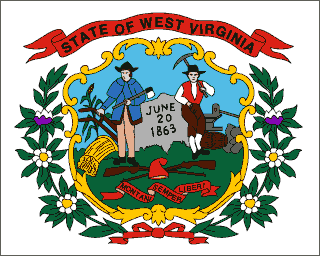 Relevant State Code: 18.2-325 et seq.; 59.1-364 et seq.
While it may seem a somewhat unlikely gambling hub, West Virginia is home to as much - if not more - regulated gambling than any of its bordering neighbors.  As is generally the case in states where a wide variety of gambling is legal, unregulated gambling is considered illegal by default and is dealt with fairly strictly in West Virginia.  The state does not offer a direct definition of gambling but instead crafts a very broad definition via a handful of related charges, starting with Playing or betting at gaming tables and devices:
Section 61-10-4
If any person bet or play at any such gaming table, bank or device as is mentioned in the first section of this article, or if, at any hotel or tavern, or other public place, or place of public resort, he play at any game except bowls, chess or backgammon, draughts or a licensed game, or bet on the sides of those who play at any game, whether the game be permitted or licensed or not, he shall be guilty of a misdemeanor
A "gaming table, bank or device" is defined in a separate charge, Keeping or exhibiting gaming table, machine, or device:
Section 61-10-4
Any person who shall keep or exhibit a gaming table, commonly called A.B.C. or E.O. table, or faro bank, or keno table, or any slot machine, multiple coin console machine, multiple coin console slot machine or device in the nature of a slot machine, or any other gaming table or device of like kind, under any denomination, or which has no name, whether the game, table, bank, machine or device be played with cards, dice or otherwise, or shall be a partner, or concerned in interest, in keeping or exhibiting such table, bank, machine or gaming device of any character, shall be guilty of a misdemeanor
Notice that simply playing a prohibited game - even absent any betting - is illegal by the letter of West Virginia law.  The definition is stunningly vague and would appear to include common games such as Monopoly and Go Fish.
In West Virginia, players are subject to two separate misdemeanor charges for participating in illegal gambling (neither of which include jail time).  Operators are also looking at a handful of various misdemeanor charges, with a felony charge reserved for those who operate "policy" or "numbers" games.  These penalties are relatively minor when considered in the overall context of typical penalties found in US states. 
According to statistics provided online by the state, West Virginia recorded a total of 8 gambling-related arrests in 2009 (most recent year for which data was available).  All charges were for Gambling Equipment Violations.
List of Legal Gambling Options in West Virginia
With the exception of tribal casinos, every primary regulated gambling option is available in West Virginia.  The WestVirginiaLottery runs both traditional and video lottery games, pari-mutuel wagering on races and a variety of Vegas-style games are available at racetracks, and the state is also home to a resort casino.
There is no exception for social or private gambling contained in West Virginia law.  In fact, the state law specifically prohibits betting or wagering on games of chance by " any person at any place, public or private."
Games of bingo run by qualifying charitable organizations get a pass from state anti-gambling laws.  All organizations offering such games must be licensed by the State Tax Commissioner.
Playing Poker For Real Money Legally In West Virginia
Legal poker rooms are available at several of the racinos located in West Virginia.  
Home poker games would appear to be illegal by the letter of West Virginia law, although the chance of enforcement seems - at best - miniscule.
Poker is not a form of gambling permitted via the charitable gambling exceptions of West Virginia law, so there's no such thing as a legal "charity poker" room in the state.
Playing poker online for real money is likely against West Virginia law.  However, the law is so vague in so many places that the chance of an online poker player being successfully prosecuted (or even targeted in the first place) is a number approaching zero. 
Are Online Poker Sites Legal in West Virginia?
No part of West Virginia law directly addresses the act of online gambling from a player or operator perspective.  The state does obviously have general prohibitions against gambling that could apply to betting online, but - to the best of our knowledge - the issue of the legality of online gambling in West Virginia has yet to be completely settled.
West Virginia Legal Gambling Laws: Fun Facts
Table games could not be legally offered in West Virginia casinos prior to 2008.
West Virginia gambling revenues peaked in 2007 at just under one billion dollars.
Recent Online Gambling Headlines from West Virginia
In early 2012, state lottery officials confirmed that they were investigating the potential of online gambling.
West Virginia has been frequently mentioned as a potential online poker partner for Delaware.
Exploring the Potential for Online Poker Regulation in West Virginia
With gambling revenues declining and competition from neighboring states ramping up, West Virginia may indeed be a viable candidate for online gambling regulation.  Indications from the state lottery that they're exploring the issue and the frequent mentions of West Virginia as an online poker partner for Delaware (who passed online gambling regulation in June of 2012) also provide hope for those who would like to see West Virginia regulate some form of online gambling in the near term.
The gap between potential and action, however, is a wide one.  West Virginia has yet to see a concrete proposal for regulating online gambling advanced by any governmental agency or commercial interest, even in the wake of Delaware's successful adoption of online gambling regulations.  Until such a proposal emerges, West Virginia has only a slightly better-than-average chance of seeing regulated poker in the short term.