The Legal Status of Online Poker in the United States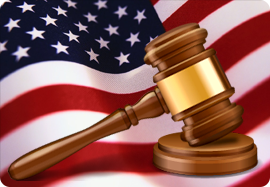 If you've come across our site, you're probably interested in the legal situation regarding online poker for residents of the United States.  While we are not lawyers and this site does not offer legal advice, we do strive to provide complete and relevant information regarding the complex issue of US law as it relates to playing poker online.
Browse our in-depth articles or get up to speed on the situation in just a few minutes with our quick guide to United States law regarding online poker below.
We also offer dedicated pages for each state which reviews the laws surrounding online poker and gambling in general.
The main page covers all US state poker laws where you can search for state you reside in.
Popular US State Legal Pages for Gambling & Poker
Some of the most popular state pages on our site include;
The Basics of Online Poker Legality in the US
The legal picture for online poker in the US is - in a word - murky.  The first thing players need to understand is that there are two levels of law in the United States: Federal laws and state laws.  Federal laws generally apply to all states, while state laws generally apply only within the borders of a given state.
Online poker - and gambling in general - is primarily covered by state law in the US, although there are some complementing federal laws in play.  Let's quickly summarize the status quo for online poker players and operators of online poker rooms under current US law.
For online poker players
There is no US federal law that mentions or is directly applicable to online poker players.
Washington State criminal law explicitly prohibits residents from playing online poker for anything of value.
Many other US states - such as Illinois - outlaw any gambling that isn't directly regulated by the state, but playing online poker is not specifically mentioned by the laws of any state besides Washington.  States with some form of regulated gambling, such as a racetrack or a casino, are likely to have harsher laws regarding unregulated gambling.
Some states - such as North Carolina - have decades-old laws regarding gambling based on religious or cultural opposition to gambling.
Prosecutions of individual gamblers under state law are exceedingly rare.
For operators of online poker rooms
Unlicensed casinos of any kind are explicitly illegal in many US states.  State law (and judicial precedent) in the US rarely draws a distinction between poker and other forms of gambling, so poker rooms are no different from casinos in the eyes of the law.
Many states - including Maryland - have taken the position that jurisdiction is established by where the bet is made, so a poker room's remote location provides little shield from charges.
Federal law supplements state law when it comes to the operation of an unlicensed casino operation, primarily through:
The Illegal Gambling Business Act of 1970, 18 U.S.C. §1955.

The Unlawful Internet Gambling Enforcement Act of 2006,  31 U.S.C. §§ 5361–5367
Understanding the UIGEA
We'll discuss the IGBA and the UIGEA in separate articles, but the UIGEA merits a brief discussion here due to the widespread misunderstandings surrounding the law.
The UIGEA was passed into law in October of 2006.  The general consensus is that the UIGEA was tacked on to another bill - the Safe Ports Act - with no notice to most members of Congress; in fact, many admitted that they had not even been able to read the language of the UIGEA before having to vote on the larger bill that contained the law.
Online poker is not outlawed by the UIGEA, as many believe - in fact, online poker is not even mentioned in the text of the law.  The UIGEA is primarily concerned with making the processing of payments related to illegal gambling a criminal offense under federal law.  It does not define what illegal online gambling is, leaving that job to the laws of various states.
The impact of the UIGEA's passage on the online poker industry in 2006 was swift and decisive.  Many publicly-owned companies opted to abandon the US online poker market, including the largest online poker room at the time - Party Poker.  Others - including Full Tilt Poker, Merge, Cake Poker and PokerStars -  took a different interpretation of US law and continued to offer poker to players from the United States. 
Commonly Asked Questions About US Online Poker
Do online poker rooms still accept US players?
Yes.  A number of online poker rooms still accept players from the United States.  Some rooms accept players from specific states but not from others; Washington, Utah, New York and Maryland are four states where residents will have a relatively limited set of options for playing poker online.
Why can't US players play poker at Party Poker, PokerStars or 888 Poker?
Each of these rooms has made the decision to exit the US market for legal reasons.  Party Poker and 888 Poker - along with a number of online poker rooms - left the US market within weeks of the passage of the UIGEA.  PokerStars continued to serve US players until April of 2011, when the company was charged with violations of New York state law and the UIGEA.  PokerStars continues to contend that they were operating in the US based on a qualified legal opinion and has admitted no wrongdoing.  The company exited the US market as part of a deal to regain their domain name, which had been seized by the US Government when the charges were filed.
Can US players deposit and withdraw at poker rooms?
Yes.  Depositing and withdrawing will generally involve slightly longer time frames for players from the United States than for players from, say, the United Kingdom.  Depositing generally incurs no fees on the player side, but withdrawals (especially frequent or large withdrawals) for US players may be subject to some charges. 
Players from the US generally have credit cards, money transfers and a few ewallets available as deposit options and checks, debit cards and bank wires available as withdrawal options.
Is my money safe at an US-friendly online poker site?
As is the case with every financial interaction that occurs online, some risk is involved with keeping money at an online poker site.  Players from all regions are generally advised to keep no more money than necessary at any online poker room, as poker rooms are subject to the same pressures that could undermine the stability of any business operation.
Am I breaking the law by playing poker online from the US?
In most cases, the answer to this question appears to be no.  Few states make any explicit mention of online poker in their laws or show any interest in pursuing individuals who play poker online.