Alaska Poker Laws
Home » US Poker Laws » State Laws » Alaska Poker Laws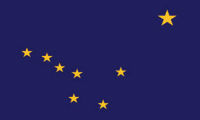 Alaska Quick Links
Relevant state code: 11.66.200; 05.15.680
Gambling in Alaska can be a tricky thing. While local contests based in tradition sometimes get a pass, other risk-based outlets are very much frowned upon. That can make it difficult for gambling enthusiasts and poker fans to enjoy their favorite pastimes.
Is there any way gamblers can try their luck in the state of Alaska? If not, will those laws every change? Read on to find out more about Alaska's gambling laws including a look at the state's history and a guess at the future.
Alaska Gambling Laws
Alaska has some of the most restrictive gambling laws in the entire United States, largely due to the conservative local legislature. The most relevant codes are the following taken from the 2013 version of Alaskan Statutes (AS 11.66.270):
(1) "contest of chance" means a contest, game, gaming scheme, or gaming device in which the outcome depends in a material degree upon an element of chance, notwithstanding that the skill of the contestants may also be a factor
(2) "gambling" means that a person stakes or risks something of value upon the outcome of a contest of chance or a future contingent event not under the person's control or influence, upon an agreement or understanding that that person or someone else will receive something of value in the event of a certain outcome
The statute goes on to list of events or circumstances not included under the term "gambling" such as playing certain types of amusement devices and participating in bona fide business transactions.
According to Sec. 11.66.200. Gambling:
A person commits the offense of gambling if the person engages in unlawful gambling.
It is an affirmative defense to a prosecution under this section that the defendant was a player in a social game.
Gambling is a violation for the first offense. Gambling is a class B misdemeanor for the second and each subsequent offense.
The low population of the state – with less than 750,000 people calling Alaska home, it's ranked 48th in the nation – combined with relatively low activism in terms of pro-gambling lobbying has made changing those laws a difficult task. That doesn't mean that residents are completely uninterested in placing bets, though, they're just forced to be more creative.
In addition to hopping on some passing cruise ships for a little diversion at sea (more on that in a moment), Alaskans often bet amongst themselves on everything from dog mushing (the state sport) and salmon fishing to the date on which the first crane will fly into town. These for-fun wagers aren't regulated and social poker games that take place in people's home are considered okay as well provided that the operations are not run for a profit. Charity fundraisers that use gambling to generate donations are legal provided certain rules are followed. Those rules fall under the auspices of the tax authority which also issues and controls the licenses necessary for charity gambling.
There are absolutely no state-sanctioned commercial casinos in Alaska. Unlike some states in which tribal casinos are exempt from anti-gambling laws, tribal establishments in Alaska are only allowed to run bingo and so-called "pull-tab" games. Those pull-tab games are also the state alternative to a state-run lottery and feature paper cards with a simple perforated tab that opens to reveal symbols and a final prize. Basically, they're similar to scratch off cards without the need to scratch anything off. The lack of casinos on Indian reservations is largely due to the fact that tribal land is not taxed independently in Alaska which changes the entire for-profit casino dynamic.
Alaska has also outlawed other gambling vehicles such as slot-style games, table games such roulette and craps, sports betting (other than the exceptions already noted), race betting, and basically any skill-based card games such as poker.
Alaska Online Poker Laws
Online gambling is the subject of some confusion and debate in Alaska. Technically, there are no laws on the books that specifically prohibit gambling online but in 2001 the state's attorney general, Bruce Botelho, made it clear that he believed current laws (detailed above) already covered the illegality of betting on the outcome of computer games. Things get even murkier when it comes to enforcement.
Though the authorities have indicated that participating in online gambling is technically against the law, there are no known instances in which gamblers have been penalized for playing poker online. Does that mean it could never happen? Not at all, but chasing down poker players certainly doesn't seem to be a priority.
Is it Legal to Play Poker in Alaska?
Remember those creative approaches to gambling mentioned earlier? Cruise traffic is huge in Alaska, with hordes of tourists regular stopping by to take in the impressive wildlife and stunning iceberg-studded vistas. Cruise ships often feature onboard casinos and once those ships hit international waters or anchor in Canadian territory, the tables are fair game (so to speak) for one and all.
Other than a cruise trip, there are few other legal opportunities to play poker in Alaska. Residents can play in approved and regulated charity games and in social/at-home games where the house does not make a profit. Playing poker online is technically illegal under the umbrella of general gambling laws but participation does not appear to be monitored or enforced. This alone has encouraged many Alaskans to go online and play on real-money online poker sites.
It's interesting to note that at least two major poker players come from Alaska: Perry Green is a World Series of Poker regular with three bracelet wins and two trips to the Main Event finals while Greg Hobson won the 2012 WSOP's ante-only event.
Will Alaska Regulate Online Poker?
Though the state attorney general indicated more than 15 years ago that he believed current wide-ranging gambling laws extended to online poker, there are still no specific online gambling laws in the legal code and that doesn't seem to be something that will change in the near future. Legalization would require a significant amount of public activism and the interest just doesn't seem to be as high as would be necessary to generate new legislation. Either locals are happy with the types of gambling they're already participating in or the lack of enforcement of supposed online gambling laws means that people feel safe signing on to their internet poker accounts whenever that want as it is. Either way, the status quo seems to be comfortable for all involved and that's unlikely to lead to any kind of transformation in the near future.
The one exception may be a native push for tribal casinos but there have already been cases that have reaffirmed the state's position against such establishments. To mount another challenge, tribal groups would have to find a new legal avenue to take and that seems improbable.
History of Gambling in Alaska
Alaska's gambling history is relatively short and uncomplicated compared to the lengthy legal back and forth that has taken place in many states. Aside from annual contests with long-standing traditions, gambling has been consistently illegal throughout the state.
The memorably named "Mafia Mike" Von Gnatensky ran for mayor in Anchorage in 1987 under the promise that we would bring in casino owners to pump the city's coffers. He didn't even make the ballot for the general election. Some say he inspired the 1990 ballot measure that proposed the establishment of a state gambling board but that was voted down in spectacular fashion.
In 1993, the National Indian Gaming Commission actually approved a small-scale casino situated on tribal land in Klawock, Alaska. Construction was already underway when the state hurriedly passed a law that banned dice, wheel, and card games. The casino died before it was every built.
Professional poker player Perry Green lobbied for the legalization of poker in Alaska in 2005. Green's stance was that poker could be a legitimate way to earn a living and that legalization would help fight the proliferation of underground gaming parlors. He gained the support of state officials such as Senator John Cowdery and Representative Pete Knott, but the results were mixed. Though the government introducing a license that would allow the operation of legalized card rooms, the licensing fees were exorbitant and there are currently no records of any legal poker card rooms running in the state.