Legal Poker Sites in Maryland
Home » US Poker Laws » State Laws » Maryland Poker Laws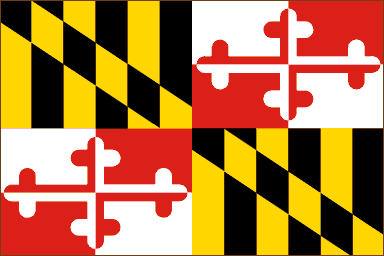 Relevant state code: 27-240; BR 11-101 et seq., BR §10-502
While some states might have stricter anti-gambling laws in theory, Maryland is arguably the worst state for individuals and operators participating in unregulated gambling.  Describing the anti-gambling laws (and enforcement of said laws) of Maryland as very strict is actually a bit of an understatement.  Maryland law does not provide a definition of gambling, but instead simply prohibits all conceivable forms of gambling in one fell swoop:
Section 12-102
(a) Prohibited.- A person may not:
(1) bet, wager, or gamble;
The remainder of the section further prohibits the operation of games where people "bet, wager or gamble," participation in any aspect of the financial chain of an illegal gambling business and bookmaking.  Maryland law goes further in Section 12-103, prohibiting the play of "any gaming device" for "money or any other thing or consideration of value."  What's a gaming device?  Just about anything, at least according to the state of Maryland:
Section 12-101(d)
(1) "Gaming device" means:
(i) a gaming table, except a billiard table, at which a game of chance is played for money or any other thing or consideration of value; or
(ii) a game or device at which money or any other thing or consideration of value is bet, wagered, or gambled.
With those wildly broad definitions, authorities in Maryland have what amounts to free reign to pursue criminal charges against anyone involved with any sort of bet not explicitly regulated by the state.  In terms of overall severity, Maryland's charges aren't as bad as some other states - mostly misdemeanors with fines serving as the primary punishment.  However, mere players face more significant charges in Maryland than they would elsewhere - six months to one year in jail and up to $100 in fines.
For operators, charges are less severe than average on face, but Maryland has more individual charges to levy against operators - meaning each charge is relatively minor, but the totality of all charges could prove to be quite significant.
In addition to state law, several counties in Maryland have laws restricting gambling, resulting in a patchwork of potential charges for both players and operators.
When it comes to enforcement of anti-gambling laws, Maryland appears far more aggressive than most states.  Maryland has worked with the US Government on several online gambling prosecutions (more on that below), and has a long record of gambling busts that sweep up players along with operators - such as this raid in 2011 and this one in 2007. 
Is Any Gambling Legal in Maryland?
Absolutely.  Maryland joined the commercial casino game in 2009, and also offers pari-mutuel wagering on horse racing (including simulcasts).  Maryland runs a state lottery and is currently considering plans to expand commercial gambling in the state.
Maryland does not have an explicit exemption for social gambling.  Some counties in Maryland allow limited forms of social gambling - primarily bingo and related games at senior centers.
Charitable gambling law varies widely by country in Maryland.  You can view a county-by-county break down here; the short answer is that qualified organizations can conduct a wide variety of games in many parts of Maryland.
Can I Play Poker for Real Money in Maryland?
Poker is likely only legal in a state-licensed environment when played in Maryland for money (or anything else of value).
Not only does playing poker certainly violate at least one of the prohibited "bet, wager or gamble" actions described in Maryland law, but the the cards, chips and table (or computer) used to play poker would easily seem to be covered by Maryland's definition of "gaming device."
Since you can't bet or wager or use cards, chips or any symbol representing cards or chips in an unregulated environment in Maryland, it's quite difficult to see how any poker game not played in a casino could be legal - even home games where no rake is taken.
Are Online Casinos or Online Poker Sites Legal in Maryland?
Maryland law does not specifically address online gambling or online poker sites, but numerous prosecutions of online gambling operators stemming from the state make it clear that Maryland believes their anti-gambling laws apply equally to online gambling.  It should be noted that the majority of these actions were against sports books and not poker rooms per se', but the general point remains.
One could assume that this belief extends beyond operators to mere players, meaning that those who play poker or otherwise gamble over the Internet while in Maryland are likely in violation of Maryland law.
You can read an interesting breakdown and analysis of Maryland's actions against online gambling operators in this article from Baltimore's City Paper; while from 2010 it's still a great piece covering Maryland's approach to online gambling enforcement.
Maryland Gambling Laws: Fun Facts
You can sue to recover money lost during illegal gambling (Section 12-110). 
A 2006 opinion from the Maryland Attorney General concluded that "it is well accepted that poker, despite elements of skill or judgement, is a game of chance that depends in substantial part on the hand a player is dealt and the placement of cards."
Maryland and Online Gambling: Recent News
In early 2011, Maryland was involved in the shutdown of a handful of online poker sites now referred to as Blue Monday.
Maryland was back in the news in February of 2012 for the state's role in bringing criminal charges against Bodog founder Calvin Ayre.
Finally, Maryland caught the attention of the online gambling community in early 2012 by floating plans to expand their lottery to include online sales; that initiative stalled in April of 2012.
Will Maryland Regulate Online Poker?
It's difficult for most to think of Maryland as a serious candidate for regulating online poker.  However, the state is actually fairly large in terms of population and has had a very liberal attitude toward gambling expansion over the last few years.  If the bill to regulate online lottery is revived and passed, it's not inconceivable that online poker could follow after a few months.
The state also has some logical partners - such as Delaware and New Jersey - that are in advanced stages of regulating online gambling, creating a regional momentum that might propel Maryland in the direction of regulated online poker sooner than might first seem possible.  For these reasons, we conclude that there is a reasonable chance that Maryland will regulate online poker at some point in the next three years.