Legal Florida Poker Sites / Poker Laws
Home » US Poker Laws » State Laws » Florida Poker Laws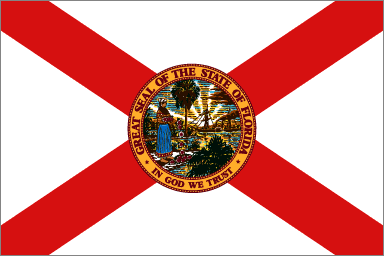 Relevant state code: 849.01 et seq.; 550.001, et. seq.
With sweeping statutes and a bevy of arcane rules, Florida easily ranks as one of the least-friendly states for gamblers.  The state takes a very strict approach to regulating gambling, and has a very broad definition of what constitutes gambling:
Section 849.08
Whoever plays or engages in any game at cards, keno, roulette, faro or other game of chance, at any place, by any device whatever, for money or other thing of value, shall be guilty of a misdemeanor of the second degree
A separate part of Florida law specifically outlaws wagering on (unregulated) games of skill:
Section 849.14
Whoever stakes, bets or wagers any money or other thing of value upon the result of any trial or contest of skill, speed or power or endurance of human or beast, or whoever receives in any manner whatsoever any money or other thing of value staked, bet or wagered, or offered for the purpose of being staked, bet or wagered, by or for any other person upon any such result, or whoever knowingly becomes the custodian or depositary of any money or other thing of value so staked, bet, or wagered upon any such result, or whoever aids, or assists, or abets in any manner in any of such acts all of which are hereby forbidden, shall be guilty of a misdemeanor of the second degree
These two aspects of Florida gambling law essentially make any sort of wagering that is not explicitly authorized by the state de facto illegal.
Florida has especially stiff penalties for those operating an illegal gambling business.  In addition to the various direct charges that could result from the running or participation in the advancement of such an enterprise, Florida law treats gambling offenses as predicate offenses that can trigger more severe racketeering charges.  As for those who merely participate in gambling, Florida has harsher penalties than you'll find in a typical state.  Prosecutions of individual gamblers, however, appear to be quite rare in Florida.
What Gambling is Legal Under Florida Law?
Several forms of gambling are legal under Florida law.  Parimutuel wagers are allowed at licensed horse and dog racing tracks.   Florida administers a state-run lottery, and limited Indian casino gaming is also permitted in the state.
Social gambling is legal in Florida under very specific conditions.  As is the case in most states, Florida requires that social gambling take place between people over the age of 18 and in an environment where no one is profiting (or attempting to profit) from the operation of the game.  Florida also requires a $10 cap per hand or per round for the game to be considered "penny ante" (their term for social gambling) and therefore legal.  Finally, only bridge, canasta, dominoes, hearts, mah-jongg, pinochle, poker or rummy are allowed under Florida's social gambling exception..
Charitable bingo games are allowed under Florida law when conducted by authorized organizations, as are certain kinds of raffles.  Poker games, whether tournaments or cash games, do not appear to be legal under charitable gambling law in Florida.
Can I Play Poker Legally in Florida?
If you play poker for real money at either a recognized tribal casino or in a "penny ante" game as described above, you are well within the law in Florida.
Otherwise, poker for stakes would appear to be illegal under Florida law.  Remember, the statutory definition of gambling includes prohibitions on both games involving cards and games of skill, so there seems to be little room for an exception for poker under current Florida law.
The question of whether or not individuals would run a real risk of prosecution for playing poker is a much different one.  We were unable to locate any instances of individuals prosecuted simply for participating in an illegal poker game in the state of Florida.
Does Florida Allow Online Poker Sites or Gambling Online?
Florida law regarding gambling does not specifically address the issue of gambling or playing poker online.
As is the case with just about every state in the US, gambling law in Florida is vague and broad enough to potentially apply to just about any manner of wagering; for example, one could make a case that an individual playing poker online has essentially turned their computer into a gambling device that would be illegal under Florida law. 
The ambiguity surrounding online gambling and the law in Florida is aptly illustrated by the controversy surrounding Internet Sweepstakes Cafes operated in the state.  To the casual observer, such cafes would seem to clearly be serving as online casinos - but their operators claim to be within the boundaries of Florida law and may have at least a reasonable legal basis for that claim.
Summary:  It is unlikely that either an online poker operator or player is within Florida law when it comes to real money games.  Casino operators may have more room to work with thanks to Florida sweepstakes laws.  The risk of facing prosecution as an individual player is actual in terms of the letter of Florida law, but apparently insignificant in practical terms..
Florida Gambling Law - Fun Facts
It's illegal to engage in gambling or horseracing within one mile of a religious camp.
Actual gambling isn't required for authorities to classify a place as a gambling house - they only need to find "any of the implements, devices or apparatus commonly used in games of chance" to assume that a place is being used for the purpose of gambling.
Florida Gambling Law in the News
Florida state rep Joseph Abruzzo floated a law to regulate intrastate online poker back in 2010, but the bill failed to get any traction and was tabled in April of 2011.
A bill seeking to ban Internet sweepstakes cafes passed the Florida House in 2012, but seems to be permanently stalled in the Senate. 
Will Florida Regulate and Legalize Online Poker Sites?
Regulated online poker sites in Florida faces a number of hurdles.  First, any online gambling regulated or otherwise legally endorsed by the state would have to be in compliance with the current gaming compact the state has with the Seminole Tribe.  Second, there appears to be little legislative motivation to tackle online poker, as evidenced by the death of Abruzzo's bill in 2011.  Finally, the growing backlash against Internet sweepstakes cafes could conceivably result in legislation that would explicitly prohibit all internet-based gambling, effectively raising the legislative bar for an online poker bill.
It's not all negatives; Florida is the 4th largest state by population in the US and is already a popular destination for poker players thanks to a recent reversal of the state's wagering limits for poker.  Those two facts suggest that Florida could be one of the few states where an intrastate poker room would actually be viable in terms of player liquidity.
With that said, it seems relatively unlikely that regulated online poker will come to Florida within the next three years, largely due to a lack of political motivation and the state's generally restrictive stance toward gambling.