Kansas Online Poker Laws
Home » US Poker Laws » State Laws » Kansas Legal Poker Laws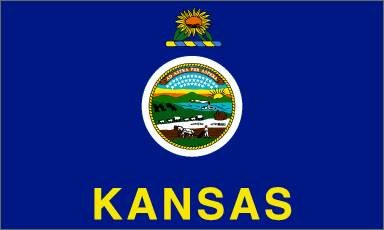 Relevant state code: 21-4302 et seq.; 74-8801 et seq
The state of Kansas takes a less conservative approach to gambling than one might expect.  The state provides residents and visitors with a diverse menu of regulated gambling options, and unregulated gambling is dealt with in a fairly strict manner that begins with a broad definition of gambling.  Under Kansas law, gambling is:
Section 21-4303
Making a bet; or entering or remaining in a gambling place with intent to make a bet, to participate in a lottery, or to play a gambling device.
As for a bet, that's defined as:
Section 21-4302(a)
A bargain in which the parties agree that, dependent upon chance, one stands to win or lose something of value specified in the agreement
Note that "dependent on chance" does not suggest entirely dependent on chance but more likely refers to the Dominant Factor Test - if chance is the dominant factor in determining the outcome of a game, then wagers on that game would likely be bets under Kansas law.  As with most states, any gambling that is not expressly regulated under Kansas law is presumed to be de facto illegal.
What about penalties for violating the law?  Participants could potentially face a Class B non person misdemeanor (up to 6 months in jail and $1000 in fines); we were not, however, able to find significant examples of prosecutions of individual gamblers in Kansas.  Operators face the brunt of penalties under Kansas law, with charges ranging from misdemeanor to felony for various activities associated with unregulated commercial gambling.
What Gambling / Legal Poker is Allowed in Kansas?
You'll find tribal gaming in Kansas in the form of casinos that offer games similar to the ones you'd find at a Las Vegas casino.  Kansas also has a state-run lottery that is fairly unique in its reach; in addition to offering drawings and scratch-offs, the state lottery also runs full-blown commercial casinos, a novel arrangement not present in other US states. 
Another somewhat unique aspect of Kansas gambling:  The state permits pari-mutuel wagering at horse and dog tracks, but only non-profit organizations may run race tracks.
Kansas does not have a specific exemption for social gambling, but Kansas case law does specifically delineate between social bettors and operators (State v. Head, Kan. Ct. App. 1988), ensuring that casual gamblers are at least unlikely to face the harsh charges the state reserves for those running or facilitating illegal gambling operations.
Limited charitable gambling is permitted in Kansas.  Raffles and casino nights are not permitted, but bingo is allowed when conducted by a duly licensed organization. 
Can I Legally Play Poker or Online Poker For Money in Kansas?
Poker is available at Indian casinos and at Kansas Lottery-owned casinos in the state.  Charity poker does not seem to be legal under Kansas law, and, without a specific exemption for social gambling, home poker games for stakes appear to fall into a legal grey area.
Poker is not explicitly mentioned in Kansas gambling law.   A 2005 opinion from the Kansas Attorney General concluded that poker tournaments constituted an illegal lottery, but did not address the issue of defining poker as a game of skill or a game of chance.
Given the ambiguity involved in the statutory definitions of "gambling" and "bet," it's unclear whether playing poker for money in an unregulated is illegal in Kansas.  What seems fairly clear is that the chances of an individual facing prosecution for mere participation in a typical game are quite low.
Is Online Poker Legal in Kansas?  What About Online Casinos?
A 1996 opinion from the Kansas Attorney General asserts that online gambling is inviolation of Kansas law.  The synopsis:
Placing, receiving or forwarding a bet and participating in or conducting a lottery on the Internet violates Kansas criminal gambling statutes. If a bet is placed or a lottery is engaged in from a computer located in Kansas any person or entity participating in such crime may be prosecuted in this state.
We were unable to locate a current position from the AG office on the issue, and we were similarly unable to uncover significant prosecutions of individual involved in online gambling under Kansas law.
Kansas Gambling Laws: Fun Facts
While Delaware has expanded its lottery in similarly creative directions, Kansas is the only state in the US where the State Lottery controls commercial casinos. 
Kansas is one of the few states to have specific laws against installing communications facilities for gamblers.
Kansas and Legal Online Poker: Recent Headlines
Kansas has not been a significant participant in the national conversation regarding regulated online gambling.  There have been no efforts to regulate (or ban) online gambling or poker in the state in the last few years.
Will Regulated Legal Online Poker Come to Kansas?
Regulated and legal online poker in Kansas seems unlikely to most, and with good reason.  The state is fairly small in terms of population and heavily rural, making an intrastate poker room a tough sell.  While Kansas did employ their lottery to expand gambling in the state, the Kansas Lottery is not yet available for purchase online - meaning any online gambling regulation would have to be built from the ground up.  Finally, there appears to be little to no public or legislative interest in the issue.
For those reasons, we think that the chances of Kansas regulating online poker anytime in the foreseeable future are exceedingly low.