Legal Pennsylvania Online Gambling & Poker Laws
Home » US Poker Laws » State Laws » Pennsylvania Poker Laws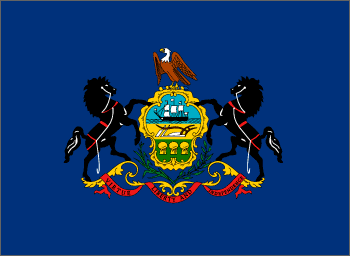 Relevant State Code: 18§5513 et seq.; 4§325.101 et seq.
If Pennsylvania law had a Facebook relationship with gambling, the status would almost certainly be "it's complicated."  The state takes a fairly strict approach to unregulated gambling, an approach that is muddled by the absolute lack of a definition of "gambling" anywhere in Pennsylvania law.  "Unlawful" gambling is defined as gambling "not specifically authorized by law," but that's not much help.
Lacking a formal definition enshrined in state law, Pennsylvania falls back on a case law definition of the term.  The general consensus seems to be that Pennsylvania requires the classic three elements - consideration (something of value given by the player), chance and reward - to be present for an activity to be considered gambling.
Just how much chance must be involved remains an open issue in Pennsylvania.
Penalties for illegal gambling in Pennsylvania are comparatively minor.  Players do not appear to face any criminal liability as long as they are simply participants in the game.  It should be noted that Pennsylvania law does not explicitly exempt players from prosecution - it only (apparently) fails to proscribe any specific charges for players.  Operators face several first degree misdemeanor charges (click here to learn more about penalties for various charges in Pennsylvania) along with the potential for additional conspiracy and racketeering charges.
According to statistics provided by the state, there were 276 gambling - related charges filed in Pennsylvania in 2010.  Based on a non-scientific search of Pennsylvania media, the exclusive targets of enforcement seem to be operators and those caught cheating in casinos.
Types of Legal Gambling in Pennsylvania
Those in Pennsylvania can try their hand at the State Lottery, betting on races at the state's several horse tracks (many of which also offer slots and table games) and a variety of Vegas-style gambling options at the state's licensed commercial casinos such as Sugarhouse.  There is no tribal gambling in Pennsylvania.
Social gambling does not enjoy an explicit exemption from state law.  With that said, the limited apparent criminal liability for players suggests that some forms of social gambling - specifically those where no one profits from the game - would potentially be legal in Pennsylvania.
A limited amount of charitable gambling is legal in Pennsylvania.  Regulations on this issue are state-level, but licenses appear to be issued at the local level.  Bingo, raffles, drawings and a handful of other games are permitted when conducted by qualifying organizations in accordance with the law.
Playing Poker for Real Money Legally in Pennsylvania
Poker players in Pennsylvania have a wide variety of regulated options, with numerous poker rooms hosted at the state's casinos and horse tracks.
Home games are a more complicated issue.  With the lack of clear charges for players and the legal ambiguity surrounding exactly what does and does not constitute gambling, it's difficult to find support for the position that home games of poker (where no rake is taken) are illegal in Pennsylvania.
Very similar issues come into play when you consider playing online poker in Pennsylvania.  While the game itself may be illegal, it's unclear how those who simply play in the games would be criminally liable under current state law.
Are Online Casinos and Online Poker Sites Legal in Pennsylvania?
No part of Pennsylvania law regarding gambling directly mentions gambling online or online poker sites.  That does not mean, of course, that online gambling is legal; Pennsylvania law basically criminalizes all forms of gambling that are not specifically authorized by law.
Having said that, it is very unlikely that those who are acting only as players would face any criminal exposure due to gambling online or playing poker online.  There does not appear to be any direct violation of Pennsylvania law inherent in such actions.
Pennsylvania Gambling Laws: Fun Facts
Casinos in Pennsylvania have only been able to offer table games such as poker and blackjack since 2010.
Pennsylvania took in more tax revenue from gambling than any other state in 2009, 2010 and 2011.
Recent Online Gambling News From Pennsylvania
While very active on the land-based gambling expansion front, Pennsylvania hasn't had much to say on the issue of online gambling regulation.  The State Lottery Commission came out against Harry Reid ' s poker bill in 2010, but there's been little else of note since.
Is Pennsylvania Close to Regulating Online Poker?
Somewhat surprisingly, the answer seems to be no.  While neighboring states (and direct competitors in the gambling space) Delaware and New Jersey are in the advanced stages of regulating online gambling, there hasn't been a serious legislative push to do the same in Pennsylvania.  It's worth noting that the situation could change quickly; residents and lawmakers have shown a willingness to approve massive gambling expansions over the last few years and Pennsylvania could easily pivot on the issue once it starts to see inaction resulting in a competitive disadvantage.
Ultimately, it seems as if the state is taking a wait-and-see approach on the issue of online poker.  If Delaware or New Jersey - or perhaps even a slightly more distant neighbor such as New York or Massachusetts - finds even modest success with regulated online poker, expect Pennsylvania to rapidly follow suit.  Otherwise, the state enjoys only an average chance of seeing regulated poker at any point in the near team.