Online Poker in Delaware - Delaware Gambling Laws
Home » US Poker Laws » State Laws » Delaware Poker Laws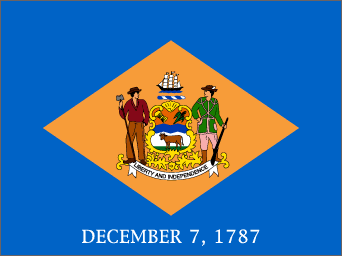 Relevant state code: 3-10001 et seq.; 11-1401 et seq.
Delaware might not be the first state that springs to mind when you think of restrictive gambling laws, but the Blue Hen state is actually quite severe when it comes to regulating betting and wagering of nearly every type.  Delaware is one of a few states with a blanket constitutional prohibition on most gambling activity.  The state takes a very strict approach to regulating gambling founded on a very broad definition of illegal gambling..
Delaware's definition of illegal gambling is provided indirectly via the definition of gambling-related activities that run afoul of state law.  For example, consider the violation of Being concerned in interest in keeping any gambling device:
Section 1406(a)(1)
The person keeps or exhibits a gaming table, faro bank, sweat cloth, roulette table or other device under any denomination at which cards, dice or any other game of chance is played for money, or other thing of value or other gambling device of any kind whatsoever;
Furthermore, the crime of Advancing gambling is defined (in part) as such:
Section 1403(1)
The person keeps, exhibits or uses, or is concerned in interest in keeping, exhibiting or using any book, device, apparatus or paraphernalia for the purpose of receiving, recording or registering bets or wagers upon the result of any trial or contest, wherever conducted, of skill, speed or power of endurance of human or beast
While an indirect definition to be certain, both of the above violations - especially when taken in tandem with the Delaware Constitution - strongly suggest that wagering of any kind of anything that isn't explicitly legal is illegal.  After all, it's difficult for a bet to be legal to make if it's illegal to accept said bet or even to possess the mechanism for accepting the bet.
Just about anyone with any sort of interest in an unregulated gambling operation is subject to criminal prosecution in Delaware.  Players are generally exempt from the criminal provisions of state law in Delaware and the few penalties that do exist for participants are minor.  Cursory research was unable to locate any instances of individuals prosecuted as mere participants in an illegal gambling activity in the state of Delaware.
What Form of Gambling or Poker Does Delaware Law Allow?
Given the strict restrictions enshrined in the Delaware Constitution, one might think that there would be relatively few regulated opportunities for gambling in Delaware.  The opposite is actually the case; Delaware offers residents a multitude of options, including horse racing, a state lottery and casino-style games at the state's racetracks.  Delaware also allows a limited form of sportsbetting (parlays only).  Both sports betting and casino games in Delaware are regulated under the auspices of the Delaware Lottery, which explains their somewhat unique properties - to avoid running afoul of the State Constitution, the games must be structured in a way that legally resembles a lottery.
Social gambling is not expressly mentioned in or permitted by Delaware law.  The conclusion of the relevant case law in Delaware is that social poker games are not illegal, but the overall law on the larger matter of social gambling remains unclear.
Delaware allows multiple forms of charitable gambling, including poker tournaments, bingo, raffles and casino nights are permitted, although you can't have slot machines, roulette, craps or baccarat games at your event.  There are significant restrictions to charitable gambling in Delaware; to read more about the specifics you can visit Delaware's Department of Professional Regulation which oversees charitable gambling in the state.
Is Playing Poker for Money Legal in Delaware?
Poker is classified as a game of chance by Delaware case law (State v. Titlemen).
Playing poker for money at one of Delaware's licensed racetracks or in a licensed charitable setting is definitely legal.  Playing poker at home games where no rake is taken and the primary purpose of the game is social is likely legal.
Other than those settings, Delaware law would seem to make playing poker for stakes (and certainly the operation of a poker game for profit) illegal.  With that said, Delaware would certainly seem unlikely to pursue individual players, as the state has few penalties on the books for those who are merely participants in gambling activity.
Are Online Poker Sites Legal in Delaware?
While the issue of jurisdiction and the separate issue of place brought about by online poker sites and gambling are far from settled, most interpretations of Delaware law would likely conclude that said law prohibits the operation of an online poker room or an online casino.
Things are a bit more slippery from the player perspective.  As mentioned above, Delaware law does not focus on individual gamblers or poker players, so there is little in the law that could been seen as expressly prohibiting a player from playing poker online.  One area that could prove potentially problematic:  Delaware does have a so-called "transmission" law that makes it illegal to send or receive information about gambling over a "private wire" - however, as you might have guessed, the legal definition of "private wire" does not specifically mention the Internet and it is far from clear whether or not communication over the Internet would fall within the scope of the definition.  
Summary:  Operators are clearly on the wrong side of Delaware law, but players exist in a much greyer legal area and face little apparent risk from playing at a poker site in Delaware.
Delaware Gambling Law - Fun Facts
The maximum prize a player can win in a charity poker tournament is $5,000.
To harmonize with Delaware's Constitution, sports betting in Delaware is only allowed in lottery-like form.
Current Developments in Delaware Gambling Law
A bill to regulate some forms of online gambling is making steady progress through the legislative process in Delaware.   The bill - HB 333 - would expand the current state lottery options to the Internet, allow limited expansion of sports betting lottery games and introduce a few casino-style games.  Online poker is not explicitly a part of the bill in its current form.
Will Delaware Regulate Online Poker Sites?
Delaware could go either way over the next few years when it comes to online poker sites.  First, the factors that make poker regulation unlikely:  Delaware is a tiny state population-wise, meaning the state could face an uphill player liquidity battle should they attempt to establish an intrastate online poker network.  Additionally, there seems to be limited (if any) legislative interest in poker, as evidenced by the exclusion of poker from HB 333. 
On the positive side:  Poker could naturally follow if Delaware establishes a framework for intrastate gambling initially focused on lottery and casino games.  The state also has several natural regional partners for an interstate poker network such as New Jersey and Pennsylvania.
All in all, Delaware would seem to have a fair to moderate chance to introduce some form of regulated online poker within the next three years, although it is certain that other games such as the lottery will take precedence over poker in any push to regulate online gambling in Delaware.