Legal Poker / Online Gambling Sites in Missouri
Home » US Poker Laws » State Laws » Minnesota Legal Poker Laws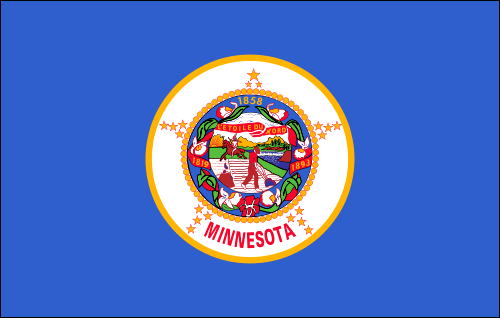 Relevant state code: 750.301 et seq.; 432.201 et seq.
The Land of 10,000 Lakes is also home to quite a few laws dealing with gambling.  Minnesota takes a fairly strict approach to the issue of illegal gambling, and employs a very broad definition of what constitutes illegal gambling as the underpinning of that approach:
Section 609.755
Whoever does any of the following is guilty of a misdemeanor:
(1) makes a bet;
(2) sells or transfers a chance to participate in a lottery;
(3) disseminates information about a lottery, except a lottery conducted by an adjoining state, with intent to encourage participation therein;
(4) permits a structure or location owned or occupied by the actor or under the actor's control to be used as a gambling place; or
(5) except where authorized by statute, possesses a gambling device.
"Makes a bet" - seems pretty broad, right?  Here's how Minnesota defines what the action of a "bet" is:
Section 609.75(d)(1)
A bet is a bargain whereby the parties mutually agree to a gain or loss by one to the other of specified money, property or benefit dependent upon chance although the chance is accompanied by some element of skill.
There are a few exceptions to the above (which we'll discuss in the course of this article), but the general thrust of the law is clear: What activity Minnesota does not license, regulate or otherwise directly approve is likely to be considered illegal gambling.
Penalties for violating the law are somewhat limited for players, who face a misdemeanor charge for participating in illegal gambling.  Penalties for operators are generally misdemeanors or gross misdemeanors, with a felony charge reserved for those who operate a sports book.  Note that when we say limited we mean relative to the severity of other states and not in an absolute sense.
In terms of enforcement, Minnesota seems less likely than average to pursue individual gamblers.  For 2010, the state reported 48 total gambling-related offenses.  Minnesota doesn't break out individual gambling charges in their data, so there's no way to know how many of those charges were operator-related and how many involved mere participants.
Legal Gambling & Poker in Minnesota
Regulated gambling and poker options in Minnesota include pari-mutuel bets at horse tracks; the state's main track recently dropped plans for racino expansion after striking a deal with local tribes but does offer poker and table games.  As that sentence suggests, tribal casino-style gambling is a part of Minnesota's regulated gambling offerings, as is a state-overseen lottery.
Minnesota law does directly address social gambling.  The definition of "bet" excludes "A private social bet not part of or incidental to organized, commercialized, or systematic gambling," and the definition of "game" under Minnesota gambling law excludes "any private social bet."  With those two exclusions, it's essentially impossible for a player in a home game where no rake is taken to run into problems with Minnesota gambling law.
Charitable gambling in Minnesota is a major industry.  Charitable gambling is regulated by the Minnesota Gambling Control Board, which oversees the bingo, raffles, pull-tabs and other forms of charitable gambling allowed by law.
Is Poker Legal in Minnesota?
There are actually only a few situations in which playing poker for money in Minnesota is legal: Home games where no one takes a cut or profits from the game's operation (the game can also not be advertised or regularly scheduled) fall within the law, as would games in regulated casinos or at state-approved racetracks like Canterbury Park.
Section 609.761 permits some poker tournaments (and theoretically some form of cash games) as long as the prizes are limited and no buy in or "other consideration" is required from players to enter the game.
Absent those exceptions, the broad definition of "bet" in Minnesota law would clearly seem to include poker, and therefore make playing for money or operating a game played for money illegal in Minnesota.
Is it Legal to Play Poker Online in Minnesota? 
Not directly.  We could not locate a specific provision of Minnesota gambling law that addressed whether online poker is legal over the Internet. 
Minnesota did make an attempt to force ISPs to block access to a variety of online gambling sites, an attempt the state ultimately abandoned in 2009. 
The lack of a specific provision addressing online gambling does not mean that such activity is legal in Minnesota.  The expansive prohibition on "bets" in Minnesota law seems applicable regardless of the location where the bet is received, meaning online casino or poker play would be just as problematic for individuals and operators as unregulated land-based gambling.  However, enforcement of that law with regards to online gambling is a tough puzzle to solve, as a study conducted by the Minnesota House concluded:
Enforcing this proscription is another matter, since short of a massive invasion of privacy the state has no way of knowing when and with whom a remote bet is made.  [...] It is unlikely that anything the legislature could undertake would have a significant impact on remote gambling, short of lifting all restrictions on gambling to create a truly level playing field. 
Minnesota Gambling Laws: Fun Facts
The legal age to purchase a lottery ticket in Minnesota is 18 - same for the state's most popular poker room at Canterbury Park. 
Minnesota is a rare state in that it explicitly permits certain types of social dice games.
Minnesota and Online Gambling: Recent Headlines
Following their aborted attempt to block access to online gambling sites in 2009, Minnesota has been more or less silent in the national dialogue about online gambling.
Will Minnesota Regulate Online Poker Sites?
Describing Minnesota as a longshot to regulate online poker sites seems about right. 

While the state has a population that could possibly support a small intrastate online poker room, a number of key ingredients are absent.  First, there's no apparent legislative or public interest in the issue.  Second, there's no obvious industry interest in advancing the issue.  Finally, as the recently scuttled attempt to expand the state's racetracks into racinos illustrates, getting consensus among all the major gambling-related concerns about any expansion of gambling will be difficult at best.
Under those conditions, it seems highly unlikely that online poker will be regulated by Minnesota in the near term.