Reviews Legal Online Poker Sites in Arizona
Home » US Poker Laws » State Laws » Arizona Poker Laws
Relevant state code: 11.66.200; 05.15.680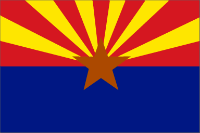 Arizona Quick Links
If you're looking for lax gambling laws – at least relatively speaking – head to the great state of Arizona. Like so many other frontier states, Arizona has a long history of gambling and the practice has only flourished in the interim although not without some significant bumps in the road.
Still, Nevada's neighbor has almost as many gambling opportunities as the Silver State itself, albeit with a bit less glitz, glamor, and celebrity sparkle. Even without the neon and fireworks, Arizona manages to rake in some $2 billion in gambling revenue everywhere, funneling more than $89 million in associated taxes to the state. You don't have to travel far to find a welcoming poker table or a row of jangling slots, but try to place a wager outside of approved locales and regulated games and you may not like the results.
Here's what you need to know:
Arizona Gambling Laws
There are tons of legal gambling opportunities in Arizona. The state defines gambling as:
"…one act of risking or giving something of value for the opportunity to obtain a benefit from a game or contest of chance or skill or a future contingent event but does not include bona fide business transactions which are valid under the law of contracts including contracts for the purchase or sale at a future date of securities or commodities, contracts of indemnity or guarantee and life, health or accident insurance."
Because gambling is largely legal in Arizona, it's important to understand what the state code says about "regulated gambling" as well.
"'Regulated gambling' means either:
Gambling conducted in accordance with a tribal-state gaming compact or otherwise in accordance with the requirements of the Indian gaming regulatory act of 1988 (P.L. 100-497; 102 Stat. 2467; 25 United States Code sections 2701 through 2721 and 18 United States Code sections 1166 through 1168); or

(b) Gambling to which all of the following apply:

(i) It is operated and controlled in accordance with a statute, rule or order of this state or of the United States.
(ii) All federal, state or local taxes, fees and charges in lieu of taxes have been paid by the authorized person or entity on any activity arising out of or in connection with the gambling.
(iii) If conducted by an organization which is exempt from taxation of income under section 43-1201, the organization's records are open to public inspection
(iv) Beginning on June 1, 2003, none of the players is under twenty-one years of age.
Laws Pertaining to Arizona Casinos
As a part of that regulated gambling, there about 25 tribal casinos in Arizona, each of which is legally allowed to offer class III casino games – namely the majority of table games as well as video poker and slot machines. The prevalence of tribal casinos isn't entirely surprising given that the state is home to approximately 10% of the entire U.S. Native American population. The existence of the casinos is a testament to how hard the tribes fought to win the right to run their venues and they were rewarded with plenty of success. Some casinos are smaller but others are large complexes with restaurants, show rooms, and hundreds of games – Talking Stick Resort alone is 98,000 square feet and has around 700 slot machines, 54 blackjack tables, and a huge poker room.
Laws Pertaining to the Lottery
Arizona also has the distinction of hosting the most popular lottery in the United States. It's also a part of the Multi-State Lottery Association (MUSL) which allows Arizona residents to participate in larger games such as Powerball and Mega Millions. The state lottery generates some $4 million each week, funding a wide range of state programs including the arts, education, economic development, conservation efforts, and public safety.
Social gaming and charitable gaming are commonplace. These events generally take the form of either bingo games or raffles but pull-tab games and the ever-popular Las Vegas-themed nights are also okay as long as they're run in accordance with state regulations and licensed ahead of time. Social gambling is also subject to rules and must fit the following criteria:
No player receives, or becomes entitled to receive, any benefit, directly or indirectly, other than the player's winnings from the gamble.
(b) No other person receives or becomes entitled to receive any benefit, directly or indirectly, from the gambling activity, including benefits of proprietorship, management or unequal advantage or odds in a series of gambles.
(c) Until June 1, 2003, none of the players is below the age of majority. Beginning on June 1, 2003, none of the players is under twenty-one years of age.
(d) Players "compete on equal terms with each other in a gamble" when no player enjoys an advantage over any other player in the gamble under the conditions or rules of the game or contest.
Laws Pertaining to Betting
You can bet on horse or dog racing as part of the pooled/pari-mutuel model as long as you're in a licensed betting or simulcast location. There are currently two horseracing tracks operating in Arizona: Phoenix's legendary Turf Paradise and Rillito Park in Tucson.
Gambling on fantasy sports is illegal in Arizona. Bingo is allowed in tribal casinos and as a part of a licensed charity event.
Penalties for illegal gambling vary from a class 1 misdemeanor (people who knowingly benefit from gambling) to a class 5 felony (basically anyone who conducts, organizes, or finances real-cash gambling). Of course, regulated and other types of illegal gambling are exempt from those penalties.
Arizona Online Poker Laws
Despite the lenient real-world gambling laws in Arizona, regulations regarding online poker have yet to catch up to modern times. The internet gambling issue and proliferation of regulated gambling are very much connected as the state would rather people pay into taxable brick-and-mortar casinos and the lottery rather than funneling money to outside entities online. Legally, online poker falls under the guise of "unregulated real money internet betting" but enforcement seems scattered and disorganized at best and focus is often on the organizers rather than individual players. Still, internet gamblers could still be charged under broad interpretations of statutes such as Sec. 13-3304:
"Except for amusement or regulated gambling, a person commits benefiting from gambling if he knowingly obtains any benefit from gambling."
So, what exactly constitutes "benefiting"? That's where the interpretation aspect comes in. It could mean winning money or merely participating for fun which makes the wording a bit ambiguous.
Regardless, most if not all online poker sites welcome Arizona gamblers who want to play some Texas Hold'Em in their spare time and that's something many people happily enjoy with little to no worry.
Is it Legal to Play Poker in Arizona?
Poker is legal at any of the tribal casinos in Arizona. That gives residents more than two dozen options for a game or tournament and they'll also have access to other table games and slots during their visit. Social gaming is also okay provided certain rules are followed, including a ban on pay-for-play even when disguised as donations.
There are some bar leagues in Arizona which operate games without any entry fees or cash prizes. Those games sometimes run without problem and other times they're shut down quickly.
Arizona is home to the annual Arizona State Poker Championship which is hosted by the ARENA Poker Room at Talking Stick Resort. The resort is also the home of the Arizona State Ladies Poker Championship.
Will Arizona Regulate Online Poker?
This is a tricky question, more so in Arizona than in many other places. The state absolutely rakes in money from existing gambling operations like the lottery and tribal casinos and legalizing online gambling could mean a shift away from much-needed taxes, not to mention a major blow to the programs those taxes help fund.
Legalizing and regulating real-money poker could generate more funds, though, at least that's what proponents have been arguing. In the past, Senators Jon Kyl from Arizona and Harry Reid from Nevada have worked together on a bill that would federally legalize and regulate online poker but that bill apparently stalled in its tracks.
History of Gambling in Arizona
Gambling was legal by default in Arizona until it officially became a state in 1912. The Arizona Constitution banned forms of for-profit gambling (essentially those types in which the house gets a cut) but left room for social gambling and so-called "amusement gambling" (games played for the pure fun of it instead of for prizes).
In 1980, Arizona became the first state west of the Mississippi River to approve a statewide lottery. The lottery program has since been extended twice, once in 2002 and once in 2010, and won't be up for a vote again until 2035. The minimum age to play was original 18 but that was raised to 21 in 2003. Arizona joined the MUSL and began participating in Powerball in 1994. The first Mega Millions drawing for Arizonians was April 8, 2010.
The United States Congress passed the Indian Gaming Regulatory Act (IGRA) in 1988. Though this is not a state law and rather federal, it marked a legislative change that had a huge impact on tribal operations in Arizona. Under IGRA, states had to allow Indian-run gambling on reservations if gambling was also legal off the reservation. Tribes also had to sign state compacts that covered the regulation of class III casino games such as blackjack, keno, and slot machines. IGRA opened up a massive amount of opportunities for Arizona-based tribes and many started installing slot machines even before establishing their individual compacts.
In 1992, the National Indian Gaming Commission clarified the compact issue and tribal casinos illegally running slot machines had their devices confiscated. One such raid evolved into a three-week standoff.
From 1992 to 1994, 16 tribes signed official gaming compacts with the state of Arizona. Another tribe signed on in 1998. In 2003, all compacts were renewed and an additional 5 tribes joined in.
Voters in Arizona reapproved tribal gambling in 2002.