Alabama Poker Laws
Home » US Poker Laws » State Laws » Alabama
Relevant state code: 13A-12-20 et seq.; 11-65-1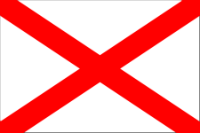 Alabama Quick Links
Alabama's location in the heart of the Bible Belt hardly makes it conducive to gambling. In fact, the subject has long been a controversial one, with battles raging on frequently and fervently between religious entities and citizens who would love nothing more than to have easy access to legal gambling of all shapes and sizes.
Alabama Gambling Laws
As one might expect with a largely conservative state, Alabama has very strict gambling laws and very few exceptions. Even more concerning are the harsh penalties doled out for those who dare challenge the rigid laws.
Section 13A-12-20 of the state constitution says:
"A person engages in gambling if he stakes or risks something of value upon the outcome of a contest of chance or a future contingent event not under his control or influence, upon an agreement or understanding that he or someone else will receive something of value in the event of a certain outcome."
But it gets even better. The antiquated language in the constitution (which was enacted in 1901) references items that are all by irrelevant by today's standards and the detail in which certain aspects of gambling are addressed is mind-boggling. Take this excerpt from section 13A-12-50 for example:
"No person or persons shall maintain or use any electric bells, wires or signals or any elevators or dumbwaiters or other implements or appliances connected with any gaming place or rooms used for gaming."
Forms of Gambling That Are Legal
Though there is a complete ban on commercial casino gambling in Alabama, locals do have some outlets for their betting urges. Charitable gambling is permissible in certain cases as is social gambling provided the games are between friends and the host/organizer doesn't make a profit. Betting on greyhound and horse races is viewed as a "game of skill" and therefore exempt from gambling laws.
Tribal casinos do have some special privileges, but even those facilities are restricted to bingo games and class II slot machines (basically machines based on bingo that pay out at predetermined intervals – these are not the same machines you'd see in a casino in Las Vegas).
Fantasy sports betting using real money is also illegal and as of this writing there is no state lottery (several attempts have been made to introduce one and a new proposition may be up for a vote soon) nor does Alabama allow its residents to participate in multi-state lotteries such as the Powerball or Megabucks.
It's not unusual to wander into a casino in Mississippi and find plenty of visitors from Alabama. People happily cross the border for an afternoon or weekend of entertainment, which in turn funnels funds out of their home state and into Mississippi.
What is Simple Gambling in Alabama?
So, what constitutes the "simple gambling" that Alabama considers so detrimental? According to the criminal code:
"(a) A person commits the crime of simple gambling if he knowingly advances or profits from unlawful gambling activity as a player.
(b) It is a defense to a prosecution under this section that a person charged with being a player was engaged in a social game in a private place. The burden of injecting the issue is on the defendant, but this does not shift the burden of proof.
(c) Simple gambling is a Class C misdemeanor."
While many American states view gambling infractions as a misdemeanor and impose a relatively simple fine or seize gambling-related assets as punishment, any infraction beyond simple gambling, as mentioned above, is a big deal in Alabama. Those guilty of communicating with gamblers or people inside gambling facilities are subject to a felony conviction and up to five years in jail in addition to a big fine. If you're found in possession of an illegal gambling device (see the broad definition of that below) you're also at risk of a felony conviction plus up to 10 years in prison and as much as $15,000 per device.
Alabama Online Poker Laws
Because gambling laws in Alabama were written more than a century ago, the language is largely outdated and the rules don't take modern inventions into account. Therefore, internet gambling is completely unaddressed and any attempts at policing e-games can only be done through highly subjective interpretation of the state code. There are progressive factions that are trying to update the laws to account for 21st-century lifestyles, but there are plenty of opposing forces that would like nothing more than to see gambling remain as controlled as possible.
While some people view the absence of internet-related language in the anti-gambling code as permission to get online and play some cards, there's always the chance that a prosecutor could argue that the constitution was meant to be interpreted in a way that makes that computer-based game of Texas Hold'Em 100% illegal. That's because Alabama law takes a rather general view of what constitutes an illegal gambling device:
"Any device, machine, paraphernalia or equipment that is normally used or usable in the playing phases of any gambling activity, whether that activity consists of gambling between persons or gambling by a person involving the playing of a machine."
An enterprising lawyer could try to argue that downloading gambling software is the same as being in possession of a gambling device and gambling equipment could be your smartphone or laptop if it's used for the purposes of making bets online.
Punishment is fierce, at least in theory – the fact is that enforcement rarely happens. There are few if any arrests for online gambling
Is Poker Legal in Alabama?
The short answer to this question is "not really," but it depends on what type of poker you're looking to play. There are no legal casinos – using the typical definition of the term – in Alabama and therefore no poker tables or tournaments for Alabama residents to play at or in. There are a handful of so-called casinos operating on tribal land but table games are still banned which means poker is a non-starter.
If you live in Alabama and want to hold a charity poker game that may be allowed and hosting a social game with friends just for fun is okay as long as you're not trying to make a profit off your hospitality.
As for online poker, there seems to be a hands-off approach unless you're actually running a poker site from within the state. There are no laws that target online gambling specifically and most general gambling laws seem to take aim at operators rather than players. It wouldn't be smart for someone living in Alabama to try and build an online poker site but if you want to sign up and play with an off-shore platform you may be in the clear. That said, we're not lawyers and there are absolutely no guarantees.
Will Alabama Regulate Online Poker?
There are currently no laws explicitly prohibiting online poker but gambling in general is so restrictive that many people believe the current laws cover internet gaming, too. Still, the onward march of progress and changes to laws regarding race betting, charitable and social gaming, and bingo give many gambling enthusiasts hope. It seems likely that a state lottery will be legalized sooner rather than later and it may only be a matter of time before residents and lawmakers alike see the economic benefits to regulated casino or online play. How soon? That depends on the will of the people and how hard progressive representatives are willing to fight.
One thing is clear – online gamblers who live in Alabama should keep an eye on legislation, not just for positive change but also because new laws and regulations seem to spring up practically overnight. It's possible that a new law specifically targeting online poker or other internet games could be enacted quite suddenly.
History of Gambling in Alabama
If you look to the early gambling history in the southern states, you'll see a lot of similarities between Mississippi and Alabama. The big difference is that while Mississippi embraced games of chance and what the dividends could do for the state budget, Alabama took a much more conservative road and the current laws on the books reflect that.
Alabama's official stance on gambling dates all the way back to 1901 when the state constitution declared a total prohibition. That sweeping denunciation held until 1971, when the Alabama Supreme Court decided that wagering on horse and dog races was skill-based rather than a game of chance. Therefore, betting on a racing was constitutional. Soon, there were four greyhound tracks in operation, located in the cities of Mobile, Birmingham, Eutaw, and Shorter.
Charitable bingo was partially legalized by a constitutional amendment in 1980, but only in Jefferson County. Since then, 18 other counties have passed similar amendments.
Tribal casinos were legalized by the Federal Indian Gaming Regulatory Act in 1988 but there were some significant caveats. Tribal casinos can only host bingo games and preprogrammed bingo-like slot machines, so there is blackjack, poker, or other table games nor are there any Vegas-style video poker or reel slots on the premises.
In 2003, another constitutional amendment allowed VictoryLand racetrack in Macon County to offer electronic bingo on a large scale. The track eventually installed more than 5,000 machines but closed on the heels of a statewide bingo backlash in 2010. VictoryLand reopened in 2013, focusing solely on simulcast racing, but they shuttered again in 2013 following a raid by the attorney general's office during which hundreds of machines and associated cash hauls were seized.
In 2015, Alabama nearly approved state lottery thanks to the efforts of State Senate Pro Tem Del Marsh and a group of like-minded individuals. Marsh and company's argument was that the lottery could generate some $400 million a year as well as some 11,000 new jobs. That seemed to be enough to get the state's Tourism & Marketing Committee to pass the bill by a narrow 5-3 margin but it was shot down in the State Senate.
Alabama Attorney General Luther Strange announced in 2016 that fantasy sports betting in which real money changes hands is a violation of state law, however the state made it clear that it was targeting operators, not individual players.