Legal Oklahoma Online Poker / Gambling Laws
Home » US Poker Laws » State Laws » Oklahoma Poker Laws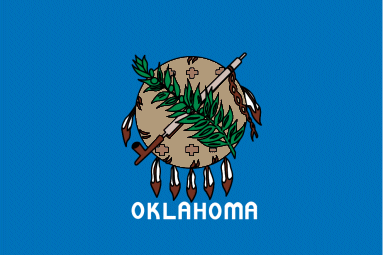 Relevant state code: 21§941 et seq.; 3A§200 et seq.
Oklahoma is one of the few states in the US to offer all five major forms of regulated gambling.  We'll cover those regulated gambling options in a future section; right now we're going to focus on the very strict approach (arguably the strictest of any US state) Oklahoma takes when it comes to unregulated gambling.  The definition of such gambling is provided primarily via the charge of Opening, conducting or carrying on gambling game:
Section 21-941
Except as provided in the Oklahoma Charity Games Act, every person who opens, or causes to be opened, or who conducts, whether for hire or not, or carries on either poker, roulette, craps or any banking or percentage, or any gambling game played with dice, cards or any device, for money, checks, credits, or any representatives of value, or who either as owner or employee, whether for hire or not, deals for those engaged in any such game, shall be guilty of a felony, and upon conviction thereof, shall be punished by a fine of not less than Five Hundred Dollars ($500.00), nor more than Two Thousand Dollars ($2,000.00), and by imprisonment in the State Penitentiary for a term of not less than one (1) year nor more than ten (10) years.
Various other charges extend the effective definition of illegal gambling, but you get the general idea: There aren't many (if any) unregulated gambling options that are also legal in Oklahoma.  State law employs the Material Degree test to determine whether a game is one of chance or skill, meaning any game where chance plays a significant role (but not necessarily a dominant role) is considered a game of chance.
Oklahoma law does assign separate penalties to those who are involved in the operation of illegal gambling enterprises and those who simply participate as players.  Players are looking at a misdemeanor that carries one to thirty days in jail and a fine of between $25-$100.  Operators are looking at a good deal more; the charge of Opening, conducting or carrying on gambling game carries a minimum sentence of one year in the state penitentiary and a handful of related charges could easily add more mandatory jail time. 
Oklahoma reported a total of 46 arrests for gambling - related charges in 2010 (the last year for which statistics were made available by the state).  The state does not break down the charges, so we can't know how many of the arrested were players and how many were charged with the more serious violations reserved for operators.
Legal Forms of Gambling in Oklahoma
Oklahoma runs alottery, allows pari-mutuel wagering on horse racing along with casino-style games at two racetracks (racinos) in the state and has a variety of tribal gambling options, including the Choctaw casino group and the WinStar World Casino (owned and operated by the Chickasaw Nation).      
There is no exemption for social gambling in Oklahoma law. 
Charitable gambling is permitted under regulations provided by the Oklahoma ABLE Commission.  You can review the full regulations here; basically, bingo and bingo-like games are permitted under certain conditions when conducted by licensed operators.
Playing Poker for Real Money Legally in Oklahoma
If you're in a tribal casino, then yes.  Otherwise, the answer appears to be no.
There's no social gambling exception, so home games are technically illegal - even if there's no rake or profit for anyone but players.  State charitable gambling regulations do not appear to include poker in the scope of permitted games.
These facts will, of course, be balanced by most against the chances of a criminal charge occurring in Oklahoma.  Our cursory research did not reveal any substantial volume of gambling arrests related to poker, so many players will conclude that the criminal risk of a private game is minimal.
Playing at Online Casinos and Poker Rooms Legally Oklahoma
Online poker rooms or casinos are not addressed directly by Oklahoma law.  There is a law on the books in Oklahoma that prohibits Dissemination of Gambling Information:
Section 21-987(A)
Dissemination of gambling information is the transmitting or receiving, by means of any communications facilities, information to be used in making or settling bets. Provided that nothing herein shall prohibit a licensed radio or television station or newspaper of general circulation from broadcasting or disseminating to the public reports of odds or results of legally staged sporting events.  
It is a felony to violate the above, and it's not hard to see how Internet gambling could be potentially included in the scope of the charge.  Again, that's an opinion - the issue of the legality of online gambling in Oklahoma has yet to be completely tested in the courts. 
Oklahoma Gambling Laws: Fun Facts
Railroad conductors have a "duty" to arrest anyone playing three card monte on a train under Oklahoma law (Section 21-954).
In 1984, WSOP Champion and current Mirage head Bobby Baldwin was denied a license to work at the Golden Nugget thanks to his participation in illegal poker games in Oklahoma in the 1970's.
Online Gambling News & Developments in Oklahoma
Oklahoma has not been a participant in the online gambling regulation debate in the US.
Will Oklahoma Regulate Online Poker?
It really depends on what form regulated online poker ends up taking.  Tribal casinos hold the power in Oklahoma, and any federal or state-by-state bill would have to accommodate the unique requests tribal casinos are certain to have before they'll sign off on any online gambling expansion.
If the situation evolves in any other fashion than one favorable to tribal gambling interests, we expect Oklahoma to lag behind other states when it comes to regulating online poker or online gambling at large.