New York Legal Poker & Gambling Laws
Home » US Poker Laws » State Laws » New York Poker Laws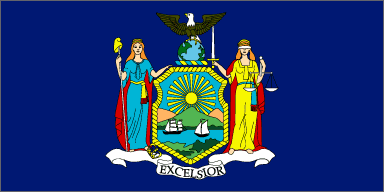 Relevant state code: PEN§225.00 et seq.; 47A:101 et seq.; RW&B 47A§518
New York is now guaranteed a prominent spot - albeit a somewhat infamous one - in the history of online gambling thanks to the state's role in online poker's Black Friday.  We'll talk more about that role later on; for now, let's turn to discussing the fairly strict approach New York takes with regards to unregulated or illegal gambling.  That discussion starts with New York's statutory definition of gambling:
Section 225.00(2)
A person engages in gambling when he stakes or risks something of value upon the outcome of a contest of chance or a future contingent event not under his control or influence, upon an agreement or understanding that he will receive something of value in the event of a certain outcome.
… and continues with the statutory definition of "contest of chance" under New York law:
Section 30-19.1(B)
"Contest of chance" means any contest, game, gaming scheme or gaming device in which the outcome depends in a material degree upon an element of chance, notwithstanding that skill of the contestants may also be a factor therein.
New York law, then, would seem to employ the same "Material Degree" test used by states such as Missouri or Hawaii to determine whether a given game is a game of chance.  However, gambling law expert Joseph Kelly believes that New York law actually relies on the Dominant Factor Test to define an act as gambling, arguing that the statutory language reflects a long-forgotten oversight rather than legislative intent.  Either way, if gambling is not explicitly authorized by law in New York, it is considered illegal by default.
Let's talk about penalties.  Players are in good shape in New York; there are no direct charges associated with participating in illegal gambling as a mere player.  Operators, however, face a broad arsenal of criminal charges, including promoting gambling (misdemeanor to felony depending on the size of the activity) and associated racketeering and tax violations. 
There were 8 felony charges related to gambling in New York during 2011.  We were unable to locate reporting for misdemeanor charges related to gambling in the state, but a handful of recent news stories such as this one suggest that - at least in some regions of the state - authorities are actively investigating illegal gambling operations. 
What Forms of Gambling Does New York Allow Legally?
There is a state lottery in New York, horse racing tracks that allow pari-mutuel wagering (online wagering also accepted) and a variety of tribal gambling options such as Turning Stone that offer a gambling lineup relatively similar to a Vegas casino.  For complete details regarding tribal gambling in New York, refer to this FAQ from the New York State Racing and Wagering Board.
Social gambling does enjoy an express exemption from New York gambling law.  Remember, players are not subject to any charge under New York law.  The statutory definition of "player" further exempts those who operate a game purely for social purposes:
Sec 225.00(3)
A person who gambles at a social game of chance on equal terms with the other participants therein does not otherwise render material assistance to the establishment, conduct or operation thereof by performing, without fee or remuneration, acts directed toward the arrangement or facilitation of the game, such as inviting persons to play, permitting the use of premises therefor and supplying cards or other equipment used therein.

The law makes no mention of stakes in the definition of player, so it would appear that a social game of poker played for any stakes is legal under New York law for both the players and the host.
As for charitable gambling, it's available in multiple forms: Bingo, raffles, casino nights and bell jars.  All charitable gambling is overseen by the New York State Racing and Wagering Board, which hosts complete details on the rules and regulations governing charitable gambling at their website.
Can I Play Poker for Real Money Legally in New York?
In a licensed tribal facility, yes.   
The social gambling exception provided in New York state law would seem to permit private games of any stakes, as long as no one profits from operating the game.
Poker is not a form of charitable gambling allowed by New York law, so there's no such thing as a legal charity poker game in New York.
With all of that said, it's important to remember that there is essentially no criminal liability for players under New York law.  That means while a given game itself might be illegal, participation in the game doesn't carry any threat of charge.  Put simply:  There appears to be no criminal risk for poker players in new York, regardless of how they choose to play poker.
Are Online Casinos and Poker Sites Legal in New York?
While New York law does not specifically address the act of online gambling, recent events have made it clear that officials believe that existing New York statutes extend cleanly to gambling conducted over the Internet.  We're referring, of course, to the so-called Black Friday indictments that were largely predicated on a violation of New York state gambling law.    
That being the case, individual poker players and gamblers do not appear to have anything to fear should they decide to place a bet or play a hand or two of poker online, as New York law simply does not provide any clear charges or penalties for those who act solely as participants in illegal gambling activity.
New York Gambling Laws: Fun Facts
While Las Vegas features a prominent New York-themed casino - MGM's New York , New York - the commercial casino housed behind the skyline replica would not be legal in the city it mimics.  Commercial gambling is currently illegal under the New York constitution.  
The US Postal Service once mistakenly used a photo of the Statue of Liberty replica outside the New York, New York Casino as the image for a stamp meant to feature the actual landmark.  3 billion stamps were printed before the mistake was caught.
New York: Online Gambling News & Developments
While not directly related to online gambling, Governor Cuomo's recent push to amend the state constitution to allow commercial gambling would likely be a necessary precursor for online gambling regulation.
New York, along with Illinois, was the catalyst for the recent DOJ position switch on the Wire Act.  The two states requested legal clarification on the applicability of the Wire Act to selling lottery tickets online, a request that resulted in the official change of position by the DOJ in late 2011.
What are the Chances That New York Regulates Online Poker?
Given New York's request to the DOJ for legal clarification regarding online lottery sales, it's clear that there's at least some interest in regulating online gambling in Albany.  How much interest, and what exact form regulations would take, are separate questions.
Regulation seems fairly likely when you consider the following factors:  Governor Cuomo appears to have zero qualms about expanding gambling and has shown the political ability to successfully shepherd controversial bills through the legislature.  With a population of roughly 8 million, New York would seem a fair candidate for supporting an intrastate online poker room.  Finally, regional competition could spur New York to action sooner than other states; neighbor Delaware recently passed online gambling regulation, and New Jersey is apparently on the cusp of passing similar legislation. 
Dampening the potential to some degree: A lack of legislative history with the issue and the absence of any apparent industry advocate with a presence in the state.  Tribal interests could also prove to be a formidable roadblock depending on how regulation is structured.
All in all, we would evaluate New York's chances of regulating online poker to be far better than the chances of a typical US state.