Legal Rhode Island Online Poker Laws
Home » US Poker Laws » State Laws » Rhode Island Poker Laws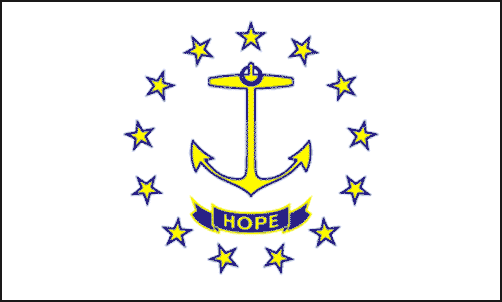 Relevant State Code: 11-19-1 et seq.; 41-3-1 et seq.
The smallest state in the US by total area, Rhode Island takes a fairly strict approach to any unregulated gambling taking place within its (roughly) 1,200 square mile territory.  The state's gambling  laws are muddied a bit by the lack of a clear definition of what constitutes illegal gambling.  A definition can be pieced together by first considering Section 11-19-1, Forms of gambling prohibited: 
Every person who shall, directly or indirectly, set up, put forth, carry on, promote, or draw, publicly or privately, any lottery, chance, game, or device of any nature or kind whatsoever, or by whatsoever name it may be called, for the purpose of exposing, setting for sale or disposing of any money, houses, lands, merchandise, or articles of value, or shall sell or expose to sale lottery policies, purporting to be governed by the drawing of any public or private lottery, or shall sign or endorse any book, document, or paper whatsoever, for the purpose of enabling others to sell, or expose to sale, lottery policies, except as authorized in this chapter and in title 41 and chapters 61 and 61.2 of title 42, shall be deemed guilty of a felony and shall be imprisoned not exceeding two (2) years or be fined not exceeding two thousand dollars ($2,000).
That definition is extended by a definition of gambling found later in the code employed for the charge of Organized criminal gambling business:
Section 11-51-1(a)
 "Gambling" includes, but is not limited to, pool-selling, bookmaking, maintaining slot-machines, roulette wheels or dice tables, and conducting lotteries, Policy, Bolita, or numbers games or selling chances in them.
To make things even more confusing, the Supreme Court of Rhode Island ruled that the term "lottery" can includecasino games such as blackjack and poker.  For our purposes, it's safe to conclude that betting on anything involving chance that isn't expressly legal in Rhode Island can be considered to be illegal gambling.
When it comes to penalties, the ambiguity continues.  There seem to be few (perhaps no) charges that can be brought against individual players; however, Rhode Island law does not expressly exempt players from criminal liability and state reporting data (see below) does refer to a charge of betting / wagering.  Players could also be exposed to a charge such as Frequenting gambling place (Section 11-19-21), but the vast majority of gambling violations found in Rhode Island law are targeted at those who operate or otherwise advance or profit from illegal gambling.  The most serious charge for such individuals is Organized criminal gambling business (Section 11-51-2), a charge that threatens up to $10,000 in fines and 5 years in jail.
Rhode Island is one of the few states that does break out individual gambling charges in their crime reporting.  Good news for players: Since 2007, there has been only 1 charge for player-related gambling offenses (none in 2011).  Overall, the state charged 14 individuals with gambling-related offenses in 2011.
Legal Types of Gambling in Rhode Island
You'll find a state lottery in Rhode Island.  The state doesn't technically allow commercial casinos, but the racinos permitted by state law have effectively evolved into just that.  There is no tribal gambling in Rhode Island.
There is no exception in Rhode Island for social gambling. 
There are a few forms of charitable gambling that are allowed under Rhode Island law.  The Rhode Island State Policeoversees the charitable bingo games and raffles exempted from anti-gambling law in Rhode Island.
Rhode Island Law on Playing Poker for Real Money
Very few ways to play poker for real money exist in Rhode Island - some would argue none.  Since the State Supreme Court has decided that poker qualifies as a lottery, you won't be finding poker at any commercial gambling outlets in the state.
Home poker games are perhaps the one area where players might find legal sanctuary, as there don't appear to be direct criminal charges for players in a home game.  Whoever sets up the game, however, could face criminal exposure for doing so.
When it comes to online poker, players can take comfort in a few facts:  Rhode Island does not seem interested in pursuing mere players; no law expressly forbids placing online wagers and very few - if any - charges detailed under Rhode Island law would appear to apply to the act of playing poker online.
Rhode Island Law on Online Poker Rooms and Online Casinos
There is no component of Rhode Island gambling law that tackles the issue of gambling online.  As is the case with almost all state in the US, Rhode Island gambling law is written in a manner that makes just about any unregulated gambling illegal gambling by default, so the absence of a specific charge associated uniquely with online gambling shouldn't be taken as an indication that online gambling is perfectly legal.
As suggested in the preceding section, those who play poker or gamble online exclusively as participants, and do not otherwise profit from or promote the use of online poker rooms and online casinos, seem to face virtually no criminal risk in Rhode Island. 
Rhode Island Gambling Laws: Fun Facts
Poker games and "Vegas Nights" were once allowed as forms of charitable gambling in Rhode Island.  A law passed in 1983 changed the face of charitable gambling in the state, leaving only bingo, raffles and bazaars on the list of permitted formats.
Voters have twice rejected gambling expansion in Rhode Island (1996 and 2004).
Rhode Island Online Gambling Headlines
Gerald S. Aubin, the head of the lottery in Rhode Island, told local media the state would "explore" online gambling in the wake of the DOJ's change of heart regarding the Wire Act.  Those comments, made in December of 2011, have yet to translate to concrete action.
Rhode Island has been frequently mentioned as a potential interstate partner for Delaware in the wake of that state's 2012 passage of online gambling regulation.
Rhode Island: Chances of Regulating Online Poker
Rhode Island is an interesting case.  On one hand, you've got a public that seems to be a bit hostile to gambling expansion of any form (voters will get another chance in November 2012) and a legislature that hasn't taken up any bills even remotely related to online poker.  On the other hand, you've got regular mentions of Rhode Island as a potential online gambling partner for Delaware, talk that certainly doesn't just spring up randomly.
If there is something more than random selection behind the chatter of a Rhode Island / Delaware partnership, then Rhode Island could be further along than it seems on the issue.  However, any expansion to online gambling (even into online poker alone) would probably require approval via a statewide referendum along with a new law - an additional hurdle that could substantially slow Rhode Island's progress toward regulating online poker.
Based almost exclusively on the frequently cited potential for a online gambling compact between Rhode Island and Delaware, we conclude that Rhode Island has a greater-than-average chance of regulating online poker in the next few years.