California Poker & Gambling Laws
Home » US Poker Laws » State Laws » California Poker Laws
Relevant state code: Penal code 330 et seq.; Bus and Prof Code 19400 et seq., Gov't Code 98001 et seq.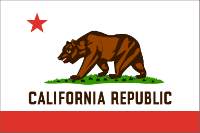 California Quick Links
California is the land of sun, surf, Hollywood stars, and… gambling? It's true – amongst gambling enthusiasts, the Sunshine State has quite a reputation for tournament play and high-stakes poker. Considering the liberal nature of the state, it's not terribly surprising that gambling has a strong foothold there but that doesn't mean that there aren't rules.
California Gambling Laws
California is rife with licensed card rooms, also known as "card clubs" or "California Casinos", boasting more than any other state in the union. At one time, there were as many as 150 statewide but by 2013 that number had whittled down to a more modest 88. Though some places call themselves casinos, they don't operate as true casinos nor are they licensed as such. Players play against each other, rather than the house, and pay for the privilege of entry into the house and the game itself. Rather than bankers or dealers, players take turns dealing just as they would in a home game amongst friends.
There are more than 50 Indian casinos in California and casinos are only legal on tribal land. Some are small operations with limited amenities but others are as glitzy and glamorous as anything you'd find in Las Vegas. They're allowed to offer everything from table games such as poker and blackjack to run-of-the-mill bingo as well as all kinds of slot machines however craps and roulette are legal. Some casinos get around the laws regarding craps and roulette by offering hybrid games that use cards in place of dice and a roulette ball.
Other types of casino games are illegal, as established by the Sec. 330 of the California Penal Code:
"Every person who deals, plays, or carries on, opens, or causes to be opened, or who conducts, either as owner or employee, whether for hire or not, any game of faro, monte, roulette, lansquenet, rouge et noire, rondo, tan, fan-tan, seven-and-a-half, twenty-one, hokey-pokey, or any banking or percentage game played with cards, dice, or any device, for money, checks, credit, or other representative of value, and every person who plays or bets at or against any of those prohibited games, is guilty of a misdemeanor, and shall be punishable by a fine not less than one hundred dollars ($100) nor more than one thousand dollars ($1,000), or by imprisonment in the county jail not exceeding six months, or by both the fine and imprisonment."
Possession of a gambling device is also illegal. The definition of what constitutes a gambling device is lengthy and meandering, but basically anything from a slot machine to a "thing of value" could be interpreted as such. Those convicted under the statute (Penal Code Sec. 330b) are subject to an escalating scale of misdemeanor charges and penalties:
A first violation of this section shall be punishable by a fine of not less than five hundred dollars ($500) nor more than one thousand dollars ($1,000), or by imprisonment in a county jail not exceeding six months, or by both that fine and imprisonment.
(2) A second offense shall be punishable by a fine of not less than one thousand dollars ($1,000) nor more than ten thousand dollars ($10,000), or by imprisonment in a county jail not exceeding six months, or by both that fine and imprisonment.
(3) A third or subsequent offense shall be punishable by a fine of not less than ten thousand dollars ($10,000) nor more than twenty-five thousand dollars ($25,000), or by imprisonment in a county jail not exceeding one year, or by both that fine and imprisonment.
(4) If the offense involved more than one machine or more than one location, an additional fine of not less than one thousand dollars ($1,000) nor more than five thousand dollars ($5,000) shall be imposed per machine and per location.
California allows pari-mutuel betting, in which bets are pooled and taxed by the house before being divided up between winners, however this type of gambling is limited to horse racing. The sport is popular in California and opening day is typically a celebratory affair, especially at famed parks like Del Mar Racetrack which is affiliated with the nearby Surfside Race Place, the largest off-track betting facility in the country.
Charitable gaming in California is limited to bingo and raffles and there are some very specific restrictions:
"(f) Notwithstanding subdivision (a), the Legislature may authorize private, nonprofit, eligible organizations, as defined by the Legislature, to conduct raffles as a funding mechanism to provide support for their own or another private, nonprofit, eligible organization's beneficial and charitable works, provided that (1) at least 90 percent of the gross receipts from the raffle go directly to beneficial or charitable purposes in California, and (2) any person who receives compensation in connection with the operation of a raffle is an employee of the private nonprofit organization that is conducting the raffle."
There are also a number of bingo halls that are supervised by that state as part of the charitable gambling allowance.
California does have a state lottery which was created via the California State Lottery Act in 1984. Residents can also participate in other lottery-style games including the keno-esque Hot Spot and the multi-state Mega Millions and Powerball. At least 34% of the money generated from the sale of lottery tickets goes to support public education in the state.
California Online Poker Laws
There is a seemingly constant movement towards legalizing online poker in California, however that doesn't mean that it's currently illegal. Instead, internet gambling is a bit of gray area in the state; there is some enforcement against bankers and operators but little if any movement against individual players. For that reason, many California residents happily play poker online and internet-based sites have no qualms about taking those players' money.
New regulations, which have been consistently introduced (but voted down each time) over the last decade or so, are discussed below.
Is it Legal to Play Poker in California?
Poker has pretty much always been legal in California – or perhaps it's more accurate to say that it has never been outlawed – but some regulations, including state-run licensing, were introduced in the mid-1980s. That said, there are licensed poker rooms everywhere. Low- and medium-stakes tables are especially prevalent but there are also high-stakes games with pots that hit insanely big amounts.
Will California Regulate Online Poker?
While there's currently a ban a new casino openings until at least 2020, it's very likely that we'll soon see big changes to California law in terms of online poker regulations. In fact, there have been numerous online gambling bills introduced to the California legislature every year since 2008. Though none of those bills have been successful to date, proponents haven't given up.
The biggest issue seems to be legitimization. Officially legalizing online poker in California would make it easier for people to move money, claim winnings, and gamble safely with some kind of recourse against unscrupulous sites. That said, tribal casinos have a significant interest in preventing all of this from happening (after all, the easier it is to gamble online the less often people will leave their homes and head to real-world casinos, at least in theory) and sheer numbers make the tribal coalition a formidable force.
To combat the tribal opposition, a bill has been introduced that would allow tribal casinos to be among the first to extend their operations onto the internet. The first change would be allowing approved card rooms and tribal casinos to take their operations online. Racetracks wouldn't eligible but would instead receive a sizable yearly stipend and be allowed to act as internet gambling service providers. Licenses under the bill would cost $12.5 million for a seven-year permit with fees acting as a credit against future taxes on house gaming revenue.
History of Gambling in California
The gold rush in the 1840s brought a flood of people to CA. As people struck it rich, gambling organizers waited in the wings, ready to help the newly rich divest themselves of their money. Since then, gambling has thrived in many forms throughout the state and plenty of regulations have followed.
The first major gambling regulation came as part of the California Penal Code in 1872. The new code prohibited several specific types of casino games, all house-baked games, but did not mention poker.
Betting on horse racing became legal in 1933, spawning a huge wave of race tracks and gambling opportunities. California currently has six major race tracks and around 30 legal off-track betting facilities.
Statewide legislation of the CA card rooms passed in 1984. The Gaming Registration Act gave the Attorney General's office the right to regulate and license card rooms. That legislation was broadened via the 1997 Gambling Control Act which gave the Attorney General more control as well as increased funding.
Also in 1984, California voters legalized the state lottery via the Proposition 37, also known as the California State Lottery Act of 1984. Tickets went up for sale in October 1985. More games followed including access to Mega Millions in June 2005 and Powerball in 2012.
Native American tribal casinos were legalized in 2000 thanks to that year's Proposition 1A. After that, each tribe had to negotiate their own individual "compact", which is essentially a license offered by the state of California. The compacts dictate everything from the amount of taxation to money allocated for tribal services such as education and police.
In 2017, State Assemblyman Reginald Jones-Sawyer introduced the Internet Poker Consumer Protection Act which would both legalize and regulate online poker activity in California. (More on that above.) As of the time of writing, that legislation is still pending.