Connecticut Online Poker Laws
Home » US Poker Laws » State Laws » Connecticut Poker Laws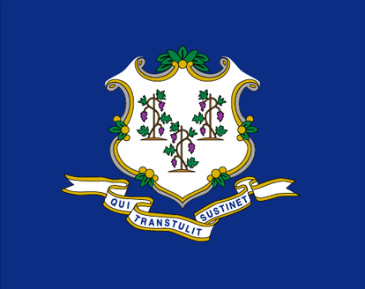 Relevant state code: 112-557 et seq.; 53-278a et seq.
Connecticut falls in the wide middle of US states when it comes to gambling law.  There are several legal, regulated forms of gambling in Connecticut, but with that wide variety comes a set of fairly strict laws with regards to unlicensed gambling.  As with most states that play host to regulated gambling, the legal definition of gambling in Connecticut is very broad:
Section 53-278a
"Gambling" means risking any money, credit, deposit or other thing of value for gain contingent in whole or in part upon lot, chance or the operation of a gambling device, including the playing of a casino gambling game such as blackjack, poker, craps, roulette or a slot machine
This definition is one of only a handful that mentions poker specifically.  As opposed to some other states that employ the dominant factor test when distinguishing between games of skill and chance, Connecticut appears to view any chance ("in whole or in part") inherent in an activity as sufficient to classify that activity as gambling - assuming that wagering is involved.
The majority of penalties in Connecticut gambling law are reserved for those that operate unlicensed gambling businesses or assist in the operation or advancement of such businesses.  Illegal gambling on the part of a player is a class B misdemeanor in Connecticut, although we were unable to uncover any prosecutions of players by Connecticut officials in our research.
Is Any Gambling Legal Under Connecticut Law?
Yes.  Connecticut allows various types of parimutuel betting on horse and dog racing.  Off-track betting and wagering on out-of-state racing is permitted.  Pequot and Mohegan tribes are allowed to operate casinos in Connecticut and offer a full range of games, including slots. 
Social gambling is expressly permitted under Connecticut law.  To qualify as social gambling, participants must have a relationship beyond the gambling event and no one can profit from the operation of the game.  So, a home poker game among friends with no rake or charge would likely be legal; a game run out of a bar that takes a rake would be illegal.
Charitable gaming in the form of licensed bingo, sealed tickets and raffles is legal in Connecticut.  Learn more about the state's policies and procedures for charitable gambling at the Connecticut Department of Consumer Protection website.
Is Playing Poker Legal in Connecticut?
Players taking part in a poker game at a licensed tribal casino such as Foxwoods or in a social context where no one is profiting from the business of operating the game are not in violation of Connecticut law.
Otherwise, playing poker for anything of value is expressly illegal in the state, thanks to the inclusion of poker in Connecticut's legal definition of gambling.  For more reading on this topic, visit this 2007 report prepared by the Connecticut Office of Legislative Research.
Are Online Poker Sites Legal in Connecticut?
Current law makes no mention of online gambling or online poker sites.  The only official position of the Connecticut government on this issue appears to be expressed on the Department of Consumer Protection website, which asserts that online gambling is illegal based on the theory that any form of gambling not expressly authorized by Connecticut law is illegal by default. 
Connecticut also has a "transmission" law which makes it illegal to send or receive information (or to maintain or install equipment used to sending or receiving information) "with respect to any wager made in the course of, and any information intended to be used for, professional gambling."  This law would seem to clearly prohibit online casino and sportsbook wagers, but how such laws might apply to poker is a much murkier area.
Short version:  Gambling online is likely technically illegal under Connecticut law for both the player and the poker site.  With the uncertainty surrounding the issue, it appears highly unlikely that any individual poker player would be prosecuted under current law.
Connecticut Gambling Law - Fun Facts
Wagering on Jai-alai in a licensed environment is legal under Connecticut law.
Gambling losses over $1 that result from unlicensed gambling can be recovered via civil action.
Senior citizens organizations are allowed to operate bingo games without first obtaining a permit.
Connecticut and Online Gambling: Current Developments
Connecticut appears to be in the early stages of considering online gambling regulation.  While there has yet to be a formal bill proposed, the Governor's Office recently called online gambling in Connecticut "inevitable" and Foxwoods, the largest Indian casino in the state, has indicated that they're interested in advancing regulation of online gambling.
Will Regulated Online Poker Come to Connecticut?
Residents of Connecticut should feel fairly optimistic about the chances for regulated online poker sites in their state within the next few years.  While the state itself has a relatively small potential player pool amongst its roughly 3.5 million residents, poker is quite popular in Connecticut thanks largely to Foxwoods' reputation as a poker mecca for the East Coast.
Amplifying those favorable conditions: There appears to be at least some legislative support for regulation, and the Mashantucket Pequot tribe (owners of Foxwoods) appear motivated to embrace online gambling regulation.
Given the national reach and influence of the Mashantucket Pequot tribe, one would expect Connecticut to focus more on developing an interstate online poker network than to settle for a relatively small intrastate poker room with only limited financial potential.