Legal Online Poker In Illinois
Home » US Poker Laws » State Laws » Illinois Poker Laws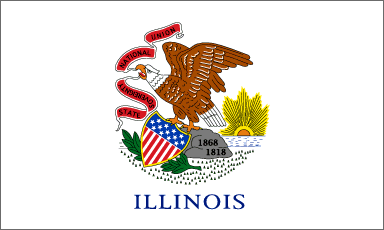 Relevant state code: 18-3801 et seq.; 54-2501 et seq.
Illinois offers gamblers a diverse array of regulated gambling options.  The trade-off is that Illinois takes a very dim view of unregulated gambling, meaning a very strict approach to enforcing such gambling and a very broad definition of what activity can be classified as gambling:
Section 28-1
(a) A person commits gambling when he:
(1) Plays a game of chance or skill for money or other thing of value
Note that the definition explicitly includes games of chance and skill.  In Illinois, the act of the wager is apparently the primary violation, so the question of whether or not a game is governed by skill or chance is largely moot.  The statutory definition goes on to include a variety of specific actions that would also be considered illegal under Illinois law, including: Wagering on political races, pools and unregulated lotteries.  There are several exceptions that we'll discuss below.
Coupled with this far-reaching definition are fairly severe penalties for players and operators.  Individuals who simply participate in games can face misdemeanor charges; those who run the game, advertise the game or otherwise facilitate illegal gambling can face misdemeanor to felony charges, and repeat offenses trigger harsher charges.
What Gambling is Legal in Illinois?
Several forms of gambling are regulated or licensed by the State of Illinois.  The state administers a lottery and permits pari-mutuel wagering on horse racing at approved facilities.  Illinois also allows riverboat gambling; riverboat casinos in Illinois can offer a full range of casino games including poker.
There is no explicit exemption in Illinois law for social gambling.
Illinois does allow a wide variety of charitable gambling to be provided by license-holders.  Charitable gambling events may only offer roulette, blackjack, poker, pull tabs, craps, bang, beat the dealer, big six, gin rummy, five card stud poker, chuch-a-luck, keno, hold-em poker, and merchandise wheel.  Charitable gambling in Illinois is overseen by the Illinois Department of Revenue. 
Can I Legally Play Real Money Poker in Illinois?
If you're playing poker at a licensed charitable game or in a riverboat casino, you don't have any problems.  However, individuals playing poker for real money in any other setting in Illinois may technically be in violation of state law.
Remember, the law in Illinois makes no distinction between games of chance and games of skill.  Additionally, case law in Illinois (People v Mitchell, 1983) has concluded that Texas Holdem falls under the state's definition of gambling.  Finally, with no explicit exemption for social gambling on the books in Illinois, even private games and home games could potentially be subject to criminal enforcement action.
With that said, authorities in Illinois seem to have little interest in pursuing charges against individual players.  A recent example:  A 2012 raid on an illegal poker game in Champaign, IL resulted in charges against the operators of the game, but no charges for participants.
What About Online Poker? Is it Legal to Play Online Poker in Illinois? 
Illinois is one of a few states with laws that specifically addresses Internet gambling and online poker.  In 2009, Illinois revised its definition of a gambling offense to include the following provision:
Section 28-1(12)
Knowingly establishes, maintains, or operates an Internet site that permits a person to play a game of chance or skill for money or other thing of value by means of the Internet or to make a wager upon the result of any game, contest, political nomination, appointment, or election by means of the Internet.
Note that the provision applies specifically to operators and not to individuals using online sites to gamble.   That aside, many would argue that current Illinois law de facto prohibits individuals from playing poker at an Illinois poker site or otherwise gambling online, as it generally prohibits any form of wagering that is not explicitly permitted by law.
Illinois Gambling Laws: Fun Facts
There is no tribal gambling in Illinois.

Riverboat gambling is allowed on "any navigable stream" in Illinois - except for Lake Michigan.
Illinois has offered select lottery tickets for online purchase since at least 2001.
Illinois Online Poker Laws: Recent News
Illinois made online gambling news early in 2012 when two residents were charged with running an online gambling business.
In May of 2012, State Senate President John Cullerton caused a stir by introducing legislation to regulate various forms of online gambling, including poker.  Cullerton's legislation failed to meet a procedural deadline in late May, essentially killing the bill for the time being.  
Will Illinois Regulate Online Poker Soon?
Many would have considered Illinois something of a dark horse in the online poker regulation race prior to Cullerton's surprise bid, but the state now must be considered as a more serious contender than most.  Favoring regulated online poker in Illinois: The state already offers lottery over the Internet, and the population concentration of Chicago alone could provide a viable player pool.
Working against regulated poker: The state is currently engaged in a bit of an internal battle over land-based gambling expansion, and pushing through both that expansion and an aggressive move into online gambling at once could prove politically difficult. 
With all of those factors considered, we conclude that there is a reasonable chance of Illinois regulating online poker within the next three years.