Legal Poker / Online Gambling Sites in Missouri
Home » US Poker Laws » State Laws » Missouri Legal Poker Laws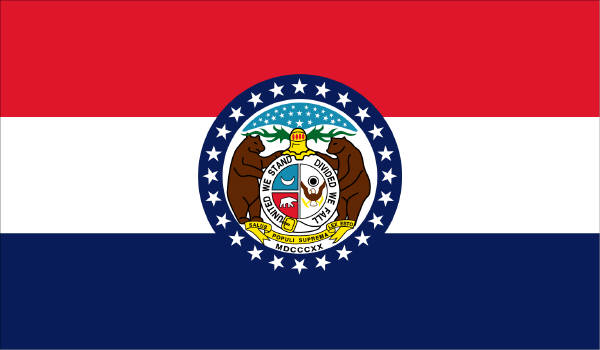 Relevant state code: 97-33-1 et seq.; 75-76-1 et seq.
The Show-Me State has little patience for forms of gambling that are not licensed or otherwise regulated by the Missouri government.  Missouri takes a very strict position on illegal gambling the starts with a fairly standard - and quite broad - definition of what it means to be engaged in the act of gambling: 
Section 572.010(4)
a person engages in "gambling" when he stakes or risks something of value upon the outcome of a contest of chance or a future contingent event not under his control or influence, upon an agreement or understanding that he will receive something of value in the event of a certain outcome.
Missouri case law asserts that "contest of chance" is determined by the Material Degree Test, which is to say that if chance plays a significant role that cannot be overcome by skill - regardless of whether or not chance is the dominant or majority  factor - then the game is one of chance.  Some researching Missouri gambling law become confused when they find poker defined as a game of skill in Section 313.800; that definition is for the purposes of regulated gambling and does not appear to extend beyond that specific scope or exclude poker from the general statutory definition of "gambling" in Missouri law.
Illegal gambling in Missouri is any activity that meets the above definition and is not explicitly exempted from or otherwise permitted by the law.  Missouri has some of the strictest punishments in the nation for those who engage in illegal gambling.  The state does distinguish between players and operators - and, somewhat uniquely, between amateur and professional gamblers.
If you are guilty of illegal gambling in Missouri as a mere player, you're looking at a class C misdemeanor unless you: 1) Knowingly gamble with a minor (that's a class B) or 2) Are a "professional player" (that's a whopping class D felony, punishable by up to four years in jail).  What's a professional player?  We're guessing you might know a couple of people who would qualify by the letter of the law:
Section 572.010(9)
"Professional player" means a player who engages in gambling for a livelihood or who has derived at least twenty percent of his income in any one year within the past five years from acting solely as a player;
Operators of illegal gambling businesses, or those who otherwise advance illegal gambling, are looking at a host of potential charges in Missouri.  While the state may have fewer individual charges, it casts a wider net for operators than many other states via the statutory definition of "advancing gambling activity":
Section 572.010(1)
a person "advances gambling activity" if, acting other than as a player, he engages in conduct that materially aids any form of gambling activity. Conduct of this nature includes but is not limited to conduct directed toward the creation or establishment of the particular game, lottery, contest, scheme, device or activity involved, toward the acquisition or maintenance of premises, paraphernalia, equipment or apparatus therefor, toward the solicitation or inducement of persons to participate therein, toward the actual conduct of the playing phases thereof, toward the arrangement or communication of any of its financial or recording phases, or toward any other phase of its operation. A person advances gambling activity if, having substantial proprietary control or other authoritative control over premises being used with his knowledge for purposes of gambling activity, he permits that activity to occur or continue or makes no effort to prevent its occurrence or continuation.
In terms of enforcement, Missouri reported 109 arrests for illegal gambling in 2011.  The state does not break out charges by offense, so we cannot know how many of those arrested were players and how many were operators.  While certainly not a perfect method, analyzing this total number of arrests in the context of a population of 6 million suggests that illegal gambling is either uncommon or is not an enforcement priority in Missouri. 
Legal Poker / Gambling Options in Missouri
Missouri has a state-run lottery, commercial gambling and tribal gambling.     
Missouri law provides a partial exemption for social gambling; the statutory definition of "player" apparently gets you off the hook from being charged as an operator when you organize a home game:
Section 572.010(8)
A person who gambles at a social game of chance on equal terms with the other participants therein does not otherwise render material assistance to the establishment, conduct or operation thereof by performing, without fee or remuneration, acts directed toward the arrangement or facilitation of the game, such as inviting persons to play, permitting the use of premises therefor and supplying cards or other equipment used therein.   
However, it's not clear that participating in the game as a player would be legal as the definition of gambling itself does not contain an exemption for social gambling. 
The Missouri Gaming Commission oversees charitable gambling in the state.  Bingo, raffles and sweepstakes appear to be permitted when conducted in accordance with Missouri law. 
Playing Poker For Real Money in Missouri: Legal or Illegal?
In a regulated environment such as one of the state's riverboat casinos, it's legal to play poker.
In a home game setting where no one is making a profit from running the game, the picture is murkier.  On one hand, the definition of "player" seems to suggest that social gambling falls within the law; on the other hand, the nature of Missouri law is that any gambling not explicitly made legal is illegal.
In any other context, playing poker for money would appear to violate the laws of Missouri.
Missouri Law Regarding Online Poker Rooms and Casinos
Nothing in the law of Missouri directly addresses the issue of gambling online.  The website for the Missouri AG asserts that online gambling is illegal, but does not offer specifics.
Given the general approach taken toward unregulated gambling in Missouri and the broad nature of the law regarding gambling, it seems safe to assume that the majority opinion among Missouri authorities is that online gambling is illegal for both players and operators.
Missouri Gambling Laws: Fun Facts
If you lose money gambling illegally, you can initiate a civil suit to recover those losses.
Those who maintain themselves "mostly though gambling" are guilty of vagrancy in Missouri.
Recent Online Gambling Developments in Missouri
Missouri was in the news in March of 2012 when the US Attorney for the Western District of Missouri announced multiple indictments related to online gambling.
There have been no significant legislative attempts to address the issue of online gambling in the last several years, nor do there appear to be any such attempts on the horizon in Missouri.
Potential for Online Poker Regulation in Missouri
The chances seem fairly low, with a major caveat: Given the significant casino industry presence already in the state (including Caesar's), Missouri could easily be swept up in a larger wave of regulation should the industry at large reverse their opposition to a state-based solution for regulating online poker.
Absent that external momentum, Missouri seems an average (or slightly worse than average) candidate for successfully regulating online poker.  Social opposition and a lack of any legislative history for the issue both strongly suggest a climate where any move to expand regulated gambling to the Internet is unlikely.