Legal Tennessee Poker / Gambling Laws
Home » US Poker Laws » State Laws » Tennessee Poker Laws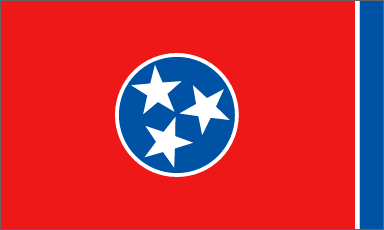 Relevant State Code: 4-36-101 et seq.; 39-17-501 et seq.
While nicknamed the "Volunteer State," Tennessee is unlikely to find any gamblers willing to volunteer to take up residence in the state.  Tennessee takes a very strict approach - both in theory and in practice - to prohibiting basically all forms of gambling.  Their definition of gambling is quite broad:
Section 39-17-501
Gambling is contrary to the public policy of this state and means risking anything of value for a profit whose return is to any degree contingent on chance, or any games of chance associated with casinos, including, but not limited to, slot machines, roulette wheels and the like.
In simple terms: You can't bet anything of value on any activity that involves any element of chance.
Tennessee has unique penalties for players and for operators.  Players are looking at a class C misdemeanor for the crime of Gambling (get complete details about the maximum penalties per charge in Tennessee here).  Players could also theoretically be subject to Gambling Promotion (Class B misdemeanor) and Possession of gambling device or record (Class B misdemeanor).  As usual, operators face harsher penalties; in addition to the above charges, a person who "knowingly invests in, finances, owns, controls, supervises, manages or participates in a gambling enterprise" can be charged with Aggravated gambling promotion (Class E felony).
Charges related to illegal gambling in Tennessee appear to be much more frequent than in the average US state.  In 2011, Tennessee reported 276 gambling-related arrests.  A recent raid on a private poker game nearly came to a tragic end when gunfire was exchanged between police and players.
What Gambling is Legal in Tennessee?
Tennessee does not have any commercial casinos or tribal casinos.  The state lottery and some limited charitable options (that we'll discuss more in a moment) are the only forms of gambling permitted in the state.
Social gambling does not enjoy any exemption from Tennessee law.  The act of betting anything of value on anything unregulated and involving an element of chance is illegal regardless of where it takes place or what the stakes are.
Tennessee permits charitable gambling, but in very limited form.  Legitimate non-profits can hold one event per year and are basically restricted to offering raffles.  For complete information on charitable gambling in Tennessee, visit the webpage for the Tennessee Secretary of State.
Can I Play Poker Legally in Tennessee?
It is difficult to find a way of reading Tennessee gambling law that would make playing poker for real money legal.  The state does not allow commercial or tribal casinos or card rooms, so those options are off the table.
Social gambling does not get a pass from state law, so home poker games - regardless of what the stakes are or if anyone takes a rake - are also not legal in Tennessee.  Based on arrest statistics and anecdotal evidence, Tennessee seems more interested than the average state in breaking up private poker games.
The same goes for charitable gambling - it's difficult to imagine a definition of "raffle" that could include a poker game, so you will be hard-pressed to find a legitimate charitable poker game in Tennessee.
The legality of playing online poker has yet to be settled in the state.  Given the general posture of Tennessee officials toward gambling, one could assume that the state considers playing online poker to be a violation of the law.
Are Online Gambling Sites Legal in Tennessee?
No part of the law regarding gambling in Tennessee covers the issue of gambling online and we were unable to locate any prosecutions of online poker players in Tennessee.  Neither fact should be taken to mean that gambling online or playing poker online is legal in the state. Tennessee is likely similar to most states in the US with no law directly addressing online gambling; law enforcement recognizes the activity as technically illegal but has little incentive or ability to pursue those involved.
Tennessee Gambling Laws: Fun Facts
The man many believe to be responsible for the online poker boom in the US - 2003 WSOP champion Chris Moneymaker - lives in Tennessee (and lived there at the time he qualified for the WSOP online at PokerStars).  The man many believe to be responsible for the collapse of online poker in the US - UIGEA spearheader Bill Frist - is from Tennessee as well.
Before approving a state lottery in 2003, Tennessee had no regulated forms of gambling.
Developments Related to Online Gambling in Tennessee
Rep. Steve Cohen, a Democratic congressman from Tennessee, is a cosponsor of Joe Barton's online poker bill.
Otherwise, online gambling regulation has not been a serious topic of conversation in the Tennessee legislature.
Tennessee's Chances of Regulating Online Poker
As the saying goes: "Slim to none, and slim just left town."  There is virtually no chance that Tennessee will embark on any sort of effort regulate online gambling (with the possible exception of the state lottery expanding into online sales).  There is no interest, momentum or apparent incentive on the part of the public, state industry or state government to pursue online gambling regulation.
In short: Tennessee has a far worse chance than the average US state to see regulated online poker at any point in the future - far or near.