Legal Maine Poker Sites
Home » US Poker Laws » State Laws » Maine Legal Poker Laws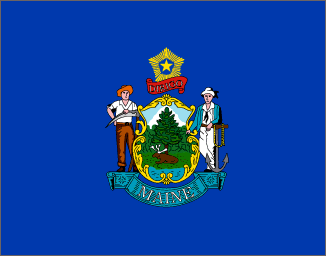 Relevant state code: 17-A §951 et seq.; 8§301; 8§285 et seq.; 8§261A, et seq.
Known more for lobsters than for anything having to do with gambling, Maine takes what most would consider to be a fairly strict approach to regulating gambling.  The definition of gambling under Maine law is very broad:
Section 952(4)
Staking or risking something of value upon the outcome of a contest of chance or a future contingent event not under his control or influence, upon an agreement or understanding that he or someone else will receive something of value in the event of a certain outcome
Additionally, Section 952(11) defines "unlawful" gambling as anything "not expressly authorized by statute," suggesting that any gambling not explicitly regulated or permitted is by definition illegal gambling in Maine.
The phrase "contest of chance" is certainly a critical one to Maine's definition of gambling, and the sweeping statutory definition of "contest of chance" only further widens the scope of what Maine considers to be gambling.   You can review the complete definition here; the short version is that the presence of nearly any element of chance is enough to brand a game a "contest of chance" if a wager is involved.
What legal consequences do those who violate Maine gambling law potentially face?  Good news on this front for players: There appear to be no specific risks for those who merely participate in illegal gambling.  Our reading of Maine law, supported by additional research such as this paper from GamingLawMasters, is that there are no penalties for players even if they are involved in a game that is itself illegal.
As is the case in nearly every state in the US, Maine is not so lenient when it comes to those who profit from illegal gambling as operators.  Those charged with Aggravated Gambling  - essentially "advancing or profiting" from unlawful gambling other than as a mere player - face up to 10 years in prison and a $20k fine. 
Our research found no significant body of charges brought by Maine officials against either participants in unlawful gambling or operators of unlawful gambling businesses. 
What Can You Legally Gamble on in Maine?
Those in Maine have access to commercial casinos, a state lottery and harness horse racing.  Dog racing is a no-go in Maine.  The Penobscot Tribe offers "high stakes bingo" in the state, but the larger issue of tribal gaming in Maine is a complicated one.   
Maine has a statutory exemption for social gambling.  Their definition of what constitutes social gambling is fairly standard:
Section 952(4)
"Social gambling" is gambling, or a contest of chance, in which the only participants are players and from which no person or organization receives or becomes entitled to receive something of value or any profit whatsoever, directly or indirectly, other than as a player, from any source, fee, remuneration connected with said gambling, or such activity as arrangements or facilitation of the game, or permitting the use of premises, or selling or supplying for profit refreshments, food, drink service or entertainment to participants, players or spectators. 
Charitable gambling is permitted in a variety of forms under the laws of Maine.  For a complete rundown of the rules, consult this hand book from the Main State Police; the short version is that bingo, beano and a variety of "games of chance" are permitted in licensed charitable environments.
Is Playing Poker Illegal in Maine?
If you are playing in a social game that meets the requirements of Maine law, you should have no problem playing poker.
In fact, it's unclear if there are any situations where a person could merely play poker for real money and be acting illegally in Maine.  Since Maine does not appear to criminalize the actions of the individual gambler who does not otherwise advance or profit from the game except for their actual play in the game, it's hard to see how playing poker itself could be legally problematic.
Poker itself is almost certainly considered a "game of chance" under Maine law and therefore operating a poker game for profit without a license from the state would be considered unlawful gambling.
Are Online Casinos or Online Poker Rooms Legal Under Maine Law? 
There is no specific aspect of Maine law that we could find in our research addressing online or Internet gambling.
Players - exempt from charges under Maine law - should not have any legal trouble arise from playing poker online or otherwise playing games at an online casino.  This is, of course, only one reading of the law and not a settled matter, but one could easily conclude that Maine's lack of criminal liability for individual gambles extends fully to online gambling in the state.
Operators would likely run afoul of Maine law by accepting bets from Maine residents.  With that said, we were not able to locate instances where operators of online gambling businesses were charged or prosecuted in Maine.
Maine Gambling Laws: Fun Facts
If you are an operator of an illegal gambling business in Maine, size matters.  Taking more than five bets totalling over $500 in a 24 hour period is a Class B offense, while amounts under those thresholds are only a Class D crime. 
Shuffling a deck as part of a game of cards is sufficient to qualify that game as a "game of chance" under Maine law.
Online Gambling News from Maine
Maine has made a few online gambling headlines in 2012; in January several legislators suggested that Maine needed to update its gambling laws to regulate online activity; in March legislators introduced a bill to allow online lottery sales in the state. 
The Chances of Maine Regulating Online Poker Are ...
… Minimal.  Voters recently rejected gambling expansion on two fronts in recent Maine elections, and the state's small population (about 1.3 million) makes it an unlikely - some would argue implausible - market for an online poker room.
However, one could conceive of Maine as a partner in a much larger interstate poker network, especially if the state continues to move in the direction of establishing a framework for regulating online gambling via the state lottery.
All in all, Maine will likely play a very minor role in the larger battle over the regulation of online poker in the US, and is almost certain to be a follow