Online Poker Laws in Nevada
Home » US Poker Laws » State Laws » Nevada Poker Laws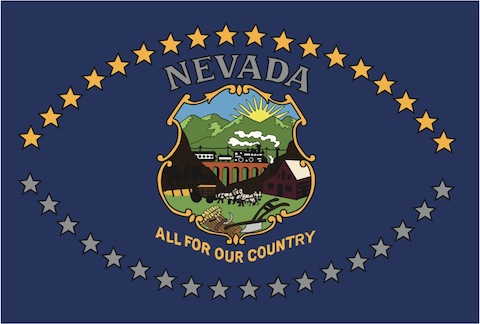 Relevant state code: 463.010 et seq.
Perhaps no state in the US is as synonymous with gambling as Nevada.  Not surprisingly, the state takes a very strict approach to gambling that takes place outside of the extensive regulatory framework Nevada law provides.  Gambling under Nevada law is defined as such:
Section 463.0153
"Gaming" or "gambling" means to deal, operate, carry on, conduct, maintain or expose for play any game as defined in NRS 463.0152, or to operate an inter-casino linked system.
The definition of "game" or "gambling game" reads:
Section 463.0152
any game played with cards, dice, equipment or any mechanical, electromechanical or electronic device or machine for money, property, checks, credit or any representative of value, including, without limiting the generality of the foregoing, faro, monte, roulette, keno, bingo, fan-tan, twenty-one, blackjack, seven-and-a-half, big injun, klondike, craps, poker, chuck-a-luck, Chinese chuck-a-luck (dai shu), wheel of fortune, chemin de fer, baccarat, pai gow, beat the banker, panguingui, slot machine, any banking or percentage game or any other game or device approved by the commission
Under Nevada law, skill vs luck is an irrelevant distinction - betting on just about any game you can imagine is prohibited if not expressly regulated (or if it falls under certain exceptions that we'll discuss below).
As the definitions cited above suggest, Nevada is not terribly interested in criminalizing the act of illegal gambling so much as the state is concerned with criminalizing the act of operating or profiting from an illegal gambling business.  In short, Nevada law seeks to defend the business of the state's core industry: Regulated gambling.
Individual gamblers have little to fear from Nevada law should they participate as mere players in illegal gambling activities.  There do not appear to be any penalties for acting as a player in such games.  Those who operate such activities, however, are looking at guaranteed jail time across a number of potential felony charges - Nevada's penalties for operators are easily among the stiffest in the US. 
The laws may be stiff enough to discourage violation; only 40 gambling-related arrests were recorded in Nevada for 2010.
What Gambling is Legal in Nevada?
Just a little bit here and there.  Commercial casinos are obviously a massive business in Nevada, and sports betting is only one of the unique offerings on tap at the dozens upon dozens of casinos in Vegas and vicinity.  Pari-mutuel betting on horse and dog racing is permitted in regulated environments.  Nevada does not, oddly enough, have a state lottery.  There is no tribal gambling in Nevada.
Social gambling is explicitly legal in the state of Nevada.  The definition of gambling excludes "games played with cards in private homes or residences in which no person makes money for operating the game, except as a player," meaning home poker games are fine - apparently regardless of the stakes involved.
Charitable gambling is legal in Nevada and is overseen by the Nevada Gaming Control Board.  Acceptable forms of charity-run gambling activities are limited to bingo-style games.
Is Playing Poker Legal in Nevada?
If you're at a casino or playing in a private home, poker is absolutely legal (apparently for any stakes) in Nevada.
As far as playing poker online or in other environments, the games themselves may be illegal but simply participating in the game does not appear to carry any risk of charge of prosecution per Nevada law.  The one issue online poker players could face arises in Nevada law regarding online gambling, which we'll discuss in the next section.
Are Online Poker Rooms and Casinos Legal in Nevada?
Nevada law does specifically address online gambling.  It is illegal to receive bets via the Internet from individuals located in Nevada:
Section 465.092(1)
Except as otherwise provided in NRS 465.094, a person, alone or with others, shall not knowingly, within or outside of this state:
            (a) Accept or receive, directly or indirectly, through any medium of communication a wager from another person who is physically present within this state; or
            (b) Allow a lessee, agent or employee to accept or receive, directly or indirectly, through any medium of communication a wager from another person who is physically present within this state.
It is also illegal to "operate interactive gambling" and the relevant code directly addresses Internet-based gambling:
Section 463.016425 (1)
"Interactive gaming" means the conduct of gambling games through the use of communications technology that allows a person, utilizing money, checks, electronic checks, electronic transfers of money, credit cards, debit cards or any other instrumentality, to transmit to a computer information to assist in the placing of a bet or wager and corresponding information related to the display of the game, game outcomes or other similar information.
Section 463.016425 (2)
As used in this section, "communications technology" means any method used and the components employed by an establishment to facilitate the transmission of information, including, without limitation, transmission and reception by systems based on wire, cable, radio, microwave, light, optics or computer data networks, including, without limitation, the Internet and intranets.
Operating an online casino or poker room that accepts real-money play appears soundly in violation of Nevada law.  As for playing poker online, the act of placing a wager online while in Nevada does appear to be in violation of Section 465.093 which makes "Placing, sending, transmitting or relaying wagers to another person" a misdemeanor.  With such an array of  high-profile online poker players living in Nevada and so few arrests related to gambling, it would seem as if charging players is not a priority for Nevada law enforcement.
Nevada Gambling Laws: Fun Facts
There is a reasonable chance that standard poker odds calculators would be considered illegal under Nevada law, which prohibits devices used for "keeping track of the cards played" or "analyzing the probability of the occurrence of an event relating to the game."
It is technically illegal to vary the manner in which you pull the arm of a slot machine in Nevada, at least if you believe that doing so will alter the outcome of the game.
Recent Online Gambling Developments in Nevada
After a lengthy buildup, Nevada set out basic guidelines for regulating online poker in December of 2011 and then became the first state in the US to issue online poker licenses in June of 2012. The state has now issued over 20 licenses related to the operation of an online poker site.
In February of 2013, Nevada amended their online gambling regulations to allow for interstate compacts. Regulations were also altered to adjust licensing fees and enshrine restrictions regarding what companies are eligible to apply for a Nevada online poker license,
What is the Status of Regulated Online Poker in Nevada?
While there was much fanfare surrounding Nevada's issuing of the first online poker licenses, the path from that event to a fully-functional, thriving online poker room is far from an easy one.  As popular a destination as the state may be, it's hard to imagine that tourists can be relied upon to serve as the backbone of a Nevada-only poker room - and Nevada's regular population of just over 2.7 million is likely below the threshold necessary to support a single room, let alone a diverse industry.
Nevada's rapid move to issue licenses is in many ways more of a stake in the ground than a full-fledged online poker push.  Many believe the state is positioning itself to serve as a global licensing hub for online gambling, with online poker regulation serving as only the first step toward that goal.
While that may be Nevada's ultimate aim, the state is also quite close to launching a full-fledged real-money online poker industry. It now appears that Caesars Interactive Entertainment (via WSOP.com) will be the first online poker site to offer such games in Nevada, and a number of other sites are expected to quickly follow suit.