Online Gambling & Legal Poker Sites in Mississippi
Home » US Poker Laws » State Laws » Mississippi Legal Poker Laws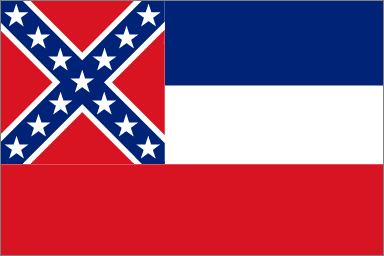 Relevant state code: 97-33-1 et seq.; 75-76-1 et seq.
Mississippi holds a special place in gambling lore thanks to its historical association with old-fashioned riverboat gambling.  Modern Mississippi is not quite so fond of gambling, at least not the unregulated kind.  The state takes a fairly strict approach to illegal gambling that rests on a broad definition of illegal "betting, gaming or wagering":
Section 97-33-1
If any person shall encourage, promote or play at any game, play or amusement, other than a fight or fighting match between dogs, for money or other valuable thing, or shall wager or bet, promote or encourage the wagering or betting of any money or other valuable things, upon any game, play, amusement, cockfight, Indian ball play, or duel, other than a fight or fighting match between dogs, or upon the result of any election, event or contingency whatever
That definition is further clarified by the statutory definition of "game":
Section 75-76-5(k)
Except as otherwise provided by law, "game," or "gambling game" means any banking or percentage game played with cards, with dice or with any mechanical, electromechanical or electronic device or machine for money, property, checks, credit or any representative of value, including, without limiting, the generality of the foregoing, faro, monte, roulette, keno, fan-tan, twenty-one, blackjack, seven-and-a-half, big injun, klondike, craps, poker, chuck-a-luck (dai shu), wheel of fortune, chemin de fer, baccarat, pai gow, beat the banker, panguingui, slot machine, or any other game or device approved by the commission.
We'll get into the specifics regarding what exceptions Mississippi makes to these sweeping definitions a bit later.  Right now, let's talk about the penalties associated with being in violation of Mississippi's gambling law.
First up, individual gamblers.  Mississippi law does distinguish between those who operate illegal gambling businesses and those who merely partake in the act of illegal gambling.  Penalties for players are generally mild - a maximum fine of $500 is what awaits most participants, although certain types of gambling (like betting on dog fights) carry stiffer charges.
When it comes to penalties for operators, Mississippi is actually a bit less severe than some of its southern neighbors.  The majority of penalties are misdemeanors, with some tougher charges awaiting those who operate illegal lotteries or permit minors to gamble.
In terms of enforcement, Mississippi seems primarily concerned with pursuing illegal commercial gambling operations and less concerned with small or private games (we were unable to locate statewide statistics regarding gambling-related arrests in Mississippi, so our analysis of enforcement is based on a sampling of news coverage and therefore largely speculative).
Forms of Legal Gambling Available in Mississippi
Mississippi is one of a handful of US states that does not have a state run lottery.  The state also does not permit horse or dog racing.  Commercial casinos are a major presence in the state, and tribal gambling options are available.
There does not seem to be much space in Mississippi law for social gambling.  There is no explicit exemption for such gambling and many of the games typically played in social settings - like poker - are explicitly illegal unless regulated under Mississippi law. 
Charitable gambling is permitted in Mississippi via licensed raffles and bingo games.  Charitable gambling is overseen by the Mississippi Gaming Commission.
Playing Poker For Real Money Under Mississippi Law
Poker is fine if played within a regulated commercial or tribal casino.  Otherwise, playing poker appears to be illegal under Mississippi law - even if no money is risked by the participants.
A 2005 opinion from the Mississippi Attorney General (2005-0080) concluded that poker tournaments constituted illegal gambling even if the participants did not have to pay to enter:
Mississippi Code Annotated Section75-76-5(1) defines "gaming" or "gambling" as "to deal, operate, carry on, conduct, maintain or expose for play any game as defined in this chapter." Section 75-76-55 prohibits gaming or gambling unless conducted pursuant to a state gaming license. It is, therefore, the opinion of this office that the activities described in your letter constitute gaming and gambling under Section 97-33-1 and the Gaming Control Act, and are prohibited unless conducted by a licensee of the Mississippi Gaming Commission.
If the game itself can not be legal, then participation in the game is also not legal under Mississippi law.  While the issue of enforcement is an open question, the letter of the law in Mississippi strictly limits the ways a player can legally participate in a poker game.
Is it Legal To Play Poker Online in Mississippi? Which Poker Sites are Legal?
No part of gambling law in Mississippi that we could uncover directly references gambling online.  There is language in a few definitions that could conceivably cover gambling conducted online, but it does not settle the issues of jurisdiction and place that make online gambling such a tricky legal area.   
Given that Mississippi law essentially requires a form of gambling to be regulated in order to be legal, one could conclude that operating an online gambling business or participating in online gambling while in Mississippi would be likely viewed as illegal by Mississippi authorities.  Our research did not uncover any cases of individuals convicted for either action in Mississippi.
Mississippi Gambling Laws: Fun Facts
A slot machine must be at least 25 years old (and not used for gambling) to qualify for the antique exemption from Mississippi gambling law.
Those who maintain themselves "mostly though gambling" are guilty of vagrancy in Mississippi.
Mississippi: Online Poker News
The state threw their hat into the online gambling regulation ring in early 2012.  Spurred - as so many states were - by the DOJ's position shift on the Wire Act in December 2011, State Rep Bobby Moak put together the Mississippi Lawful Internet Gaming Act.  His bill was killed in committee a few months later.
Will Mississippi Regulate Online Poker Sites?
The hurdles to regulated online poker are several and significant, but it would be a mistake to write of Mississippi entirely.  It's always a bit of an accomplishment just to get a bill proposed - plus given the state's woeful budget picture (and declining revenues from gambling), the bill has quite a good chance at returning sooner than later. 

The presence of several major national gambling operators in the state - including online poker proponent Caesar's - could also provide critical support and momentum for legal online poker sites.
Tempering that optimism: Strong and organized social opposition to gambling expansion and a small population that would have a tough time supporting a standalone poker room.  Even with those roadblocks, Mississippi still stands a far greater chance than average of seeing regulated online poker in the next few years.