Legal South Carolina Online Gambling & Poker Laws
Home » US Poker Laws » State Laws » South Carolina Poker Laws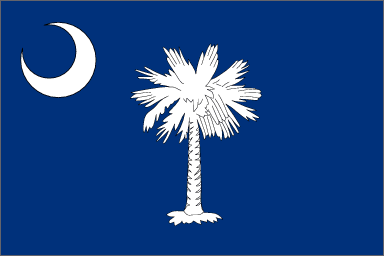 Relevant State Code: 11-19-1 et seq.; 41-3-1 et seq.
With anti-gambling laws from 1802 still standing largely unaltered, South Carolina has a rich history of prohibiting (and prosecuting) illegal gambling activity.  The state takes a very strict approach to unregulated gambling and operates from a very broad definition of gambling: 
Section 16-19-40
If any person shall play at any tavern, inn, store for the retailing of spirituous liquors or in any house used as a place of gaming, barn, kitchen, stable or other outhouse, street, highway, open wood, race field or open place at (a) any game with cards or dice, (b) any gaming table, commonly called A, B, C, or E, O, or any gaming table known or distinguished by any other letters or by any figures, (c) any roley-poley table, (d) rouge et noir, (e) any faro bank (f) any other table or bank of the same or the like kind under any denomination whatsoever or (g) any machine or device licensed pursuant to Section 12-21-2720 and used for gambling purposes, except the games of billiards, bowls, backgammon, chess, draughts, or whist when there is no betting on any such game of billiards, bowls, backgammon, chess, draughts, or whist or shall bet on the sides or hands of such as do game, upon being convicted thereof, before any magistrate, shall be imprisoned for a period of not over thirty days or fined not over one hundred dollars
The short version:  Playing any game involving cards or dice (or any other game defined thereafter) anywhere is illegal - even if no wagers are involved.
The penalties associated with illegal gambling reflect the centuries-old nature of South Carolina gambling law.  Players basically risk having their money seized and a maximum jail sentence of 30 days, along with a fine of $100.  Those who run illegal gambling activities are looking at a number of potential charges that carry fines and / or  jail time, including a bonus charge if they happen to be open "on the Sabbath day."  Extra penalties await those involved in illegal lotteries, bookmaking or pool selling.
South Carolina crime statistics do not appear to break out numbers for gambling charges.  A quick survey of recent arrests via Google search suggests that South Carolina authorities are interested in a wide array of illegal gambling operations, from storefront gambling to private poker games (including a raid of a low-stakes poker game that quickly turned tragic in 2010).
What are the Legal Types of Gambling in South Carolina?
South Carolina does offer a state - run lottery.  Some commercial gambling cruises depart from South Carolina, but there are no land-based commercial casinos in the state.  There is no tribal gambling in South Carolina.
There is no explicit exception for social gambling in South Carolina law; in fact, the law specifically identifies a "house" as a place where games and gambling may not take place.  However, SC Assistant Attorney General Sonny Jones told the State Supreme Court in 2010 that some forms of social gambling are not considered illegal by the his office:
"It is our position that this statute does not encompass the Friday night poker game or the penny ante poker game," said Jones, arguing to reverse a circuit court judge's decision overturning the men's gambling convictions. "This was not a casual game."
Charitable bingo is allowed in South Carolina and overseen by the South Carolina Department of Revenue.
Is Real Money Poker Legal in South Carolina?
Thanks to the failure of the South Carolina Supreme Court to (as of yet) issue a decision in the case of Town of Mt . Pleasant v . Chimento, the legal status of poker is still somewhat up in the air.  While the court waits (and they could wait quite a bit still), the position of South Carolina authorities seems to be pretty clear: Poker is generally not legal in the state.
The comments from South Carolina AAG Sonny Jones mentioned in the previous section suggest that small social games of poker are not illegal under South Carolina law, but those comments are in conflict with a literal reading of the law. 
There are no charitable poker games permitted under South Carolina law.
How South Carolina law would handle online poker players is anyone's guess.  Such activity could possibly be considered legal or illegal depending on your reading of the law.  With no arrests related to online poker to be found in our research, it seems a safe conclusion that playing poker online carries negligible criminal risk in South Carolina.
Does South Carolina Law Cover Online Poker Sites?
As the average age of gambling law in South Carolina might have already led some to conclude, Internet gambling is not directly addressed anywhere in the state code.
This should not be taken as an assertion that online poker sites are legal in South Carolina - only that the law is not designed to deal specifically with the issue.  Those operating illegal gambling activities online could easily be targeted for prosecution, but mere players would seem a highly unlikely focus for South Carolina law enforcement.
South Carolina Gambling Laws: Fun Facts
A literal reading of South Carolina law would lead one to conclude that games such as Yahtzee or Risk are illegal in the state, as South Carolina bans any games involving dice - regardless of whether wagering is involved.
The state lottery in South Carolina is a recent invention (created in 2000).
Recent South Carolina Online Gambling Headlines
South Carolina authorities worked with federal law enforcement to seize over $2 million from payment processors for online poker and online gambling sites in a 2011 operation.
There has been virtually no news from South Carolina regarding attempts to regulate online poker or online gambling in the state.
South Carolina and Online Poker Regulation
South Carolina seems an unlikely prospect for online poker regulation.  Gambling expansion has repeatedly been rejected by the public, and the social conservatism that runs through state politics makes gambling an issue few are rushing to champion.  That lack of interest is reflected by a recent legislative history devoid of any attempts to regulate online gambling.
One potential wild card is the still-awaited State Supreme Court decision regarding poker.  It's possible - albeit unlikely - that a favorable decision could create an opening for online poker regulation in the state.
All in all, we would rate South Carolina's chances of regulating online poker anytime in the near term to be worse than average.