Legal Virginia Poker Gambling Laws
Home » US Poker Laws » State Laws » Virginia Poker Laws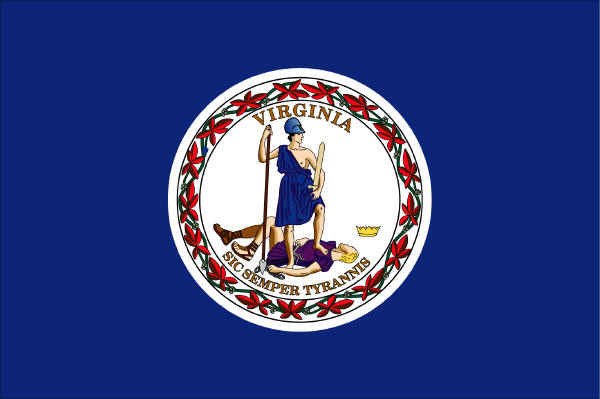 Relevant State Code: 18.2-325 et seq.; 59.1-364 et seq.
Birthplace of more US presidents (eight) than any other state, Virginia is more or less average among states in America when it comes to the severity and scope of anti-gambling law.  It's reasonable to characterize Virginia's approach as fairly strict, and Virginia's definition of illegal gambling as very broad:
Section 18.2-325(1)
 "Illegal gambling" means the making, placing or receipt, of any bet or wager in this Commonwealth of money or other thing of value, made in exchange for a chance to win a prize, stake or other consideration or thing of value, dependent upon the result of any game, contest or any other event the outcome of which is uncertain or a matter of chance, whether such game, contest or event, occurs or is to occur inside or outside the limits of this Commonwealth.
This definition suggests that Virginia employs the Material Degree test to determine whether a game is one of chance.  Additionally, the concept of an uncertain outcome is extremely vague and could serve to include any number of activities that would not normally be associated with gambling.
Let's talk about penalties.  Players are looking at a single Class 3 misdemeanor charge for Illegal gambling (maximum fine of $500, no jail; click here for complete information on sentencing).  Operators, defined as "any person, firm or association of persons, who conducts, finances, manages, supervises, directs or owns all or part of an illegal gambling enterprise, activity or operation," can face several misdemeanor and at least one felony charge; depending on the size  and age of the business, operators can face mandatory jail time if convicted (Section 10.2-328).  
Virginia recorded a total of 156 gambling - related arrests in 2011.  Roughly a third of those charges were for the violation of illegal gambling as a player.
Regulated Gambling Options in Virginia
There are a handful of regulated gambling options in Virginia.  While there are no commercial casinos or tribal gambling options within the state's borders, Virginia does administer a lottery and allows pari-mutuel wagering on horse racing under the oversight of the Virginia Racing Commission.
Virginia law does carve out an exception for social gambling:
Section 18.2-334
Nothing in this article shall be construed to make it illegal to participate in a game of chance conducted in a private residence, provided such private residence is not commonly used for such games of chance and there is no operator as defined in subsection 4 of § 18.2-325.
Virginia law also excludes some forms of charitable gambling from state anti-gambling laws.  Overseen by the Virginia Department of Agriculture and Consumer Services, permitted forms of charitable gambling include bingo and raffles.  You can review the complete rules and regulations governing charitable gambling in Virginia here.
Legal Poker in Virginia
Given that poker certainly qualifies as a game with an uncertain outcome, betting on it would appear to be generally illegal under Virginia law.  With no commercial or tribal casinos offering regulated poker games and a legal prohibition against charitable poker, there are precious few ways to play poker for real money legally in Virginia.
One of those ways is in private home games.  If no one benefits from operating the game and the house is not "commonly used" for gambling, games of poker (for any stakes) played in the home are legal in Virginia.
As for online poker players, Virginia law covers all bets made in Virginia on any uncertain outcome that "occurs or is to occur inside or outside the limits of this Commonwealth." While vague, this aspect of the definition of illegal gambling could be interpreted as applicable to gambling conducted online.
Are Online Poker Sites Legal in Virginia? What About Online Casinos?
Nothing in Virginia law directly handles legal online poker sites.  We were also unable to locate any opinions of the Virginia Attorney General concerning online casino gambling. 
The safe assumption is that, despite the lack of official word on the matter, Virginia officials consider online gambling to be no different from gambling in a public park - both activities would be subject to the same set of anti-gambling laws on Virginia's books.
Virginia Gambling Laws: Fun Facts
If you lose more than $5 in a 24 hour period while gambling illegally in Virginia, you can sue to recover your losses.
Counties in Virginia may pass their own anti-gambling laws so long as they don't conflict with state law or assign penalties greater than 12 month of jail time or $2,500 in fines.
Recent Online Gambling Headlines from Virginia
There has been scant public or legislative activity related to regulating online gambling in Virginia.
Online Poker Regulation in Virginia
While online poker regulation has been a topic of conversation in several neighboring states, Virginia has, to date, appeared almost completely uninterested in the issue.  A number of factors would appear to be working against any online gambling regulation, including the lack of legislative support, the absence of a commercial casino industry that could drive regulatory efforts and a public that seems indifferent (at best) to gambling expansion.
Given those factors, we rate Virginia's chances of regulating online poker any time in the next few years to be much worse than the chances of the average US state.