New Mexico Gambling & Poker Laws
Home » US Poker Laws » State Laws » New Mexico Poker Laws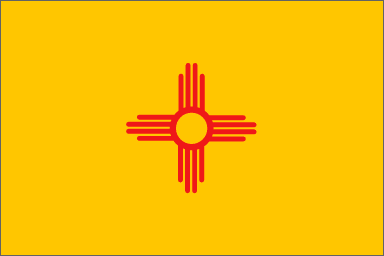 Relevant state code: 30-19-1 et seq.; 60-1-1
Large in physical size but relatively small in population, New Mexico takes a fairly strict approach to unregulated gambling.  The state employs one of the broadest definitions of gambling found anywhere in the United States:
Section 30-19.2
Gambling consists of:
A. making a bet;
B. entering or remaining in a gambling place with intent to make a bet, to participate in a lottery or to play a gambling device;
C. conducting a lottery; or
D. possessing facilities with intent to conduct a lottery.
What does it mean to "make a bet"?
Section 30-19.1(B)
"bet" means a bargain in which the parties agree that, dependent upon chance, even though accompanied by some skill, one stands to win or lose anything of value specified in the agreement
"Dependent upon chance" suggests that if chance plays any significant role (although not necessarily a dominant role) in a given activity, then said activity would fall under the scope of the above definition.   There are exceptions provided in the statute, which we'll cover in a later section.
As for penalties: New Mexico falls somewhere near the middle of US states in terms of the severity of penalties associated with illegal gambling charges.  The state does assign different criminal liabilities to those who just participate and those who run the show; players face a single petty misdemeanor charge of "gambling" so long as they're not in any way a part of the operation.
If you're on the business side of an illegal gambling operation, you potentially face a handful of misdemeanor charges - and one fourth degree felony charge - for various infractions such as Commercial gambling (Section 30-19-3), Permitting  premises to be used for gambling (Section 30-19-4) and Dealing in gambling devices (Section 30-19-5).
We were unable to locate arrest statistics for gambling-related crimes in New Mexico.  A cursory search of relevant news items suggests that gambling arrests are relatively rare in the state.
What Forms of Gambling are Legal in New Mexico?
You'll find a state lottery, pari-mutuel wagering and tribal gambling in New Mexico.  There are also commercial casino options such as the Hard Rock Casino in Albuquerque.
There is no obvious exception for social gambling to be found in New Mexico law.
Charitable gambling is legal in various forms under New Mexico law.  According to state figures, the charitable gambling industry makes up a miniscule part of the state's overall gambling industry.  All gambling in New Mexico is overseen by the Gambling Control Board.
Where Can I Play Poker for Real Money Legally in New Mexico?
A wide range of real-money poker games are available at commercial casinos and regulated tribal gambling properties.
Since no social gambling exception exists in New Mexico law, home poker games would appear to be technically illegal.  How likely you are to be arrested, charged and prosecuted for such activity is another question altogether.
The wide net cast by the state's definition of gambling would seem to easily capture all forms of poker played for money, so playing poker in any context other than those mentioned above would likely be a violation of New Mexico law.
Are Online Poker Sites Legal in New Mexico? What is the Legal Status?
New Mexico law does not have a specific provision addressing gambling online or legal online poker sites. 
Law enforcement in New Mexico would likely echo the argument made by many states and claim that existing law written to cover land-based gambling would apply equally to online activity.  The NM Gaming Control Board has the following to say on the matter:
Internet gambling is expressly prohibited by Federal law.  This falls under 31 U.S.C.A. §5361, Unlawful Internet Gambling Enforcement Act.  The State of New Mexico, and the New Mexico Gaming Control Board do not regulate, license, control or in ANY way sanction, endorse or approve any Internet or on-line gambling, betting activity, wagering or any aspect thereof.  Any statement, reference or opinion to the contrary is wrong.  Such activity is strictly prohibited and not authorized, approved or sanctioned in any manner by New Mexico regulatory authorities.
With that said, we were unable to locate instances of arrests of prosecutions related to online gambling in New Mexico.
New Mexico Gambling Laws: Fun Facts
Gambling losses that occur as a result of illegal gambling are recoverable as a debt under New Mexico law (Section 44-5-1).
For a gambling device to qualify for an "antique" exemption, it must have been made before 1970, in original condition and not used for gambling.
Recent Online Gambling News From New Mexico
Former New Mexico Governor Gary Johnson courted online poker players in his failed bid for the Republican nomination in 2012.
New Mexico has not played a significant role in the national debate over the regulation of online poker or gambling.
Will New Mexico Regulate Online Poker?
New Mexico legislators are reportedly exploring their online gambling options in the wake of the DOJ's position reversal on the Wire Act, but little concrete action has come as of yet from those discussions.
Working against regulation: Ongoing battles over land - based expansion of gambling in New Mexico could complicate any push for online gambling regulation.  The state has a population of just over 2 million, likely insufficient to support an online poker site.  Finally, there is no apparent advocate for regulation in either government or industry - at least not in the status quo.
Working for regulation:  The state could use the money and has existing lottery partnerships that could pave the way for an interstate online poker room. 
Overall, New Mexico has about average chance of regulating online poker in the near-term relative to other states in the US.