Legal Online Poker In Idaho
Home » US Poker Laws » State Laws » Idaho Poker Laws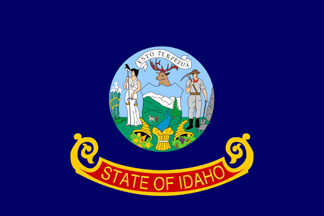 Relevant state code: 18-3801 et seq.; 54-2501 et seq.
Idaho has a bit of a split personality when it comes to gambling, allowing several forms of regulated gambling but still maintaining a fairly strict approach to unregulated gambling.  The definition of gambling asserted by Idaho law is very broad - arguably one of the most comprehensive you'll find on the books of any state in the US:
Section 18-3801
"Gambling" means risking any money, credit, deposit or other thing of value for gain contingent in whole or in part upon lot, chance, the operation of a gambling device or the happening or outcome of an event, including a sporting event, the operation of casino gambling including, but not limited to, blackjack, craps, roulette, poker, bacarrat [baccarat] or keno
The "in whole or in part" essentially renders any distinction between games of skill and games of chance moot, as do the explicit mentions of poker and blackjack.  On top of the anti-gambling statutes on the books, the Idaho Constitution specifically for bids gambling, leaving open only a few exceptions that we'll discuss below.   
While the definition of gambling presented by Idaho is quite expansive, the penalties for engaging in the behavior defined are comparatively minor.  Charges top out at misdemeanor for both the operation of and the participation in an illegal gambling game.  Our research was unable to uncover any significant prosecutions of individuals or businesses for illegal gambling in Idaho.
Can You Gamble on Anything Legally in Idaho?
Yes.  The Idaho Constitution permits state-run lotteries and pari-mutuel wagering (as permitted by legislation).  There is limited tribal gambling in Idaho.  Indian casinos can offer a variety of video-based gambling limited to Class 2 slot machines, but do not offer poker.
Idaho law does not provide an exemption for social gambling. 
There is limited charitable gambling permitted in Idaho; recognized organizations can offer bingo and raffles.  Read more at the Idaho Lottery charitable gambling FAQ.
Is it Legal to Play Real Money Poker in Idaho?
The answer to that question would appear to be no.  Poker is prohibited not only by the statutory definition of gambling, but also by language in the Idaho Constitution.  These specific mentions leave little to no room for poker proponents to attempt a "game of skill" defense, and such a defense would likely be moot anyhow as Idaho requires only a small presence of luck for a game to qualify as gambling.
With that said, it is highly unlikely that individual poker players would ever be targeted in Idaho.  In fact, the one instance of a poker-related charge in Idaho we uncovered resulted in general outrage among citizens and legislators and prompted a further loosening of Idaho's gambling laws.
Is Playing Poker Online Legal in Idaho?
The current law in Idaho does not specifically mention online gambling. 
The Idaho Constitution contains language that could be seen as relevant to online poker rooms and online casinos:
Section 20(2)
No activities permitted by subsection (1) shall employ any form of casino gambling including, but not limited to, blackjack, craps, roulette, poker, bacarrat, keno and slot machines, or employ any electronic or electromechanical imitation or simulation of any form of casino gambling.
With the broad prohibition of any form of gambling not expressly regulated enshrined in both Idaho's Constitution and law, one could conclude that online gambling would be illegal for both operators and participants. 
Idaho Gambling Laws: Fun Facts
For a slot machine to qualify as an "antique" (and therefore legal to possess in Idaho) the machine must have been constructed prior to 1950 and have no electrical aspect.
If you're under 18, you can't play any bingo game that has a prize of more than $25 or in a bingo game licensed by a charitable organization.
Idaho Online Poker Laws: Recent News
There has been no news of note emerging from Idaho on the issue of online gambling regulation.  In january of 2012, Idaho state lottery director Jeff Anderson told the Idaho Reporter that "there are no plans to even suggest looking into the issue in the Gem State."  
Will Idaho Ever Regulate Online Poker Sites?
Never say never, but the immediate chances for the regulation of online poker (or any sort of online gambling) seem to sit somewhere between slim and none.  Idaho has shown zero legislative interest in the issue, and there seems to be little grassroots support for the expansion of any form of gambling in the state.