Legal Michigan Poker Sites - Poker Laws
Home » US Poker Laws » State Laws » Michigan Legal Poker Laws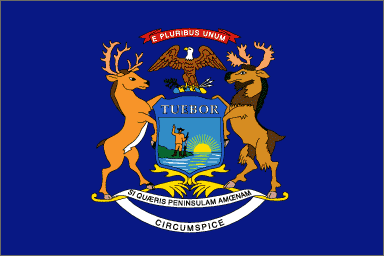 Relevant state code: 750.301 et seq.; 432.201 et seq.
The Wolverine State (as it is informally known) is a fairly recent entry into the world of commercial gambling.  The result is a dual set of laws addressing gambling - some quite old and some quite new.   While that system may cause some confusion on some points, what's absolutely clear is the position Michigan takes on illegal gambling: A very strict one.  How does Michigan determine what is gambling and what isn't?  The primary tool is the statutory definition of gambling game:
Section 432.202(2)(v)
"Gambling game" means any game played with cards, dice, equipment or a machine, including any mechanical, electromechanical or electronic device which shall include computers and cashless wagering systems, for money, credit, or any representative of value, including, but not limited to, faro, monte, roulette, keno, bingo, fan tan, twenty one, blackjack, seven and a half, klondike, craps, poker, chuck a luck, Chinese chuck a luck (dai shu), wheel of fortune, chemin de fer, baccarat, pai gow, beat the banker, panguingui, slot machine, any banking or percentage game, or any other game or device approved by the board, but does not include games played with cards in private homes or residences in which no person makes money for operating the game, except as a player.
The definition of illegal gambling is further articulated throughout the law via various charges, but the expansive list above drives home the core point:  If it's gambling and it's not regulated, Michigan likely classifies it as illegal.
On to penalties.  We'll start with operators, who have far more exposure under Michigan law than under the laws of a typical state.  Michigan has nearly a half-dozen distinct felony charges for operators of illegal gambling activity and a handful of misdemeanor charges thrown in for good measure.  Additionally, racketeering charges may also await those charged with violations of Michigan anti-gambling laws.
For players, the picture is very murky.  The older parts of the law do prescribe a handful misdemeanor charges for participants, but recent law strongly suggests that players are not a target of the anti-gambling laws in Michigan.  With that said, a 2010 bust of an illegal poker game did reportedly result in charges for participants, so it's safe to assume that the old laws are still in force.
Legal Forms of Poker & Gambling Under Michigan Law
Regulated gambling in Michigan runs the gamut.  Commercial casinos and tribal casinos are allowed in Michigan, as is pari-mutuel wagering and the state-run lottery.
What about social gambling in Michigan?  The law is troublingly vague on this issue.  On one hand, Section 750.314 would seem to explicitly forbid social gambling of any sort:
Any person who by playing at cards, dice, or any other game, or by betting or putting up money on cards, or by any other means or device in the nature of betting on cards, or betting of any kind, wins or obtains any sum of money or any goods, or any article of value whatever, is guilty of a misdemeanor
On the other hand, Section 432.202 - law stemming from the 1996 regulation of commercial casinos in Michigan - seems to exempt social gambling.  The definition of "gambling game" expressly exempts social gambling:
Gambling game … does not include games played with cards in private homes or residences in which no person makes money for operating the game, except as a player.
The general approach of Michigan authorities seems to be to permit social gambling as long as the stakes stay low and the games stay in the home - and don't wander into public or semi-public places such as bars or hotels.
Charitable gambling is a huge business in Michigan.  The Michigan government estimates that charitable gambling generated $194 million in cash activity in 2011.  Michigan allows charitable bingo, raffles and what are called Millionaire's Nights - essentially casino nights where participants can play poker and a host of other games.   You can learn all about charitable gambling in Michigan at the website for Michigan's Charitable Gambling Division.
Is Playing Poker Legal in Michigan?
If you are playing poker for real money in a tribal casino, licensed commercial casino or approved charity event, then you can play poker for money legally in Michigan.
As for home games, those appear to exist in a bit of a legal limbo in the state, but truly private games between friends where no one takes a cut or otherwise makes a profit from operating the game are highly unlikely to result in legal issues.
In any other setting, poker would appear to be expressly illegal when played for money or other things of worth in the state of Michigan.
Is it Legal to Play Poker Online in Michigan? 
Michigan does not have any language in their gambling laws that deals directly with legalized online poker sites or gambling sites.
The State of Michigan website claims that gambling over the Internet is illegal, but does not offer direct support for that position.
Players might run into trouble with the older laws on Michigan's books that make it a misdemeanor to win at poker / gambling, but we were unable to find any accounts of individual players charged under that part of Michigan law for gambling online.
Operators of online poker sites could easily run into trouble with several aspects of Michigan law, but jurisdictional issues and the international nature of most online operators would almost certainly present substantial challenges to prosecution.   Michigan has aggressively pursued operators of so-called "Internet Sweep stakes Cafes," but these businesses bear little resemblance to what most consider to be online casinos or poker rooms. 
Michigan Gambling Laws: Fun Facts
Michigan did at one point (in 1999) pass a law that effectively made it illegal to use the Internet for gambling; the law was amended a year later and all references to gambling removed.
Michigan law exempts certain types of gambling at senior centers from the law prohibiting the operation of gambling activities.
Recent Michigan Online Poker Developments
Michigan has been largely absent from the national conversation in the United States regarding the regulation of online gambling.
What Are the Odds that Michigan will Regulate Online Poker Sites?
To put it in poker terms: Better than a two-outer, but not by much.  Here's what makes Michigan an attractive candidate to regulate poker sites:  The state has a sizeable population and some substantial budget issues.  MGM - among the land-based giants supportive of online poker sites- is a major presence in the state's gambling industry.  Michigan is also home to US Rep. John Conyers, who has been a vocal proponent of online poker regulation at the federal level.
Working against those positives is the fact that we could uncover no legislation proposed or advanced regarding online gambling regulation in Michigan.  Getting the various stakeholders - state, horseracing, tribal, commercial and citizen concerns - together on a proposal could be a difficult feat, as evidenced by California's inability to draft a poker bill that pleases all parties.  
Ultimately, there seems to be more going for a bill in Michigan than pushing against it.  If the online poker issue heats up in other states, expect MGM to target Michigan as a potential piece of an interstate poker puzzle.