Legal Online Poker Laws in Indiana
Home » US Poker Laws » State Laws » Indiana Poker Laws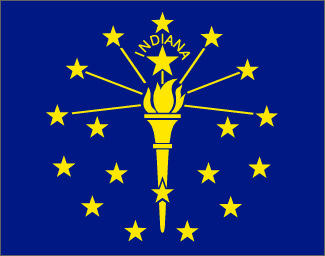 Relevant state code: 35-45-5-1 et seq.; 4-31-1-1 et seq.
Indiana is fairly typical of states that offer a wide array of regulated gambling options in that they take a very strict approach to unregulated gambling.  The legal definition of gambling in Indiana uses few words, but covers a good amount of ground with them:
Section 35-45-5-1(d)
"Gambling" means risking money or other property for gain, contingent in whole or in part upon lot, chance, or the operation of a gambling device
Like its western neighbor Illinois, Indiana doesn't care if you're wagering on a game of chance, skill or something inbetween - the fact that you're wagering is the primary problem under the law.  If a wager occurs in an unregulated environment, the default assumption of the law is that said wager is illegal.
Individual gamblers in Indiana face a misdemeanor charge for illegal gambling.  In our research, we did uncover a handful of instances of individual players being cited as part of a raids on various poker clubs, including an Indiana State Trooper.  As for operators, Indiana law provides a variety of felony charges for running illegal gambling games, assisting in the operation of a game, promoting illegal gambling, and so on.
What Legal Gambling Options Does Indiana Offer?
Indiana permits licensed commercial casinos to offer more or less the same gaming options you'd find on the floor of a Las Vegas casino.  Pari-mutuel wagering on horse racing is legal.  Indiana also hosts a state-run lottery.
Indiana does not have an explicit exception for social gambling on the books.
Charitable gambling is permitted in Indiana.  A wide array of activity is allowed under a variety of licenses the state offers, including bingo, raffles, card games, roulette, poker and more. 
What is the Law in Indiana Regarding Playing Poker for Money?
Commercial casinos and properly licensed charitable gaming operators can offer poker for real money (with some limitations).  There do not appear to be any other conditions under which playing poker for real money would harmonize with Indiana law.
If you recall Indiana's definition of gambling, it employs the "in whole or in part" condition, meaning a game with any chance cannot legally be wagered on.
Indiana seems more eager than most states to punish mere players along with operators.  This 2010 raid is just one example of several raids by Indiana authorities where players were swept up by aggressive enforcement of anti-gambling laws. 
What About Online Poker? Are Online Poker Sites Legal in Indiana? 
Here's another similarity between Illinois and Indiana: Both states are part of a small group that have laws on the books specifically addressing online gambling.  In Indiana law, Section 35-45-5-3 basically prohibits the online operation of anything wagering-related on a site operated by or accessible to a resident of Indiana.
Nothing in the statute as we read it addresses Internet gambling from the player perspective.  The law appears concerned exclusively with operators (online poker sites), and not players.  While other parts of Indiana law may effectively make it illegal to gamble or play poker online, nothing about the part of the law that covers Internet gambling expressly prohibits individuals from playing poker online in Indiana.
Indiana Gambling Laws: Fun Facts
The letter of the law in Indiana originally prohibited gambling riverboats from conducting gambling when docked.  Now, most Indiana riverboats are permanently docked.
The original law allowing gambling riverboats required that "fairly replicate nineteenth century Indiana steamboat passenger vessels" if they were to operate on the Ohio river.
Recent News Online Poker News for Indiana
Since launching their anti-online gambling laws in 2005, Indiana has been more or less quiet on the matter.  We could find no mention of bills proposed or advanced in the last few years regarding online gambling regulation.
Is Indiana Likely to Regulate Online Poker Sites?
Indiana falls somewhere in the middle on this one.  The state is relatively conservative and has no apparent legislative interest in regulating online poker sites in Indiana.  On the other side of the scale:  Indiana has a large population that could potentially support an online poker site, and the state already has a good amount of regulated gambling in the status quo.
Indiana strikes us as a state that might follow along as an interstate partner if another state blazes the trail (Illinois comes to mind) but is unlikely to initiate regulation on their own.