Legal Online Poker in Kentucky
Home » US Poker Laws » State Laws » Kentucky Legal Poker Laws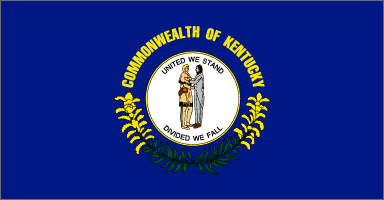 Relevant state code: 528.010; 230.010 et seq.
As home of the Kentucky Derby, Kentucky holds a special place in the heart of many gamblers.  While the state is undeniably proud of their signature sporting event and grateful for the revenue horse bettors generate, Kentucky has a more ambivalent attitude toward gambling in general.  The state takes a fairly strict stance on unregulated gambling founded on a broad definition of gambling:
Section 528:010(3)
Gambling means staking or risking something of value upon the outcome of a contest, game, gaming scheme, or gaming device which is based upon an element of chance, in accord with an agreement or understanding that someone will receive something of value in the event of a certain outcome.
While the above definition suggests that any element of chance triggers a act of gambling, recent opinions from the Kentucky Attorney General conclude that Kentucky law actually employs the Dominant Factor Test to determine whether a game is one of chance or of skill.   Any activity that meets the above definition and is not explicitly regulated or permitted by the state is illegal under Kentucky law.
What happens to those who run afoul of the law?  It depends on your level of involvement.  Kentucky goes out of its way not to punish individual gamblers (those who are mere players or participants).  For players, the picture is pretty - you basically have zero criminal liability in Kentucky, which is a pretty rare state of affairs in the US.  As presented in the law:
Section 528.010(7)
"Player" means a person who engages in any form of gambling solely as a contestant or bettor, without receiving or becoming entitled to receive any profit therefrom other than personal gambling winnings, and without otherwise rendering any material assistance to the establishment, conduct, or operation of the particular  
However, if you're an operator - or anything even vaguely resembling an operator -  the picture is quite nasty indeed.  Kentucky has one of the broadest definitions of operator that you'll find anywhere in the US.  Witness:
(1) "Advancing gambling activity" -- A person "advances gambling activity" when, acting other than as a player, he engages in conduct that materially aids any form of gambling activity. The conduct shall include, but is not limited to, conduct directed toward the establishment of the particular game, contest, scheme, device, or activity involved; toward the acquisition or maintenance of premises, paraphernalia, equipment, or apparatus therefor; toward the solicitation or inducement of persons to participate therein; toward the actual conduct of the playing phases thereof; toward the arrangement of any of its financial or recording phases or toward any other phase of its operation.
A number of misdemeanor and felony charges can be levelled at those involved in the operational side of illegal gambling activity.  On top of those already substantial penalties, Kentucky also has criminal syndicate laws that can be triggered by illegal gambling violations.
What Forms of Gambling are Legal in Kentucky?
Most readers already know that pari-mutuel wagering (in licensed settings) on horse and dog racing is legal in Kentucky.  Some may not be aware that you can legally bet on races online in Kentucky.  The state also oversees a lottery.
The statutory exemption for individual players from criminal liability strongly suggests that social gambling - and therefore home poker games - are not an issue under Kentucky law.  Remember, however, that someone profiting from the running of the game changes the picture completely - while the players might be in the clear, the operator would certainly "advancing gambling activity."  In this way, Kentucky is similar to states such as California - if no rake or charge is taken, the game is likely legal.
Kentucky allows several forms of charitable gambling, overseen by the Department of Charitable Gaming.  Bingo and raffles are allowed, as are limited versions of "casino nights." 
Is Playing Poker For Money Legal in Kentucky?
It's a bit of a moot question from a player perspective, as Kentucky has chosen not to criminalize the act of participating in gambling as a player - meaning that  playing poker for real money shouldn't ever land a mere participant in trouble with Kentucky authorities. 
Operating an online poker room that takes a rake or some other sort of charge would certainly seem to be in violation of Kentucky law.  There might be some legal wiggle room as a result of Kentucky's definition of gambling, which doesn't explicitly mention poker or provide a blanket prohibition against all betting and wagering, but the attitude of the current administration certainly seems to be that online poker operators accepting Kentucky action are in violation of the law.
Are Online Poker Rooms and Casinos Legal to Use in Kentucky? 
There does not appear to be a specific part of Kentucky gambling law that deals with gambling over the Internet.  As mentioned above, individual gamblers are more or less exempt from penalties in Kentucky, so there wouldn't seem to be any issue for players looking to access an online poker room or casino from the state.
As for operators of online poker rooms and casinos, Kentucky has taken various steps in the past - including lawsuits in 2008 and 2010 - in an attempt to interfere or restrict the ability of such businesses to accept wagers from Kentucky residents.
Kentucky Gambling Laws: Fun Facts
Minors can apparently gamble in kentucky - at least when accompanied by a parent at a duly licensed charitable bingo event. 
Under Kentucky law (Section 372.010), those who lose money gambling can sue to recover losses.  If the loser chooses not to sue within 6 months, then anyone can sue to recover those losses.  This law formed the basis of the theory for Kentucky's second set of lawsuits against online poker rooms and casinos in 2010.
Kentucky & Online Gambling Headlines
In late 2011, Kentucky filed papers with the DOJ seeking to claim some of the frozen Full Tilt Poker assets.
Kentucky saw gambling expansion plans stall in February 2012; online gambling was not a significant part of those plans.
What are the Odds That Kentucky Will Offer Regulated Online Poker?
Better than some might think, but still short of excellent  The main factor working in favor is the current existence of regulated online betting in the state; it's not beyond the scope of reason to suggest that Churchill Downs might be interested in expanding their online presence beyond horse racing and into poker or casino gaming should the law allow.
Otherwise, Kentucky does seem a bit of a poor bet to regulate online poker anytime soon.  The state has no history of legislative interest in the issue and has a population of just under 5 million, a bit on the small side in terms of a potential player base for an online poker room.  The recent failure of gambling expansion plans endorsed by the Governor suggests that any online gambling legislation would face a steep uphill climb.
We would put Kentucky squarely in the category of states that will almost certainly come along for the ride if another state blazes the trail.  Left to their own, the state seems unlikely to pass legislation regulating online poker any time in the short term.