Legal Wisconsin Poker Sites / Gambling Laws
Home » US Poker Laws » State Laws » Wisconsin Poker Laws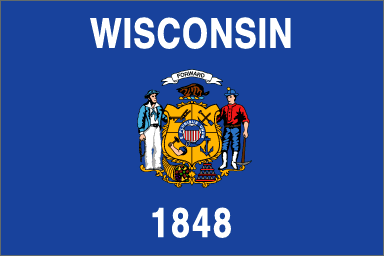 Relevant State Code: 945.01 et seq.; 562.001 et seq.
Synonymous to most with cheese and beer, Wisconsin also provides those in the state with a variety of regulated gambling choices.  The state's approach to unregulated gambling can be accurately described as fairly strict.  The linchpin of Wisconsin's anti-gambling law is a broad statutory definition of "bet":   
Section 945.01 
A bet is a bargain in which the parties agree that, dependent upon chance even though accompanied by some skill, one stands to win or lose something of value specified in the agreement.
The use of the phrases "dependent on chance" and "some skill" suggests that Wisconsin employs the Dominant Factor Test to determine whether a given activity should be considered a game of chance. 
The penalties for violating gambling laws in Wisconsin land somewhere around the average for a US state.   Players are more or less looking at a single charge - a class B misdemeanor - for making a bet or entering a gambling place with the intention of making a bet.  Those who operate or attempt to profit from illegal gambling are likely subject to the charge of Commercial gambling, a class I felony, and a handful of potential misdemeanor charges.
Wisconsin reported a total of 166 arrests related to gambling violations in 2010.   The vast majority of those arrests took place in Milwaukee.
List of Regulated Gambling Options in Wisconsin
Wisconsin counts a state lottery, tribal casinos and pari-mutuel wagering on horseracing among the state's regulated gambling options.
Wisconsin law prohibits the making of a bet in an unregulated environment, and that prohibition apparently extends to social gambling or games conducted in private.  We could not locate an exemption for social or private gambling within current Wisconsin law.
When it comes to charitable gambling, Wisconsin permits qualified organizations to conduct bingo and raffles under certain conditions.  The Wisconsin Department of Administration oversees such gambling - visit their website for complete rules, regulations and forms.
Playing Poker For Real Money Legally In Wisconsin
Tribal casinos in Wisconsin can legally offer poker in cash game and tournament formats.
When you're talking about playing a home game of poker in Wisconsin, you are talking about an activity that almost certainly violates the state's laws.  With no exception for social gambling and a blanket prohibition on betting that appears to cover poker, Wisconsin law sees home games as effectively no different than a poker game being played in the park.
Charitable organizations are not permitted to offer poker of any type in Wisconsin.
What about playing online poker in Wisconsin?  Here again the blanket prohibition against making a bet would seem to render such activity illegal.  With that said, Wisconsin does not have a law like Washington State that explicitly criminalizes playing online poker, nor does the state have any history (that we could uncover) of charging online poker players.
Are Online Poker Sites Legal in Wisconsin?
The position of the state appears to be that such sites are illegal for Wisconsin residents to use.  While Wisconsin lacks a law that targets online gambling specifically, the state effectively takes the stance that any type of gambling not directly approved by law is illegal gambling.
Wisconsin also has a "transmission" law that makes it a felony if anyone intentionally:
Section 945.03(g)
For gain, uses a wire communication facility for the transmission or receipt of information assisting in the placing of a bet or offer to bet on any sporting event or contest, or for the transmission of a wire communication which entitles the recipient to receive money or credit as a result of a bet or offer to bet.
The inclusion of "for gain" in the above violation would seem to suggest that mere players are not included in its scope. 
Wisconsin Gambling Laws: Fun Facts
Any sales promotion that gave away something of value via chance (such as Monopoly at McDonald's or any drawing) was constitutionally prohibited in Wisconsin prior to 1965.
Pinball machines that award replays were illegal in Wisconsin until 1979.
Recent Online Gambling Headlines from Wisconsin
There have been no recent developments relating to online gambling in the state of Wisconsin.
Will Legal Online Poker Come to Wisconsin?
While Wisconsin doesn't seem inherently opposed to gambling expansion on a public or governmental level, the state nevertheless appears to have limited potential when it comes to regulating online poker.
Regulating online poker would likely require an amendment to the state constitution and extensive cooperation between the state and various tribal casino interests in the state.  Such hurdles are not insurmountable, but they're also not mere bumps in the road.  Without an influential voice advocating online poker regulation in the state, the chances of Wisconsin regulating online poker in the near term are significantly worse than the chances of an average state in the US.