California Online Poker Laws - Is it Legal to Play Poker in California?
Home » US Poker Laws » State Laws » California Poker Laws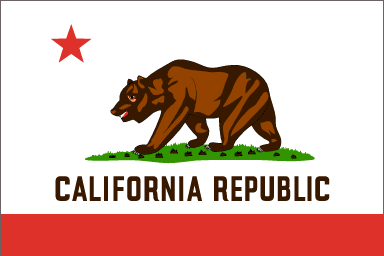 Relevant state code: Penal code 330 et seq.; Bus and Prof Code 19400 et seq., Gov't Code 98001 et seq.
While gamblers in California do have a number of regulated wagering options to choose from, the general law regarding gambling in California is fairly strict.  As with most states in the US, gambling law in California rests on a statutory definition of gambling; in California's case the definition is broad, but not as broad as states like Alabama.  Gambling is defined under California state law as:
Penal code Section 330 et seq
Every person who deals, plays, or carries on, opens, or causes to be opened, or who conducts, either as owner or employee, whether for hire or not, any game of faro, monte, roulette, lansquenet, rouge et noire, rondo, tan, fan-tan, seven-and-a-half, twenty-one, hokey-pokey, or any banking or percentage game played with cards, dice, or any device, for money, checks, credit, or other representative of value, and every person who plays or bets at or against any of those prohibited games, is guilty of a misdemeanor,
Another wide-reaching aspect of the law requires anyone operating a "controlled game" to first obtain a license, a requirement that applies to both operators and "key employees" of the organization.  This requirement de facto criminalizes the operation of any unlicensed gambling business in the state of California, although it does not directly address or resolve the issues of jurisdiction and place brought up by Internet-based gambling:
Business and Professions Code Section 19850
Every person who, either as owner, lessee, or employee, whether for hire or not, either solely or in conjunction with others, deals, operates, carries on, conducts, maintains, or exposes for play any controlled game in this state, or who receives, directly or indirectly, any compensation or reward, or any percentage or share of the money or property played, for keeping, running, or carrying on any controlled game in this state, shall apply for and obtain from the commission, and shall thereafter maintain, a valid state gambling license, key employee license, or work permit, as specified in this chapter.
The penalties for individuals involved in illegal gambling as participants are somewhat stiff in California, with a fine ranging from $100 to $1000 and the potential for up to 6 months in jail per offense.  However, as gaming law expert Chuck Humphrey points out, it's really quite unlikely that individual gamblers will ever face prosecution; in our cursory research on the matter we were unable to find instances of individuals tried for illegal gambling (online or in the physical word) under California state law.
What Gambling is Allowed Under California Law?
There are several regulated gambling options for Californians and those visiting the state.  California has a state-run lottery and allows parimutuel betting on horse racing.  Qualified Indian tribes can operate casinos in California and offer a variety of games such as slots.  Additionally, California allows licensed operators to run card rooms in the state where players can participate in a number of games like poker and Pai Gow.  You can view a complete list of California card rooms and the various games they offer here.
Social gambling is apparently legal in California, insomuch that home games where no one takes a rake do not appear to run afoul of current law.  The law does not, however, make a specific exemption for social gambling.
California law does permit charitable gambling, limited to poker, bingo and raffles.  Internet-based gambling and slots are not permitted under the charity exception.  You can learn more about the specifics of charitable gambling in California at the website for the CA Attorney General.
Is Poker Legal in California?
The legality of poker in California rests not on a distinction between skill and chance, but rather on a fairly odd aspect of the game: The rake.  If the rake is taken as a percentage of the pot, players are now likely engaging in a "percentage game" - illegal under California law.  However, if the rake is taken via a different, non-percentage based, structure (like the flat rate or time charge used in many California card rooms), then players are unlikely to have a problem.
Most poker rooms are percentage-based games in terms of the rake they charge for cash games.  Tournaments are potentially a slightly different story because the fee could be argued to be a flat one not determined as a percentage of the buy in.
Bottom line: Playing poker in California may be illegal under circumstances where the game could be considered a "percentage game," but the chance of an individual player ever being prosecuted is widely considered to be a number approaching zero.
Is Online Poker Legal in California?
When California updated their charitable gaming law in 2007, they did include a provision addressing Internet gambling, noting only that the charitable gambling allowed by the law did not extended to gambling conducted over the internet
Business and Professions Code Section 19987(o)
No fundraiser permitted under this section may be operated or conducted over the Internet.
In 2010 California passed a bill allowing residents to bet on horse racing over the Internet.
Beyond that, California does not have law that specifically applies to engaging in wagering over the Internet either as a player or as operator.
Many parts of current California law could be interpreted to apply to online gambling.  In particular, the blanket license requirement for operators would seem to apply equally to those taking bets or wagers from residents in California online as it does to those operating a land-based casino.
California Gambling / Poker Law - Fun Facts
It is illegal to possess dice with more than 6 faces in California.
In California, the wrong rake structure (percentage-based) can itself make a card game illegal.
Publicly-owned corporations are not allowed to hold owner ship of California card clubs.
Current Developments in California Online Poker Law
California has been the second-most watched state behind only Nevada by those interested in online poker regulation.  The state has seen a number of failed attempts to bring online poker regulation to a vote over the last few years; the latest attempt, SB1463, would issue licenses to operators allowing them to offer intrastate poker to California residents.
Like many bills before it, SB1463 faces roadblocks erected by a multitude of competing interests among groups likely to be impacted by the regulation of online poker in California. 
Will Regulated Online Poker Come to California?
To many, California seems like one of the few natural choices for intrastate poker in the United States.  The state has a massive population, largest in the US by far, and already has some form of Internet gambling.  Poker is quite popular in California as evidenced by the state's many and crowded card rooms, and there seems to be solid legislative will to regulate poker, boosted somewhat by the state's dire economic circumstances.
California would also make a natural partner for many states in an interstate compact, including geographic neighbors like Nevada.  This mix of quality market, legislative interest, specific regulatory experience and inherent demand for poker makes California one of the best bets for regulated online poker anywhere in America. 
The one caveat to the optimistic analysis above:  California's fragmented gambling industry, split between tribes, the state and a variety of small operators, may have a hard time reaching any sort of consensus and see the opportunity slip away to other states.