Legal Oregon Online Gambling & Poker Laws
Home » US Poker Laws » State Laws » Oregon Poker Laws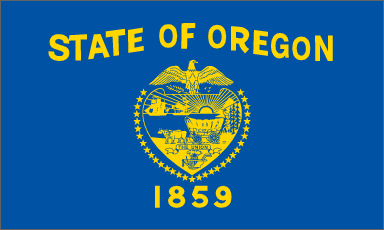 Relevant State Code: 167.108 et seq.; 462.010 et seq.
Oregon shares more than just a border with Washington State - both states are also members of the small group of US states with laws specifically addressing online gambling.  We'll get to those laws in a few paragraphs, but we'll start by first discussing Oregon's overall approach to unregulated gambling.  It's very strict, and is underpinned by a broad set of statutory definitions.  Let's initially consider the definition of "gambling" found in Oregon law:
Section 167.117(7) 
"Gambling" means that a person stakes or risks something of value upon the outcome of a contest of chance or a future contingent event not under the control or influence of the person, upon an agreement or understanding that the person or someone else will receive something of value in the event of a certain outcome.
That definition is extended by the statutory definition of "contest of chance":
Section 167.117(6 )
"Contest of chance" means any contest, game, gaming scheme or gaming device in which the outcome depends in a material degree upon an element of chance, notwithstanding that skill of the contestants may also be a factor therein.
Oregon employs the "Material Degree" test for determining whether or not a game is a contest of chance, meaning that any significant role of chance in a game renders that game as a game of chance under Oregon law.  Chance doesn't have to dominate - it only has to play an important role.
When it comes to penalties for illegal gambling, you'll find separate charges for players and operators in Oregon law.  The primary charge for players is a class C misdemeanor (maximum 30 days in jail and $1,250 fine) for Unlawful gambling in the second degree.  Players could face additional (and more serious) charges if they possess gambling devices or promote illegal gambling.  Operators are looking at a basket of charges that potentially includes multiple class C felonies (maximum 5 years per charge) along with a handful of misdemeanor charges.
Oregon reported 23 total gambling - related offenses in 2010 (most recent year available).  All gambling charges are lumped under that one number, making it impossible to know the distribution of individual charges.
Legal Forms of Gambling in Oregon
Voters approved the creation of a lottery in Oregon in 1984.  The state allows betting on horse races, but stopped greyhound races in 2004.  There are no commercial casinos in Oregon, but the state is home to nearly a dozen tribal casinos including Spirit Mountain, the largest by total gaming capacity.
"Social games" are exempted from the definition of gambling provided by Oregon law (Section 167.117(7)(c)).  Oregon law also allows individual counties and cities to "authorize the playing or conducting of a social game in a private business, private club or in a place of public accommodation."  A social game is defined as:
Section 167.117(21)
(a) A game, other than a lottery, between players in a private home where no house player, house bank or house odds exist and there is no house income from the operation of the social game; and
(b) If authorized pursuant to ORS 167.121, a game, other than a lottery, between players in a private business, private club or place of public accommodation where no house player, house bank or house odds exist and there is no house income from the operation of the social game.
Charitable gambling in Oregon is overseen by the Oregon Department of Justice.  Permitted forms of charitable gambling include bingo, raffles and "Monte Carlo" nights.
How Do I Play Poker for Real Money Legally in Oregon?
Many tribal casinos offer poker in Oregon, and playing real money poker is completely legal in such environments.  
The exception for social gambling in Oregon law means home games where no one takes a cut or acts as the house are legal (regardless of stakes).  Playing such games in a private club may be legal if the city or county where the club is located has passed an ordinance allowing social gambling.
As far as playing online poker, Oregon clearly considers online gambling illegal (more on that in the next section), so players are likely technically in violation of Oregon law when they play poker for real money online.  Assessing the actual risk of such activity is another matter altogether, one that is beyond the scope of this article.
Are Online Casinos and Online Poker Sites Legal in Orgeon?
Oregon law specifically criminalizes some aspects of operating an online gambling business.  Section 167.109 details the charge of "Internet gambling" and is primarily concerned with outlawing the movement of money from gamblers to online gambling sites.  The section does not assign any charges to individual gamblers, only to the operator who eventually receives the deposit from a player.
Oregon Gambling Laws: Fun Facts
Oregon is one of the few states where cheating at an illegal gambling game is a crime (most state law only covers cheating in regulated environments).  Doing so is a class C felony (Section 167.167).
Players who lose money in the course of illegal gambling have a legal right to attempt to recover twice the value of the thing lost in Oregon (Section 30.740).
Recent Online Gambling Developments in Oregon
Oregon has been largely devoid of any recent developments related to online poker or online gambling regulation.
Will Oregon Decide to Regulate Online Poker?
Pardon the pun, but it's difficult to get a read on Oregon.  While not overly socially conservative or so flush with cash that it can ignore the potential of online gambling, the state has nearly zero history with the issue of online gambling regulation, and there appears to be little - if any - appetite for expanding gambling online in the status quo.
The tribal interests that dominate Oregon's gambling industry would seem naturally opposed to such efforts, and the prohibition of commercial gambling enshrined in the state's constitution would present an additional hurdle for regulation efforts.
Given these factors, our conclusion is that the state has a worse-than-average chance of seeing regulated online poker anytime soon.