Arkansas Legal Poker Laws
Home » US Poker Laws » State Laws » Arkansas Poker Laws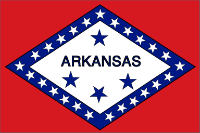 Relevant state code: 5-66-101 et seq.; 23-110 et seq.
Arkansas is not, to put it succinctly, a great place for gambling.   The state takes a very strict approach to prohibition of gambling, and takes a very broad view of what constitutes gambling. 
There is not a specific definition of "gambling" or "gamble" in Arkansas code.  However, other parts of the code make it clear that the act of wagering itself is what constitutes gambling, regardless of what the wager concerns:
Section 5-66-106.
Gaming devices - Betting.
(a) It is unlawful for any person to bet any money or other valuable thing or any representative of any thing that is esteemed of value on any game prohibited by ß 5-66-104.
This approach to essentially banning the act of wagering itself, whether that wager be placed on a game of pure skill, pure chance or some point in between, is further echoed in the state's definition of a "Gambling Device":
Section 5-66-104. Gaming devices - Prohibition.
(a) It is unlawful for a person to set up, keep, or exhibit any gaming table or gambling device, commonly called "A. B. C.", "E. O.", roulette, or rouge et noir, any faro bank, or any other gaming table or gambling device, or bank of the like or similar kind, or of any other description although not named in this section, regardless of the name or denomination, either:
(1) Adapted, devised, or designed for the purpose of playing any game of chance; or (2) At which any money or property may be won or lost.
Arkansas law carries especially stiff penalties for those who operate a gambling business or participate in nearly any aspect of a gambling business.  Arkansas does have some penalties for people who merely participate in gambling games, but they are relatively mild and we were unable to locate any prosecutions of individual gamblers during the course of limited research.
Is Any Gambling or Poker Legal in Arkansas?
There is no exemption for social gambling in Arkansas.  The only forms of gambling that are legal under Arkansas law are pari-mutuel wagers on horse and dog racing, state licensed lotteries and limited charitable gambling.  In 2009, Arkansas altered their law to allow certain "games of skill" at the state's existing racetracks.
Arkansas Poker Laws
It is not illegal to play poker in Arkansas, but it is specifically illegal to bet on a game or during a game of poker under Arkansas law:
Section 5-66-112. Card games -- Betting.
If a person bets any money or any valuable thing on any game of brag, bluff, poker, seven-up, three-up, twenty-one, vingt-et-un, thirteen cards, the odd trick, forty-five, whist, or at any other game of cards known by any name now known to the law or with any other or new name or without any name, upon conviction he or she is guilty of a violation and shall be fined in any sum not less than ten dollars ($10.00) nor more than twenty-five dollars ($25.00).
This theoretically applies to all poker played in the state where players bet something of value.  Since Arkansas does not have a social gaming exception and makes no distinction between games of skill and games of chance, one could conclude that all poker involving wagering of something of value to the players is forbidden under Arkansas law - unless it takes place at a state-licensed facility permitted to offer poker.
Does Arkansas Have Any Laws Regarding Online Gambling or Poker?
Recent changes to Arkansas law (2009) included provisions that could be interpreted as applying to online gambling.  When the state authorized certain electronic games of skill at racetracks, they included language that prohibits making a wager on such games by players not physically on the premises:
Section 23-113-201
(g) Wagers on electronic games of skill may be made only by individuals physically present at the location on the grounds of the franchise holder's authorized racetrack park site as set forth in subsection (a) of this section where electronic games of skill are located and being operated in accordance with this chapter.
Otherwise, Arkansas does not seem to have any gambling laws that deal specifically with placing bets over the Internet.  Arkansas does have a transmission law that makes it illegal to "receive or transmit" information about more or less anything having to do with gambling, but it is unclear if this aspect of the law could be applied to the Internet.
It should be noted that under a broad interpretation of current the current gambling law in Arkansas, both operators and players could be violating state law by participating in online gambling for real money while in the state of Arkansas.  With that said, we are unaware of any indictments of individual players or operators, and agree with experts who contend that prosecutions of individual players under Arkansas law are highly improbable.
Arkansas Gambling Law - Fun Facts
Since betting is illegal under Arkansas law, you have the right to recover money or property you lose while gambling in an unlicensed environment.
Current Developments in Arkansas Online Gambling Law
Arkansas has made headlines lately for their aggressive pursuit of operators of Internet sweepstakes cafes, operations which Arkansas courts recently ruled are inviolation of state law.
Otherwise, Arkansas has not been a part of the growing national dialogue in the US regarding the regulation of online gambling.  The state currently has no locatable bills proposed or submitted that concern the regulation of online gambling.
Will Arkansas Legalize and Regulate Online Poker?
Arkansas would make an unlikely home for an intrastate online poker market.  The state has a relatively low population and is largely rural, two factors that work against the development of a sustainable player pool.
It also seems unlikely that the state's licensed gambling operators would support online poker even if a bill were proposed; having only recently acquired the ability to offer electronic games of skill and poker at their racetracks, they would likely be loathe to give potential customers any reason to stay home.
If online poker does arrive in regulated form in Arkansas, it would likely be as part of an interstate compact.  However, with substantial barriers, low apparent interest and no natural partners, it seems very unlikely that regulated online poker will come to Arkansas at any point in the the foreseeable future.