Reviews Legal Online Poker Sites in Arizona
Home » US Poker Laws » State Laws » Arizona Poker Laws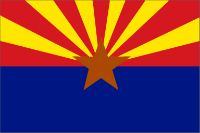 Relevant state code: 11.66.200; 05.15.680
Arizona is a bit of a study in contradictions when it comes to gambling and online poker law.  The state takes a fairly strict approach to gambling and has a very broad definition of what constitutes gambling - perhaps the broadest definition of any state - but also permits a wide variety of regulated gambling activities.
Arizona's definition of gambling is somewhat unique in that it explicitly includes games of skill as well of games of chance:
Section 13-3301
"Gambling " or "gamble " means one act of risking or giving something of value for the opportunity to obtain a benefit from a game or contest of chance or skill or a future contingent event but does not include bona fide business transactions which are valid under the law of contracts including contracts for the purchase or sale at a future date of securities or commodities, contracts of indemnity or guarantee and life, health or accident insurance.
The majority of penalties found in Arizona gambling law are reserved for those that operate or promote gambling operations.  Individual gamblers don't have much to fear from Arizona law - there are few penalties having to do with simply participating in gambling activities (unless you happen to be under 21).
What Gambling / Poker is Legal in Arizona?
Exempted from the legal definition of gambling in Arizona: Social gambling, regulated tribal gaming and casinos, charitable gambling and horse racing.
Social gambling in Arizona is defined in a fairly standard manner: There can be no person or persons who benefit from the operation of the game and all of the players must enjoy equal standing under the rules and structure of the game.   You also must be over 21 to participate in social gambling in Arizona.
Arizona Poker Laws
Given the broad definition of gambling at the core of gambling law in Arizona, poker would almost certainly be considered gambling in Arizona, and therefore illegal if not regulated by the state.  Remember, Arizona makes no apparent distinction between games of skill and games of chance when it comes to its definition of gambling.
Does Arizona Have Any Laws Regarding Gambling or Online Poker?
Yes.  Arizona law essentially prevents the state itself or any Indian tribe from establishing or conducting Internet gaming (Ariz. Rev. Stat. § 5-504(I) and Ariz. Rev. Stat. § 5-
601.02).  Whether it has the right to prohibit tribes from offering such gaming is not a settled matter.
Additionally, the broad definitions involved in general Arizona gambling law could easily be interpreted to apply to online poker even though the law does not specifically mention the Internet beyond the above-mentioned prohibition.
Arizona does not have a poker law that explicitly criminalizes the act of online gambling, and we were unable to uncover any prosecutions of individual gamblers in Arizona related to gambling online or playing poker online.
Arizona Gambling Law - Fun Facts
Fantasy football is illegal when it involves a wager under Arizona law.
If your servant gambles without your consent and loses your property, you can legally recover those losses from the winner under the law in Arizona.
Current Developments in Arizona Online Poker Law
There has been little activity within the state regarding online gambling, but an Arizona politician is near to the heart of the online gambling debate at the federal level in the United States. 
That politician is Jon Kyl, a Senator from Arizona who was a proponent of the UIGEA.  Kyl is stepping down after his current term and, in an interesting twist of fate, is said to now be working toward a federal online gambling bill in conjunction with Nevada Senator Harry Reid.
Will Arizona Regulate and Legalize Online Poker?
Arizona has some potential as an online poker market.  The state is relatively large (16th largest in the US by population) and already has regulated live poker in Indian casinos.  Arizona also shares a border with two states - Nevada and California - that are likely to be major players in any regulated online poker market.
Working against those positives is the existing law in Arizona which essentially prohibits the government from regulating any internet-based gambling and a generally conservative political climate.  Despite those roadblocks, it seems reasonably possible that Arizona could join an interstate compact with other states to offer online poker in the near-to-long future.  Development of an intrastate online poker network seems exceedingly unlikely at any point in the foreseeable future due to market and legal constraints.