Poker Player Bios - David Williams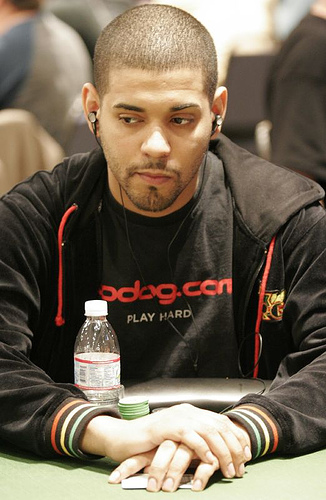 David Williams was originally a professional Magic player competing in championship events across Canada and the United States. For those who may not know, Magic: The Gathering is a strategic card game similar to poker and chess but completely unique from both games. It wasn't until a suspension from the Magic:The Gathering tournaments that he taught himself how to play poker and began playing in high stake games live and online. He was mentored by Marcel Luske and in 2004 won a satellite to the 2004 WSOP through PokerStars.
For a new player to the scene Williams did exceptionally well placing 2nd to Greg Raymer. Following his big win in the WSOP, he signed on as a pro player for Ignition Poker and plays alongside Jean-Robert Bellande and Justin Bonomo. During 2006 he made two final table finishes in WPT events. His total tournament winnings this far exceed $6,500,000.
Other credentials include;
2nd place in the 2004 Borgata Open World Poker Tour
Tournament Stats for David Williams
07-Jul-2008 $ 300 No Limit Hold'em Deep Stack Extravaganza III, placed 15th $ 1,722
9-Jun-2008  $ 10,000 World Championship Pot Limit Omaha 39th World Series of Poker (WSOP) 2008, placed 26th $ 28,651
14-Jun-2008  $ 5,000 Pot Limit Omaha 39th World Series of Poker (WSOP) 2008, placed 16th $ 54,003
13-Jun-2008  $ 10,000 World Championship Heads Up No Limit Hold'em 39th World Series of Poker (WSOP) 2008, placed 9th $ 36,096
02-Jun-2008  $ 5,000 Limit/No Limit Hold'em 39th World Series of Poker (WSOP) 2008, placed 7th $ 58,515
24-Mar-2008 $ 20,000 Week 7 - "Jam Up Week" Poker After Dark III, placed 1st $ 140,000