Poker Player Bios - Daniel Negreanu " Kid Poker "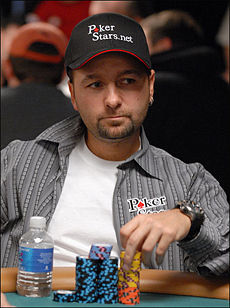 Daniel Negreanu is one of the more open and chatty pros and well liked by his TV fans. Dubbed as the unofficial ambassador of poker and with his remarkable talent in reading people, Daniel has become one of the most recognizable faces in the world of poker.
Originally from Ontario, Canada, Daniel learned to play poker while in high school and in underground clubs. He admits to gambling on everything from cards to pool and had a knack for reading his opponents. He eventually quit high school to fulfill his dream of going pro and started by building his bankroll playing in cash games.
At the age of 21 he moved to Vegas only to return home a few months later. It wasn't until 1998 when he cashed in the $2,000 Pot Limit Holdem event, that his life took a turn. At that time he was the youngest player to ever win a bracelet earning him the name "Kid Poker". He proceeded to win another three WOSP bracelets in the 2004 $2,000 S.H.O.E. event, the 2004 $2,000 Limit Holdem event and the most recent one in  2008 playing the $2,000 Limit Holdem event. In addition to the Holdem event in the 2008 WSOP, Daniel also cashed in Event #45 World Championship H.O.R.S.E taking home $142, 080. His total life time earnings total more than $10,000,000 in tournament winnings alone.
In 2004 Daniel opened his own card room "Full Contact Poker" and gave online players the chance to become his protégé. Even with the success of his forum he eventually shut the card room down and joined the biggest network in the industry – PokerStars. He is now one of the most highlighted pros featured on Team PokerStars and is often seen in the poker rooms main events such as the Sunday Millions or the $5000 take down.
Beyond the tables, Daniel can be found writing for the Card Player blog, has published three books of his own in addition to co-writing Doyle Brunson's Super System 2. He is a regular player on PPT and high stakes poker.
Other credentials include;
1st place in the 2004 Five-Diamond World Poker Classic
1st place in 2004 Borgata Poker Open
Named 2004 Player of the Year by Card Player Magazine
Named the 2004 WSOP Toyota Player of the Year
2nd place in 2006 Tournament of Champions
2nd place in 2006 World Poker Open
Stats for Daniel Negreanu
25-Jun-2008  -  $ 50,000 H.O.R.S.E. 39th World Series of Poker (WSOP) 2008
Place 13th $ 142,080
14-Jun-2008  $ 5,000 Pot Limit Omaha 39th World Series of Poker (WSOP) 2008, Placed 7th $ 123,437
10-Jun-2008  $ 2,000 Limit Hold'em 39th World Series of Poker (WSOP) 2008, Placed 1st $ 204,863
Jun-2008  $ 10,000 World Championship Seven Card Stud 39th World Series of Poker (WSOP) 2008, Placed 11th $ 33,417
03-Jun-2008  $ 1,000 No Limit Hold'em 39th World Series of Poker (WSOP) 2008, Placed  22nd $ 16,496
19-Apr-2008  $ 25,000 No Limit Hold'em - Championship Event Sixth Annual Five Star World Poker Classic - WPT World Championship, Placed 76th $ 39,570