PokerStars Promo Code
PokerStars no longer accepts players from the United States. Please check our list of US poker sites for alternative sites to play poker online

Mac
Yes
Use Promo Code: PSP2331
PokerStars is one of the few sites online where you guaranteed to receive great promotions and bonuses. The site caters to each of their players through the PokerStars VIP rewards program in addition to regular promos and bonuses.
When you join Pokerstars.com using our PokerStars promo code PSP2331, you'll receive a first deposit bonus giving you up to $600. What makes this offer so unique, and a valid reason to use our PokerStars promo code, is that this code enables you to qualify for the $600 bonus on three deposits. This means, each consecutive deposit is matched by 100% up to the full amount of $600. This is a great promo when you want to make medium or small deposits and still qualify for the full bonus. Please note - you must use our PokerStars promotional code PSP2331 by entering the promo code in the "marketing code" section on the screen.
PokerStars Promo Code Overview
1.   Download PokerStars here
2. After the software has full installed, the lobby will automatically open and you can click on the "New Account" tab.
3. Complete your new player account set up and enter our PokerStars promo code PSP2331 in the marketing code section.
4. Click Finish and your account is ready to go. You can either head to the cashier and make your deposit or browse the software. Our promo code for Pokerstars is valid for six months, giving you plenty of time to take advantage of the bonus.
How to Clear Your PokerStars Bonus
Once you've successfully created your new player account and received your bonus you will need to clear it before the funds are directly credited to your player account. PokerStars awards players with VPP for regular game play and will require a fixed number of points for each dollar awarded in bonus dollars. The rate at which you need to earn points will vary based on the currency you're using on the site.
•USD ($) $600 Bonus = 17 VPPs per USD in Bonus Dollars
•EUR (€) €465 Bonus = 22 VPPs per EUR in Bonus Dollars
•GBP (£) £390 Bonus = 26 VPPs per GBP in Bonus Dollars
•CAD ($) CAD $625 Bonus = 16 VPPs per CAD in Bonus Dollars
Pokerstars uses two systems for calculating rewards / promos, including the bonus you receive when you signed up with our promo code. The first is the VPP system, which is used to clear bonuses as well as VIP statis, and the second is FPP. The frequent point system awards VPP's to players based on your performance level in the VIP program. At the base level each FPP you earn playing in cash games or tournaments is equivalent to 1 x VPP. As you increase VIP status, the number of VPP's you will earn from FPP's will increase significantly. Below is a basic overview of how the FPP's are calculated.
First FPP is Earned;
•$0.40 for all fixed limit games at $1/$2 or lower.
•$0.40 in  no limit of fixed limit games at $1/$2 and lower
•$0.40 for all HU games. This only applies to tables that are listed as HU in the lobby.
•$1.00 for all other games above these limits.
Second FPP is Earned;
•$2.00 on all SH, 6-max tables above $1/$2.
•$3.00 on all other games
A third FPP is awarded if the table rakes $5 in a single hand.
The Pokerstars deposit bonus is valid for 6 months from the date of your first deposit.
PokerStars Promos and Events
Through PokerStars you'll be able to compete in some of the biggest tournaments online and off. The poker room is jam-packed of events and you can view some of the regular PokerStars promos below.
PokerStars Women's Poker League
The PokerStars Women's Poker League runs with two divisions - North America and Europe. This league is only available for female players and awards cash prizes on a monthly basis using a leaderboard in addition to exclusive tournament packages to play with the female players of Team PokerStars. The buy-ins vary, but can start as low as $5.50/€5.50. Players will earn up to 20 points for every 1st place finish, with points shared among the top 9 players. If you cash in any event you can still earn 5 points, and all participants will earn 1 point for entering into the tournament. Monthly prizes are awarded to the top 50 players with 1st place earning $300/€200. Remember to use our PokerStars promo code to receive your $600 bonus.
Country Specific Freerolls
One of the regular promos at Pokerstars is the country specific freerolls. These events have been running for years and give players the ability to play with other players from their own country, including the North American Poker League, which is open to all Canadian and US poker players. Each freeroll guarantees a $500 prize pool with qualifiers scheduled nightly at 20:00 ET.
VPP Tournaments
Every real money player that join's Pokerstars with our Pokerstars.com promo code "ENTER HERE" is entitled to earn VPPs. The VPP's are awarded in all regular cash game and tournaments. These points can be used in the gift shop as well as for entering tournaments, such as the VPP league where $45,000 is up for grabs each month. You will need to register for the VPP league to participate, and the top 500 players at the end of each calendar month will receive their share in the $45,000 prize pool.
PokerStars Info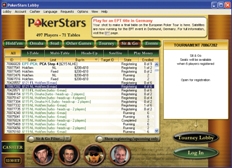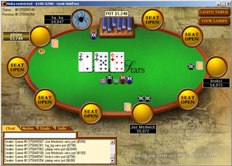 Site: www.Pokerstars.com
Established:

2001

Country:

Isle of Man

Network:

PokerStars Network

Software:

Excellent

Players Online:

200,000

Email:

support@pokerstars.com

Phone:

N/A